Saddleworth Moor Fire Update: Blaze Continues to Rage through Hills of Northwest England
Plumes of smoke are still billowing out over the hills in northwest England as firefighters continue to fight the flames that drove dozens from their homes this week. Officials say it could take them weeks to completely extinguish the flames that have ravaged the environment and caused innumerable financial damage.
The scorching heat and changing wind directions have made controlling the fire in Saddleworth Moor especially difficult over the last few days. A hundred troops were called in this week to help battle the blaze, which has spread across at least seven square miles, with flames as high as 30 feet, BBC News reports.
"It's extremely challenging, [dealing] with a moorland fire like this… with the wind direction, the heat and the terrain, getting firefighters to the places where the fires are, and looking after their welfare," Greater Manchester Fire Service spokesman Dave Keelan told ABC News.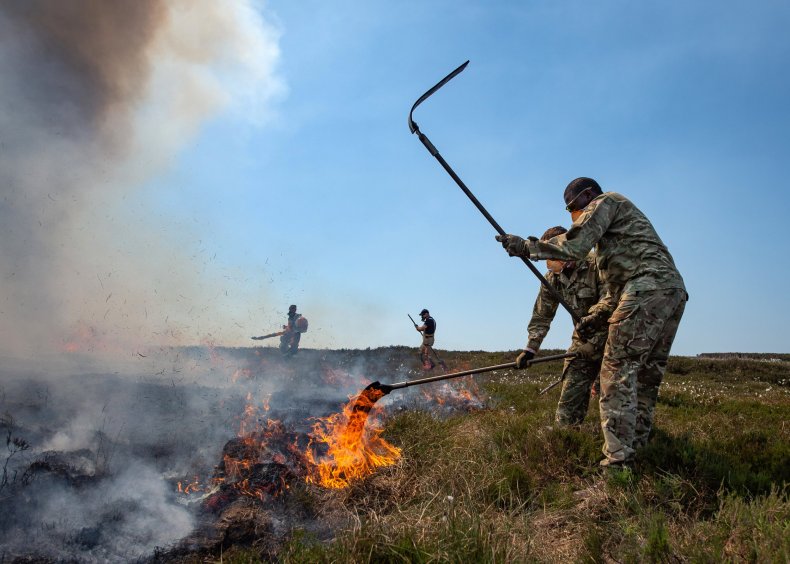 He said he had not seen an incident like this on the moors in Greater Manchester for as long as he could remember.
People who live nearby and supermarkets have been contributing supplies to help feed the firefighters and military while they work. Those who have not evacuated have been told to keep their windows and doors shut.
Helicopters circled the area, dumping water on the flames, while firefighters and soldiers used paddles to beat down the fire, The Guardian reported.
The situation could get worse if the wind pushes the blaze back towards the dry, peat bogs, which could provide fuel for a long-burning fire. "If there is a change in wind to the opposite direction, it is a completely different picture then in terms of the fuel available to this fire," Phil Morgan, commanding the army detachment, told The Guardian.
There is no telling when the fire will dissipate. "We have not seen any indication of any rain coming in the next couple of days/weeks, so we can see this being prolonged for days if not weeks. It is dependent on a downpour of rain – and it would have to be a significant downpour of rain because it is so dry it would be absorbed very, very quickly," Morgan said.
Air quality levels in the area are being monitored regularly and officials cautioned that pollutants caused by the blaze could hurt people's health.
One local doctor, Richard Bircher, of Lockside Medical Centre in Stalybridge, told The Guardian that about half of the emergency appointments on Thursday were from people reporting health issues from the smoke, like exacerbating symptoms of asthma.
"People are worried about it. They are minor symptoms but people are a bit scared," he said.
"Thankfully the smoke is getting less at the moment, but the advice is to try to avoid it," he said. "If people are feeling really bad they can take an antihistamine. We are also advising people to wash their hands and face to get rid of any dust and wear a facemask."