As Wildfires Rage, Forecast High Winds Will Be a Blessing or a Curse
As firefighters prepare to take on another week of wildfires, the National Weather Service (NWS) predicts stronger winds will hit California and Oregon, at up to 40 mph.
While wildfire is not a weather phenomenon it is directly affected by the weather, says NWS. "Most forest fires are ignited by lightning," the organization says on its website. "The majority of these lightning-caused wildfires occur in the absence or very little rain. When this occurs, the lightning is commonly referred to as 'dry lightning.'
"Gusty winds often accompany thunderstorms which produce dry lightning. These gusty winds accelerate the spread of fires."
Strong winds create unpredictable situations during wildfire season. According to the National Oceanic and Atmospheric Administration (NOAA), this, grouped with low, relative humidity—the amount of water vapor in the air—unstable atmospheric conditions and thunderstorms is favorable for fires.
"Stronger winds supply oxygen to fire, preheating the fuels in the path of the fire, and transport embers ahead of the flaming front," wrote NOAA researcher Nick Nauslar. He explained that low humidity creates dry grass, the perfect fuel to the fire, and that the wind can help it grow and spread.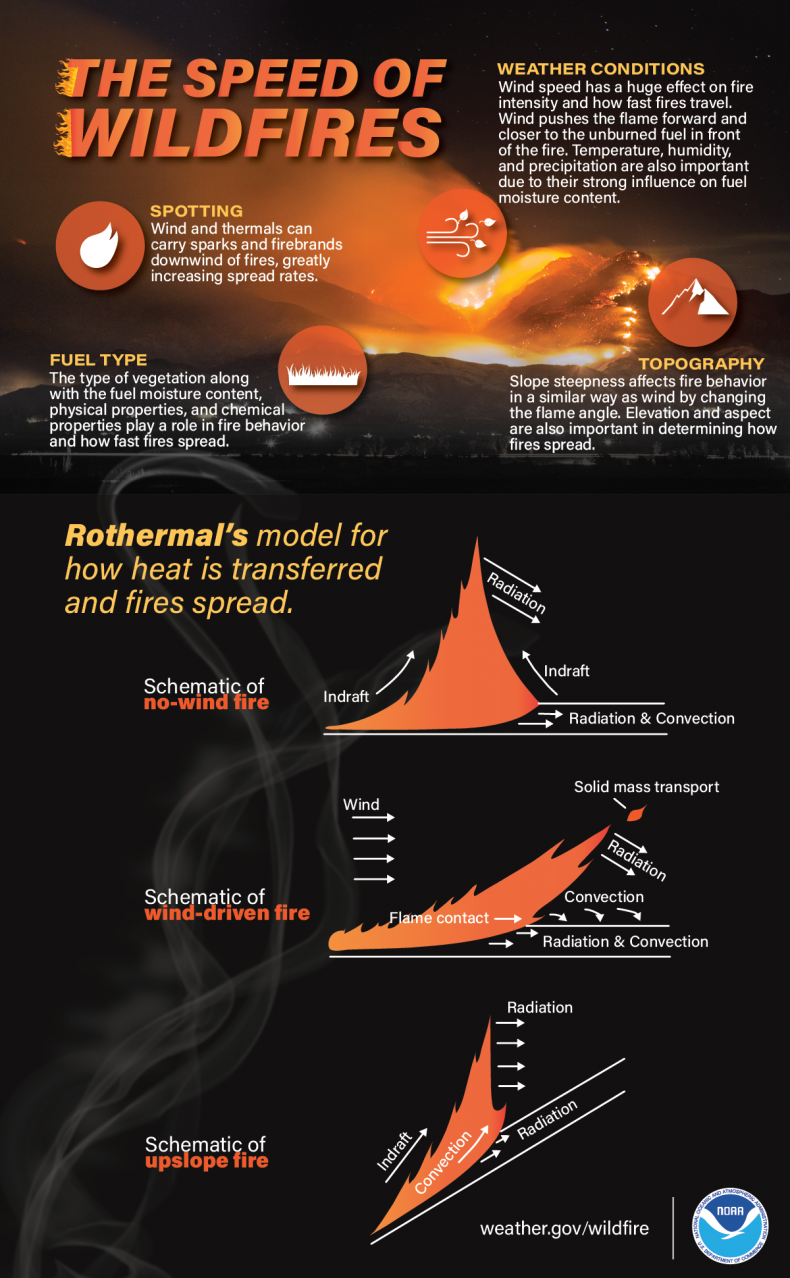 Wind gusts have definitely played their part in spreading the wildfires seen in California through Washington. In Oregon, the Riverside dire located saw rapid growth because of "extreme fire weather conditions and winds," which firefighters on the ground described as "intense fire behavior."
The direction of the indrafts—the angle of how the wind crosses the isobars—can also influence the growth and spread of blazes. In extreme situations, "violent surface indrafts" near and beyond a fire perimeter can create a firestorm—the NWS defines this as a "violent convection caused by a large continuous area of intense fire." Sometimes, tornado whirls can be caused.
NWS has issued Red Flag Warnings for parts of Oregon due to the same "strong gusty winds" paired with dry air from low relative humidity—winds are predicted to reach up to 40 mph and humidity dip as low as seven percent. It is this dangerous pairing that can see the rapid growth of wildfires.
While wildfires are not uncommon in states such as California, this year's season has brought unprecedented scenarios that have emergency services, politicians and residents stumped. Speaking to the New York Times, Aumsville's fire chief, Roy Hari, explained: "People are prepared, but not for a fire of this magnitude."
Another issue comes in the form of nighttime humidity. Normally, when temperatures drop relative humidity increases, creating less favorable fire weather conditions. However, in California, Oregon and Washington relative humidity levels have not increased overnight, meaning fires can continue to grow.
Of course, it's not just the gusts that influence how a fire grows and spreads. The steepness of a slope can affect the angle of the fire's movements and acts similar to wind behavior as well as the aspect—the direction that the slope is facing.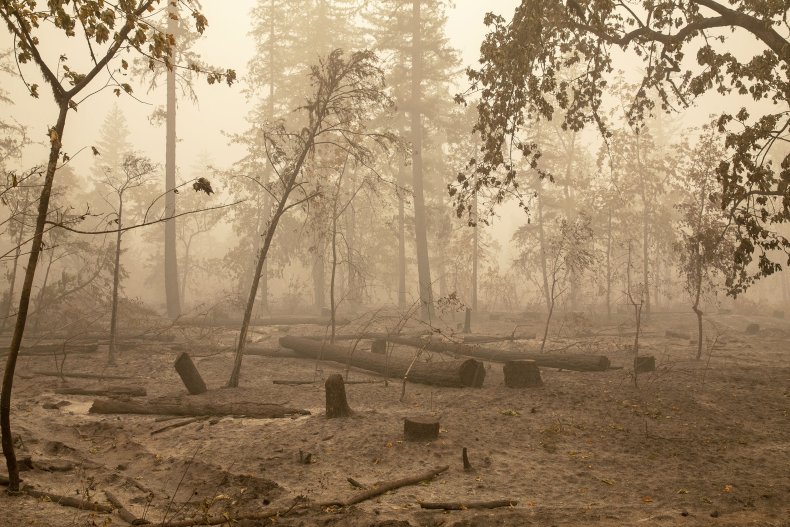 RED FLAG CRITERIA.
Primary Red Flag Criteria:
Relative humidity of 15 percent or less combined with sustained surface winds, or frequent gusts, of 25 mph or greater. Both conditions must occur simultaneously for at least three hours in a 12 hour period.
Widely scattered (or more) dry thunderstorms, 15 percent or more coverage, constituting a Lightning Activity Level (LAL) 6. A thunderstorm is considered "dry" if it produces less than 0.10 inch rainfall.
Contributing Red Flag Factors:
First significant lightning occurrence after a hot and dry period. This includes "wet" or "dry" thunderstorms, widely scattered (15 percent) coverage or more. After a hot and dry period, the first occurrence of thunderstorms can readily start wildfires. The RH does not need to meet the criteria listed above.
Significant cold frontal passage, expected to cause strong sustained and gusty winds, and an abrupt wind shift. Of heightened concern are dry cold fronts that have the above characteristics, but little or no rainfall, and expected when there are on-going wildfires or prescribed burns. The RH does not need to meet the criteria listed above.
Any combination of weather and fuels conditions that would create a critical fire control situation or extensive wildfire outbreak. These may include: long term drought, much higher than normal maximum temperatures coupled with very low humidity, low fuel moisture, poor nighttime RH recovery, high Energy Release Component (ERC) or Burning Index (BI), a Haines Index of 5 or 6, etc.
Source: NWS