The Wildfires Show How the Forever Wars Harm Americans at Home | Opinion
Although America's never-ending wars in the Middle East seem far away, they directly impact our ability to deal with domestic crises, from the coronavirus pandemic to wildfires. When disaster strikes, authorities often need the very resources policymakers in Washington are squandering on foreign wars. Take, for example, the National Guard's large CH-47 Chinook helicopters, which can airlift stranded and wounded Americans to safety or drop water on fires. Although the West Coast is ablaze, six of the Oregon National Guard's Chinooks are unavailable because they "had been sent to Afghanistan to support military operations," the local Mail Tribune newspaper reported.
The wildfires nationwide have now burned more than 5 million acres, and first-responders are stretched thin. Most of the fires in Oregon have not been contained, despite the deployment of more than 5,600 firefighters. The Mail Tribune pointed out that while the Oregon National Guard does have other aircraft, the Chinooks are "normally the largest firefighting helicopter."
The utility of the Chinook was also highlighted by the Associated Press, which recounted a harrowing evacuation effort during poor visibility. In California, a National Guard Black Hawk helicopter and a Chinook both made three rescue trips. The Chinook, designed to hold 30 passengers, in total managed to save 102 Americans from imminent death. The Chinook can also haul an impressive 2,000 gallons of water to drop on fires.
Given these capabilities, why would policymakers choose to send some of these vital platforms overseas instead of having more available at home?
In California, more than 2.8 million acres have either burned since August 15 or are on fire now, setting a terrible new record. Some 16,600 firefighters are engaged in the fight, and hundreds of California National Guardsmen are undergoing training to join them. And all of this is on top of other duties. According to the National Guard Association, "In addition to the historic fire season, many California Guardsmen are still performing COVID-19 support missions, including operating 23 food banks, manning COVID-19 test sites and supporting skilled nursing facilities."
Americans at home need help, and the National Guard is doing what it can. Yet policymakers continue to send resources, soldiers and dollars on excessive foreign deployments at the expense of domestic priorities. The 2020 National Guard Bureau Posture Statement projected 18,000 service members would be deployed "in Afghanistan, Kuwait, Bahrain, Jordan, Qatar, Ukraine, Poland, Kosovo, Eastern Europe, the Horn of Africa, Central and South America, and the Sinai Peninsula." In fact, while fires were blazing in Oregon, some members of the Oregon Army National Guard participated in a military exercise in North Macedonia.
Every single deployment and defense expenditure comes with a trade-off. Many of those are worth the cost, but many of them are not. Every helicopter, soldier or dollar sent overseas means there is one less helicopter, soldier or dollar to help Americans when a pandemic or natural disaster hits.
Withdrawing troops from Iraq and Afghanistan and rethinking national security to encompass disaster readiness would help Americans more than continued wars or increased far-flung deployments. According to the Congressional Budget Office, U.S. national debt will exceed America's gross domestic product by 2021. That means America will owe over $20.9 trillion, and it will be harder to pay for future expenses, let alone emergencies like another pandemic, war, natural disaster or recession relief.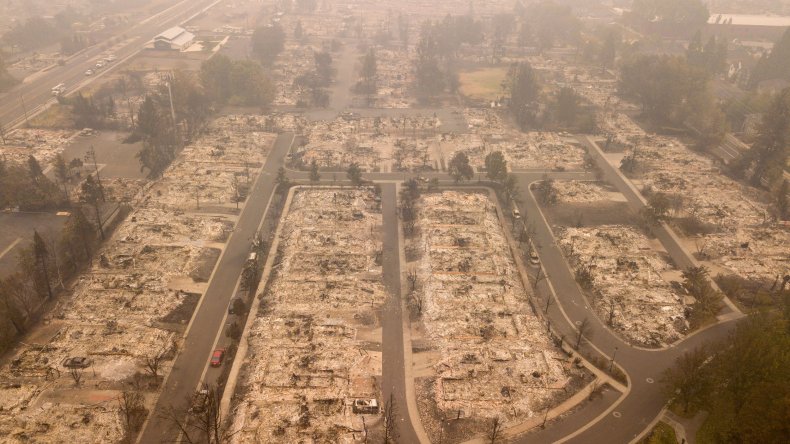 The forever wars are one of the largest contributors to this increased debt. According to Brown University's Costs of War Project, "The cost of the Iraq, Afghanistan, Pakistan, and Syria wars totals about $6.4 trillion." The U.S. Census estimates that there are 329,877,505 Americans, which means that every single American man, woman and child will have to pick up the tab of $19,401.14 to pay for those wars. And that doesn't include another $8 trillion in interest on that borrowed money that will need to be paid over the next 40 years.
Many Americans recently saw how much a difference a single check of $1,200 makes during immensely difficult economic times. Imagine how much of a difference $19,401.14 would have made if that money had been used for any number of other priorities. Imagine the impact on health care, education, pandemic preparedness, infrastructure repairs or carbon-reducing nuclear power.
Increasing temperatures and drought are expected to make future wildfires worse. More than 30 Americans have died in wildfires in the past two months. This is just one domestic crisis made worse by the forever wars. Will policymakers ever learn to prioritize Americans at home?
John Dale Grover is a fellow with Defense Priorities. He is also an assistant managing editor at The National Interest and a Korean studies fellow with the Center for the National Interest. His articles have appeared in Defense One, Stars and Stripes, Real Clear Defense, Fox News and The Hill.
The views expressed in this article are the author's own.