Wildfires in Spain Lit With 'Clear Intention' in Multiple Places
Wildfires currently burning in northwestern Spain were lit with "clear intention" in "simultaneous locations" on both sides of a river, said José González, the region's minister for rural areas. The fire is suspected to be the product of arson and has burned nearly 2,500 acres of forests in the region in two days, the Associated Press reported.
González said that when the blaze began late Sunday, local time after sunset, there was no chance for it to ignite organically.
"They knew they were going to cause a lot of damage," González said, as reported by the EFE news agency in Spain.
The minister added that high temperatures and humidity in the area, in addition to strong winds, made it "very complicated" to attempt to put out the fire. Manuel Rodriguez, the regional environment chief in Spain, echoed González's statements about the intentionality of the blaze during a news conference, Reuters reported. The ignition of the wildfire was "clearly intentional," he said.
"Investigators have identified various points that ignited simultaneously... Whoever did this knew perfectly well it would cause a lot of damage," he said.
"You can't explain this...It's difficult to put yourself in the head of someone who would want to do this," Rodriguez added.
When it ignited near the small town of Ribas de Sil, the wildfire blocked roads and train lines while billowing smoke into the air. Officials issued alerts about the fire for those living in the village of Rairos, which could come face to face with the fire, Reuters reported. At the moment, no houses are at risk, the authorities said.
Despite efforts to battle the blaze, the region has yet to gain command of the fire.
"We have a perimeter around the fire but it is not stabilized or under control," Rodriguez said.
For more reporting from the Associated Press, see below.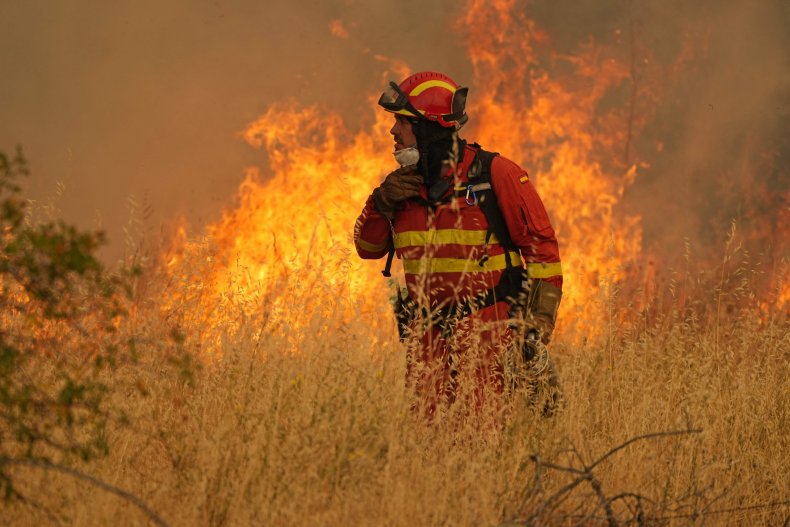 Two active blazes continued to be out of control Tuesday in a rugged mountainous area of Galicia, the region's authorities said. The flames have come close to populated areas and forced the closure of roads.
A brigade of 63 soldiers from the Spanish military's emergency unit was dispatched on Monday to help the efforts to extinguish the blazes which were being carried out by firefighters on the ground and four helicopters and four amphibious aircraft.
The soldiers extended hoses that at times stretched for over a kilometer (half-mile) up and down gullies.
Spain's weather forecast agency, AEMET, said that rainfall was expected in the area.