As Wildfires Spread Throughout Australia, Locals Share Their Struggles on Social Media: 'Never Seen Anything Like It'
As Australia suffers through its worst wildfire season in history, some residents have found themselves displaced as homes and other structures continue to burn. Activists are placing the blame on climate change, but the Australian government says there is no correlation between the country's emissions output and an increased fire risk.
"The suggestion that any way shape or form that Australia, accountable for 1.3% of the world's emissions, that the individual actions of Australia are impacting directly on specific fire events, whether it's here or anywhere else in the world, that doesn't bear up to credible scientific evidence either," Prime Minister Scott Morrison told reporters in November.
Meanwhile, over nine million acres have burned in New South Wales alone with over 3,000 structures destroyed by fire. In the seaside town of Mallacoota, in the East Gippsland region of Victoria, approximately 4,000 people have been trapped by wildfires, forcing them to relocate to the water's edge. Authorities have told those to be ready to jump into the ocean if the fire gets too close because there is nowhere else for them to go.
"Around 4000 people currently sheltering at the beach in Mallacoota," tweeted Australian journalist Christie Cooper. "Reports they've been told to jump into the water of the Cfa sounds their sirens."
"'F*** I've never seen anything like it,' this man has described the scenes in Mallacoota, Victoria after he was forced to escape a huge bushfire by boat," tweeted @SBSNews.
Twitter user @bluesfestblues was getting updates from his father in Mallacoota: "12:20pm update from Dad at the wharf in Mallacoota: He's just been told that his whole street of Terra Nova Drive on the south end of town is gone #mallacoota #bushfirecrisis."
"#Mallacoota sky has lightened up to a pale orange now. Some smoke blown away by strong cool wind," Twitter user @brendanh_au wrote. "Somewhat perplexing that we're hearing of so much damage around town but haven't seen the actual fire front ourselves. Then again, there are reasons we picked this place to defend."
"If you're not in Australia, let me explain," education academic Amy Thunig wrote. "This is mid morning, the sun has risen, it is 9:30am in Summer. Yet the sky is pitch black due to the level of thick smoke, with ash and embers dropping from the sky. This is truly terrifying. My heart is aching for #Mallacoota"
In nearby New Zealand, actor Sam Neill tweeted his frustration with leadership within the Australian government: "During this extraordinary #bushfirecrisis, v irritating to hear Aus Environment Minister @sussanley on @RadioNZ- 'we are doing our bit... we will exceed our targets' etc. Rubbish. THIS IS NOT NORMAL. [Ok- all you frothing denial nutters- cue trolling now] Mallacoota- be safe."
Fires are burning all across the country, including areas in Victoria, South Australia, New South Wales and Tasmania, encouraged by low rainfall levels and high heat during the daytime. Over 1,000 homes have been destroyed and nine people perished since the bush fires began in September. A fireworks display celebrating the New Year was canceled in Canberra over fears it might ignite fires in the area.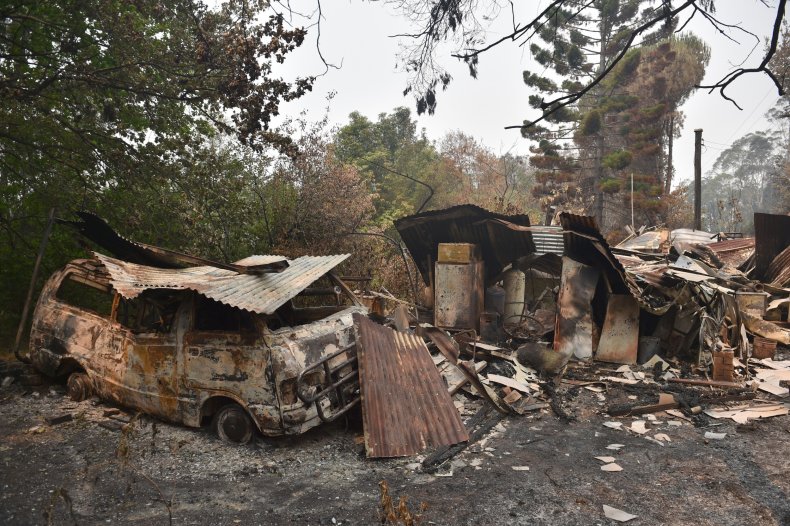 Morrison has been accused of mishandling the bushfire crisis and criticized for opting to go on vacation in Hawaii this December as the fires continued to burn. He did cut his holiday short by two days in order to return to Australia.
Following backlash, Morrison apologized for the timing of his vacation, saying he was merely keeping a promise he had made to his children.
"I'm sure Australians understand that when you make a promise to your kids you try and keep it," the Australian prime minister said in a news conference. "But as prime minister you have other responsibilities. I accept the criticism."
He did not, however, claim that climate change could be an underlying cause for the wildfires. Morrison said he believed there was a connection between the "broader issues of global climate change and weather events around the world."
"But I'm sure people would equally acknowledge that the direct connection to any single fire event," Morrison added, "it's not a credible suggestion to make that link."