Wildfires in West Behaving More Dangerously Than Firefighters Have Ever Seen
Firefighters in the West are seeing more dangerous wildfire activity than ever before as one of the state's largest blazes continues to burn through Northern California.
Plumas National Forest Supervisor Chris Carlton told CNN that they're seeing "truly frightening fire behavior."
"We have a lot of veteran firefighters who have served for 20, 30 years and have never seen behavior like this, especially day after day, and the conditions we're in," Carlton said. "So we really are in uncharted territory around some of these extreme, large fires and the behavior we're seeing."
The Golden State was battling 11 active fires as of Monday, according to the National Interagency Fire Center. The fires have burned through 776,695 acres so far.
The center said warmer and drier conditions this summer (and expected this fall) are leading to the potential for severe wildfire activity throughout the western U.S. High temperatures across the West and periods of lightning activity are continuing to exacerbate the wildfire behavior.
Firefighters are battling the Dixie Fire on two fronts: the east zone and the west zone. Dan McKeague, a public information officer for the east zone, told Newsweek on Tuesday that they expect to operate with this approach for the remainder of the incident.
"With very aggressive fire behavior, our strategies and tactics are built on the highest probability of success and the least exposure to firefighters and the public," McKeague said. "With the historically dry fuels we are currently experiencing, that often leads to an indirect approach since we can't safely put firefighters adjacent to the fire activity."
The Dixie Fire has become one of the largest wildfires in state history as it spreads across Plumas and Butte counties.
As of Monday night, the fire has burned 482,047 acres and was only 22 percent contained, according to the California Department of Forestry and Fire Protection (Cal Fire). More than 870 buildings have been destroyed and 16,000 are threatened.
There have been three firefighter injuries, according to Cal Fire. No civilian injuries or deaths have been reported.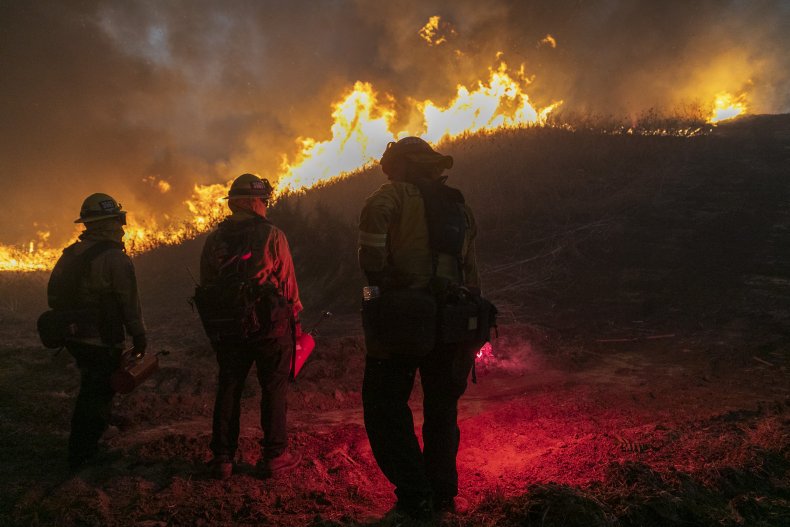 Governor Gavin Newsom said the dangerous fire activity is being fueled by climate change after surveilling the damage in Greenville, a Northern California town decimated by the Dixie Fire last week.
"At the end of the day, though, we also have to acknowledge this: the dries are getting a lot drier, the heat and hot weather is a lot hotter than it's ever been," Newsom said. "Extreme weather conditions, extreme droughts are leading to extreme conditions and wildfire challenges the likes of which we've never seen in our history."
California has secured a grant from the Federal Emergency Management Agency (FEMA) to help battle the Dixie Fire, Newsom's office announced last month.
In Nevada and Placer counties, the River Fire is continuing to burn through 2,619 acres. As of Monday, the fire was 68 percent contained.
Sixty-six residential structures have been destroyed and more than 2,000 structures remained threatened due to the River Fire. There has been one firefighter injury reported since the blaze began on August 4.
Update (8/10/2021, 4:15 p.m.): This story has been updated with additional information from fire officials.