Wildlife Group Heartbroken After Company Tears Down Their Bee Garden
A wildlife group in England said they were left heartbroken after a company tore down a bee garden at a bus stop.
The council-run company defended its actions after angering local volunteers who built the garden just two days before its removal.
The group of friends, who go under the name of Bee The Change (BTC), built the community bee garden on top of a bus stop outside Montpelier High School in Bristol, England, on Saturday.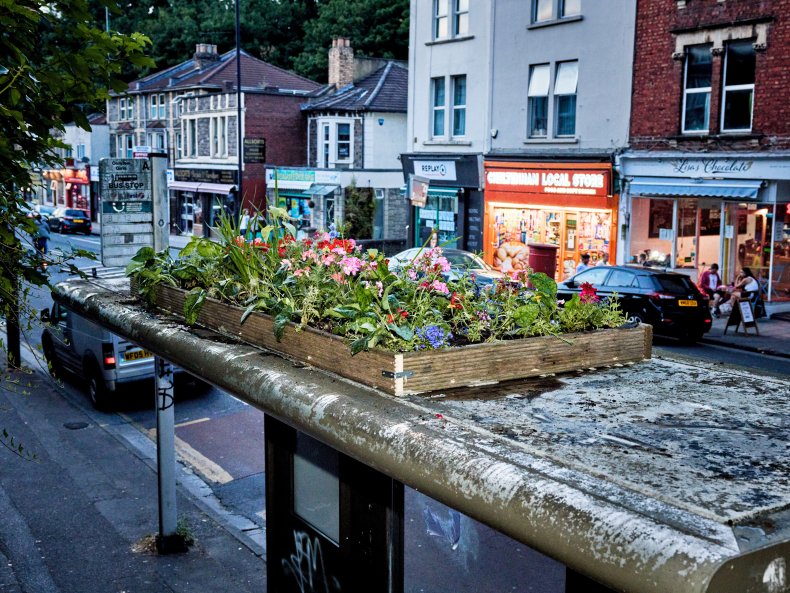 They claim the bee garden was installed as a call to protect local nature and declining bee populations - and also a plight to try and "do something positive" amidst the climate crisis.
But on Monday, the bee haven was torn down by Clear Channel, which is responsible for maintaining all of the bus shelters owned by Bristol City Council.
A spokesperson for the company said that the bus shelter was not built to take any "additional" weight on its roof and it posed an "immediate health and safety concern and risk" to anyone standing underneath it.
"After discussions with Bristol City Council, we jointly decided the best course of action was to remove the plants," the company said.
"The plants and flowers are being well looked after in our Bristol depot and we'd really like to return them to Bee The Change; we'd encourage them to get in touch through our website."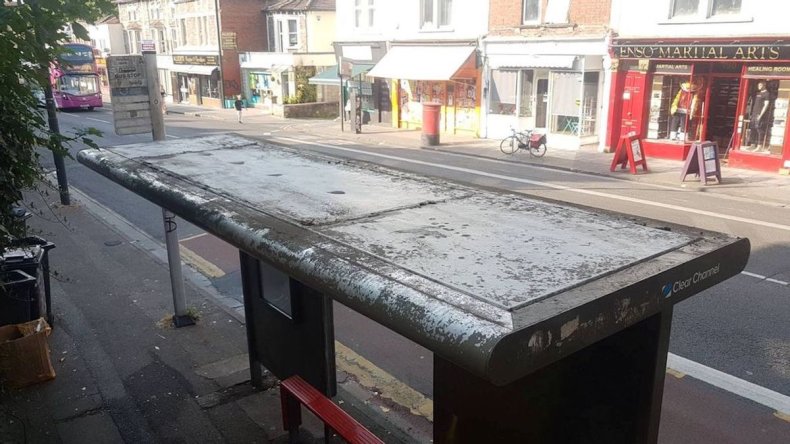 Yet the company claim they hope to trial their own "Living Roofs" in Bristol in autumn.
The spokesperson added: "These shelters are specially designed and tested to take the increased weight and would feature a carefully selected mix of plants to promote biodiversity. If the trial is successful, we will look to roll these out at bus shelter sites across the city."
However, the decision has left those who established the bus stop heartbroken.
Emma, a spokesperson for the group, said: "We were just a group of friends feeling depressed about the nature and climate crisis, and wanted to do something positive.
"So many people are feeling powerless but everyone can do something small that can have a positive impact for nature."
Emma said this action is the first the group have undertaken, and they were hoping the bee garden would "inspire people to take action in their own lives."
She said: "A little bee can't do much on its own, but collectively they are critical for wildlife.
"We are very sad at the removal of the garden - particularly those in the group who had been watering these seedlings on their patio for months, and now our gardeners are saying they will have been destroyed.
"It's disheartening - obviously we don't want anyone to be harmed, it was purely a positive thing for the people in the community."
Emma added that the actions of Clear Channel were "inconsistent, as she argued that the shelter bore the weight of the group "very well."
She added: "Bee stops have been put up in other cities, so why not ours? It's damaging not only public health and well-being but our environment too."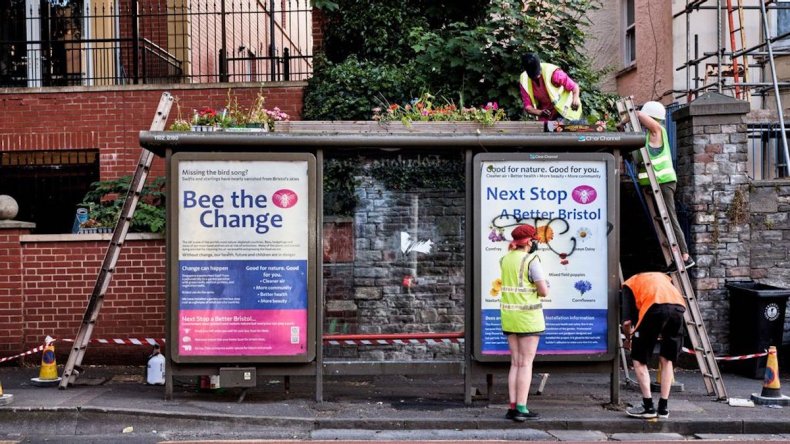 Clear Channel has installed bee gardens on its own bus stops before, but they say that these are specially designed "Living Roofs," which are tested to ensure they take the increased weight.
Local residents and businesses are reported to have welcomed the bee garden in Montpelier with excitement.
Denzil Le Roy, one of the locals who lives just next to the bus stop, admits he thought the idea was a "brilliant initiative" and a "triple win" for the environment, bees and visual beauty.
"I saw people passing on the buses smile and point. People spoke to me while I watered and were thrilled," Le Roy said.
However, he argues that both arguments are "understandable."
"In fairness, the guys taking the planter down were entirely 'up' for having these planters and were just doing their job", Denzil argued.
He added: "From the council viewpoint it's understandable too - there would be an outcry if the bus stop failed and caused personal injury or property damage, and the council taxpayer would be liable.
"The idea is an initiative so typically Bristol maintaining our position as a front runner on all things environmental. Let's make every new bus stop a B-stop."
Clear Channel also manages advertising on its Bristol bus stops.
The company has also been accused of neglecting the environment by Adblock Bristol, which campaigns against electronic billboards and says they are harmful to the environment.
Clear Channel is currently applying to install 86 new full-sized digital advertising screens at bus shelters across Bristol, and it says this will reduce the number of bus shelter advertising sites overall in the city.
Yet, Adblock point to research which shows that each screen uses the same electricity as between three or four average U.K. homes per year.
Veronica Wignall, a spokesperson for Adblock Bristol, said that Clear Channel have "make grand statements about their environmental record," but "have no interest in the desires or health of locals, nature and the planet."
Emma agreed with Adblock Bristol's stance, arguing: "There is certainly a lack of consistency with Clear Channel's environmental approach.
"Are our streets for nature and people - or advertising and business as usual that is causing our nature and climate crisis?"
According to BTC, the bee garden was installed by professional carpenters and gardeners with a recycled wooden frame, held in place by industrial glue.
They say it held over eight types of bee-friendly flowers, and that two accompanying bus stop posters were put up to explain the benefits that wildlife can bring, including cleaner air and better health for people.
Produced in association with SWNS.
This story was provided to Newsweek by Zenger News.