When wildlife photographer Simon Dell discovered a mouse roaming about his garden in 2018, he knew he'd found the perfect photo opportunity. But in order to capture the perfect shot, he first had to think of a creative way to tempt the mouse out from hiding and closer to his camera.
So, Dell placed a peanut down where he'd last seen the mouse. To his delight, it worked, and over the last few years, the mouse—named George—has been the subject of many of Dell's photographs.
"I knew instantly he was a star," Dell tells Newsweek. To keep his star safe, he built the mouse a small shelter made from logs, a small box, moss and straw.
But in the days following his first encounter with the mouse, Dell noticed more mice had joined George in the garden. Noticing George's home was too small for the growing family, Dell quickly added more rooms to the structure, with multiple entrances for an easy escape.
"As I was feeding the mice, it was the right thing to do as I would feel it was my fault, getting them to come out, if they became prey," Dell shared. "And, being a wildlife photographer, I wanted to create a nice-looking habitat for any pictures I would take."
Over the years, Dell has taken many photographs of George, Mildred, their baby Mini and their evergrowing family. He shares a lot of these photos on his Facebook page called George the Mouse and the Log Pile House.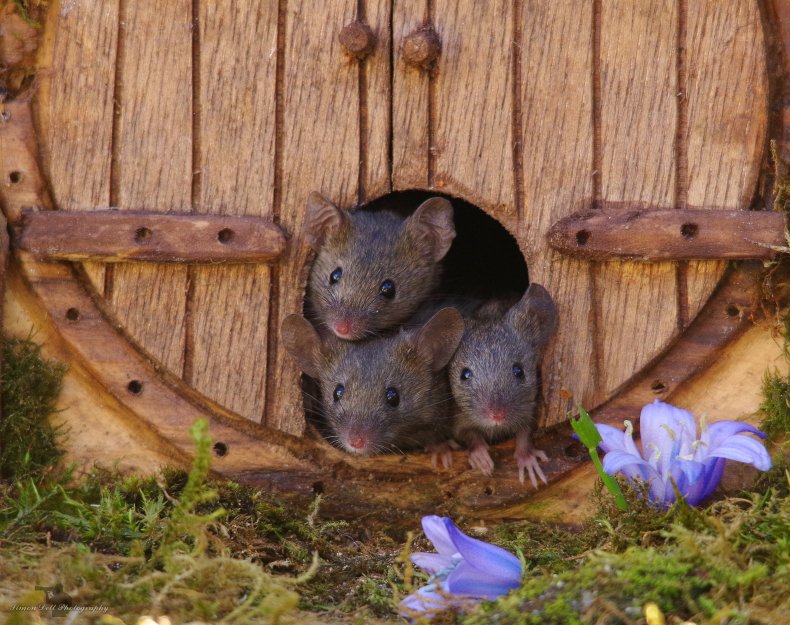 The Facebook page has amassed more than 51,000 followers, all of whom adore the mice and the structures Dell has created for them.
"The whimsical houses and gardens are beautiful and amazing," said one Facebook reviewer. "Such a wonderful imagination. Best of all we are allowed to be part of this wonderland."
Shared another reviewer: "The effort he has taken to create this natural mice habitat paid off ... one of the cutest set of pics and videos I have EVER seen!"
What was once a small home for a single mouse is now a rather intricate village for a family of mice. Dell has created entryways, tea kettles and little figurine pies and treats for the family. He's also created a little pond, and for Star Wars Day (May 4), Dell staged a photoshoot with George and a stormtrooper action figure.
"I'm not the mouse you are looking for," joked one commenter.
According to Dell, the village now contains three houses that are all connected by tubing, with many doors and openings that allow the mice to come and go as they please. And everything in the garden, with the exception of a toy car or Star Wars figure here and there, is handmade by Dell.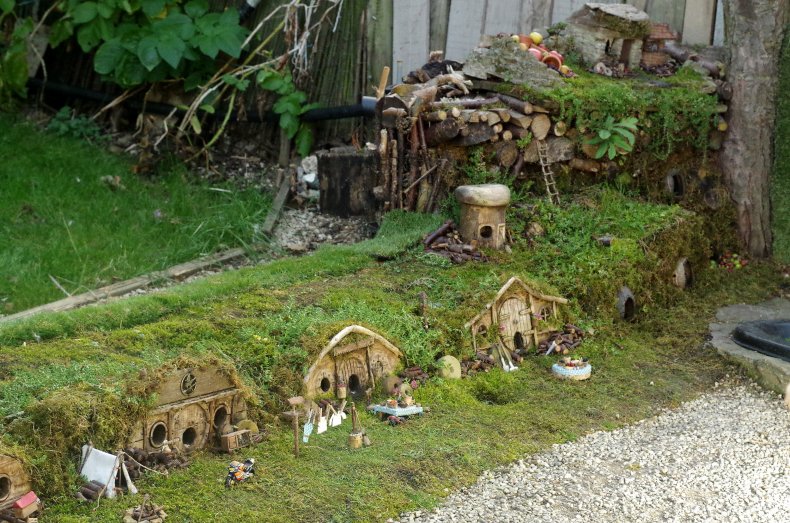 He's come to enjoy his tiny neighbors and wants to ensure they're well taken care of.
"In the wild, mice face so many dangers daily as they set out in the hunt for food," Dell tells Newsweek. "But my mice now have a safe home, a place to hide and only have to come out of the front door for food."
Dell shares that he sees the mice every day, and spends much of his free time in the garden fixing their homes, feeding them and taking photos.
"They have got very used to me being around. As long as I do not move too fast or make a sound, they are happy to skip, play or just pose at the house doors."