Wildlife Photographer of the Year 2018 Winners: Blue-faced Golden Monkeys and More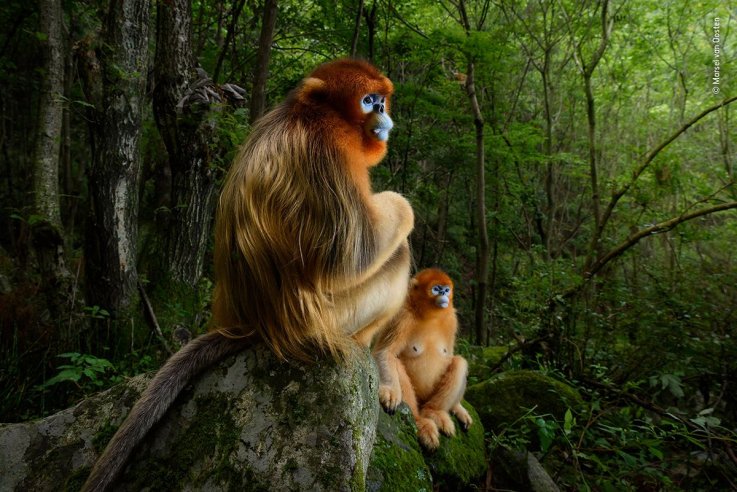 The winners of the Wildlife Photographer of the Year competition have been revealed in a ceremony at London's Natural History Museum, which runs the international competition.
Dutch photographer Marsel van Oosten has won the prestigious Wildlife Photographer of the Year 2018 title for his extraordinary image "The Golden Couple," which frames a pair of golden snub-nosed monkeys in the temperate forest of China's Qinling Mountains, the only habitat for these endangered primates. The winning portrait captures the beauty and fragility of life on earth, and a glimpse of some of the extraordinary, yet relatable, beings we share our planet with.
Marsel had to wait patiently for many days before the conditions enabled him to capture this image, which shows off the male monkey's golden locks and his striking blue face.
The chair of the judging panel, Roz Kidman Cox, said: "This image is in one sense traditional—a portrait. But what a striking one, and what magical animals. It is a symbolic reminder of the beauty of nature and how impoverished we are becoming as nature is diminished. It is an artwork worthy of hanging in any gallery in the world."
Natural History Museum Director Sir Michael Dixon said: "In a world which is in thrall to special effects, this image celebrates the majestic and otherworldly presence of nature, and reminds us of our crucial role in protecting it."
Sixteen-year-old Skye Meaker took the award for Young Wildlife Photographer of the Year 2018 with his charming portrait of a leopard waking from sleep in Mashatu Game Reserve, Botswana. Skye has wanted to be a nature photographer since receiving his first pocket camera at the age of seven.
"With precisely executed timing and composition, we get a coveted glimpse into the inner world of one of the most frequently photographed, yet rarely truly seen, animals," said competition judge and previous competition winner Alexander Badyaev.
The two images were selected from 19 category winners, depicting the incredible diversity of life on our planet, from displays of rarely seen animal behavior to hidden underwater worlds. Images from professional and amateur photographers were judged by a panel of industry-recognized professionals for their originality, creativity and technical excellence.
Beating more than 45,000 entries from 95 countries, Marsel and Skye's images will be on show in stunning lightbox displays with 98 other spectacular photographs. The exhibition at the Natural History Museum in London opens on October 19, 2018 before touring across the U.K. and internationally to locations such as Canada, Spain, the U.S., Australia and Germany.
New for 2018 is the Lifetime Achievement Award. This year acclaimed nature photographer Frans Lanting is being honored for his outstanding contribution to wildlife conservation over more than three decades. A showcase of his timeless photography will feature in the exhibition.
Open to photographers of all ages and abilities, the 55th Wildlife Photographer of the Year competition opens for entries on Monday October 22.