The conspiracy theorist, broadcaster, and non-denominational pastor Rick Wiles claimed the United States is under the control of "satanic Zionists." On the Wednesday edition of his online TruNews program, he described what he called the hatred from the "ruling deep state" of America for Russia before he veered off into the defamatory rhetoric.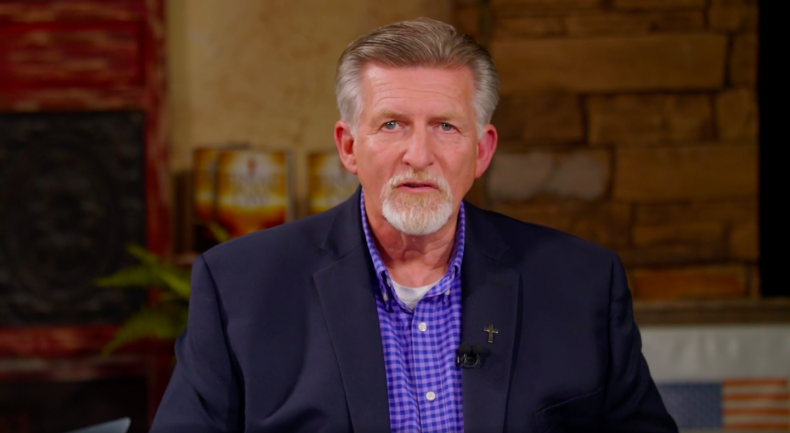 "The reason the ruling deep state of America hates the Russian people and wants to destroy them?" Wiles said. "It is the satanic Zionist power that overthrew the Russian government in 1917, did a human blood sacrifice of the Romanov family—a satanic ritual where they slaughtered the Romanovs, it was a satanic blood sacrifice—that same group of satanists that overthrew the Russian people in 1917, that's what controls America today. That spirit right there is what is destroying the United States of America, destroying our freedom, destroying our culture—that spirit right there."
He continued, "That's what's making war against Russia. They overthrew it. They got free. They got out from under its bondage. And so who is under its bondage? The American people. We're under the bondage of that same satanic spirit. Who attacks us? Who's always attacking us? Zionists. There's nobody else attacking me. Zionists. It's not every Jewish person, it's the Zionists. It's the satanic Zionists. They are satanic."
"Old Henry Kissinger is one of them. Old Alan Greenspan is one of them. Who has weakened America? Greenspan and Kissinger," Wiles said, before he continued voicing his support for Russia. "Now they want war with Russia because the Russian people got free of their chains and bondage and returned to Christ. That's what it's about. The Russian people returned to Christ."
Right Wing Watch, which monitors conservative organizations, shared a clip from the episode on its official Twitter account on Friday.
Along with offering up political and social commentary on TruNews, Wiles is the senior pastor at Flowing Streams Church in Vero Beach, Florida. He's been labeled over the years as racist, homophobic, Islamophobic and antisemitic. His controversial remarks caused him to be permanently banned from YouTube last year.
Some recent comments he's made that have been widely condemned include saying in January 2020 that the coronavirus was God's "death angel" and "plagues are one of the last steps of judgment."
Last July, he also called on White House Chief of Staff Mark Meadows to tell then-President Donald Trump to make use of bullets he alleges were purchased by federal agencies during the Obama administration. Those bullets, he said, were to stockpiled to be used "to round up Christians and constitutionalists under a President Hillary Clinton."
Wiles suggests those supposed bullets could be used during the summer's Black Lives Matters protest in Portland. He said the Trump administration and authorities should have "put the hollow-point bullets to good use and get out there and put down this communist revolution so the rest of us can live our lives peacefully."
Newsweek reached out to Rick Wiles via TruNews for comment.