Will Al Franken Resign Thursday? Senators Demand Resignation as More Sexual Assault Accusers Come Forward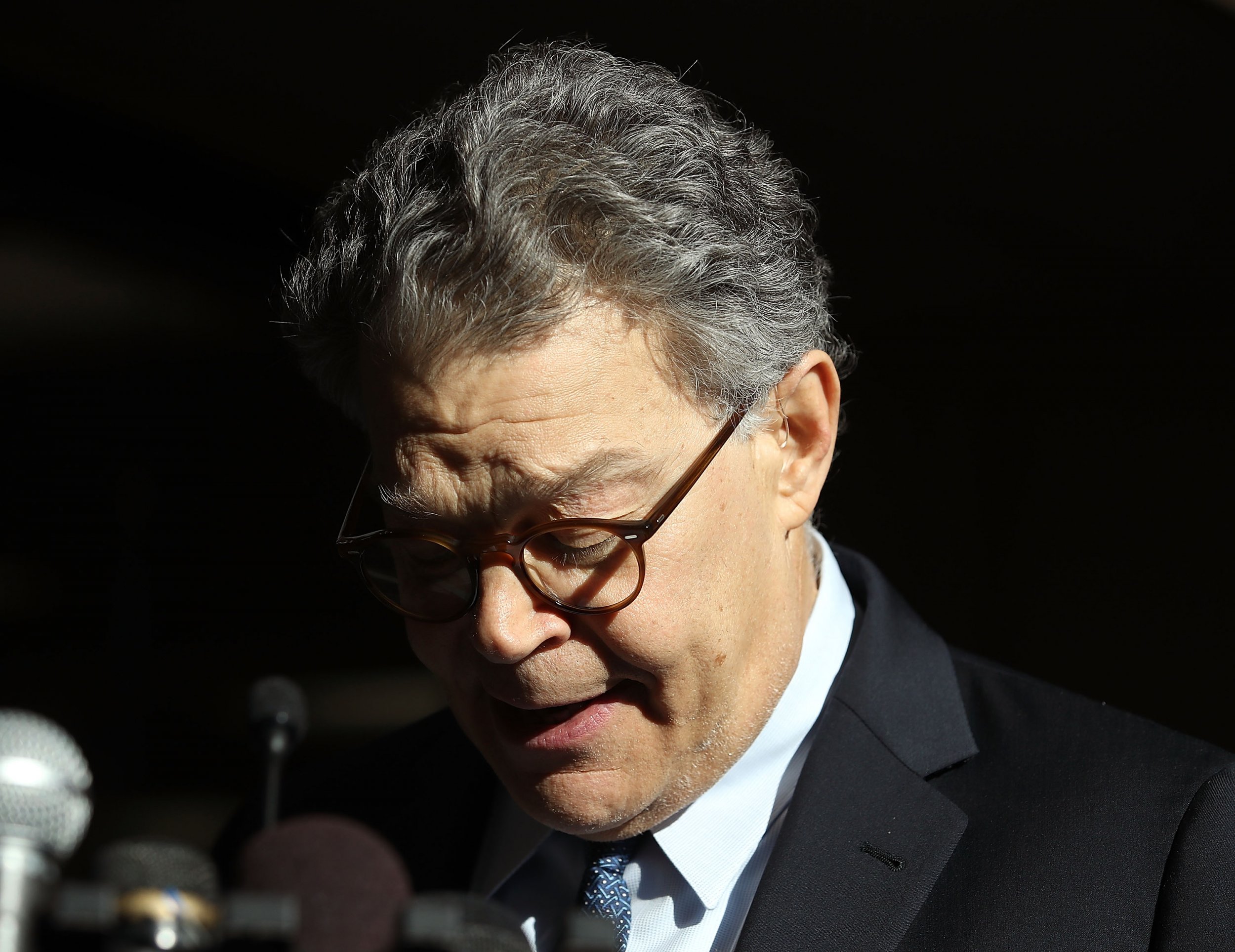 Senator Al Franken will make an announcement Thursday morning about his future in the U.S. Senate after a number of Democratic senators demanded his resignation.
The anticipated announcement comes after a former Democratic congressional aide alleged on Tuesday that Franken tried to forcibly kiss her in 2006, according to a Politico report that kept the woman's name private. The woman's report followed six other women who stepped forward to allege groping or sexual harassment by Franken.
The allegations—which range from Franken putting his hand on women's buttocks to forced kissing—led lawmakers to demand Franken's resignation from the U.S. Senate. Franken has issued apologies for offending the women, but says he remembers the reported encounters differently. If he resigns, Franken would be the first U.S. senator to lose his job as a result of the #MeToo movement that encourages women to step forward and report sexual assault.
Senator Kirsten Gillibrand wrote on Facebook Wednesday that after reflecting on Franken's behavior and the accusations, she believes he was "unquestionably wrong," but said the groping allegations are "not the same" as the criminal conduct alleged against Senate candidate Roy Moore, film mogul Harvey Weinstein or President Donald Trump.
"I believe it would be better for our country if [Franken] sent a clear message that any kind of mistreatment of women in our society isn't acceptable by stepping aside to let someone else serve," Gillibrand said.
Other senators then echoed her request. The female lawmakers calling for Franken's resignation, all Democrats, include senators Tammy Baldwin, of Wisconsin, Maria Cantwell, of Washington, Tammy Duckworth, of Illinois, Kamala Harris, of California, Maggie Hassan, of New Hampshire, Heidi Heitkamp, of North Dakota, Mazie Hirono, of Hawaii, Claire McCaskill, of Missouri, Patty Murray, of Washington, and Debbie Stabenow of Michigan.
Tom Perez, chairman of the Democratic National Committee, also called for Franken to step aside. "Franken must resign because he would not only be ineffective but because it was the right thing to do," his spokesperson said.
The Democrat senator, who had previously been known for highlighting women's issues, was first tied to sexual misconduct by radio host Leeann Tweeden, who said Franken forcibly kissed her while the pair were on a USO tour in 2006. Lindsay Menz said Franken groped her while the pair posed for a picture in 2010; and two other women reported similar allegations to the Huffington Post anonymously.
The fifth accuser was the former aide who came forward Wednesday and the sixth was in a report from The Atlantic by former Democratic Hill staffer and media commentator Tina Dupuy, who said Franken grabbed "a handful of flesh" and squeezed during a photo in 2009.
"Al Franken's familiarity was inappropriate and unwanted," Dupuy wrote in The Atlantic. "It was also quick; he knew exactly what he was doing."
Franken is not the first U.S. lawmaker to be accused, nor would he be the first lawmaker to resign amid such allegations. Representative John Conyers, a Democrat from Michigan, resigned from the House of Representatives on Tuesday in the face of multiple sexual harassment allegations from several former employees. Representative Kathleen Rice called for his resignation, remarking that she had "reviewed the allegations against him, and they're as credible as they are repulsive."