Will American Art Lovers Ever See Rockwell's 'Saying Grace' Again?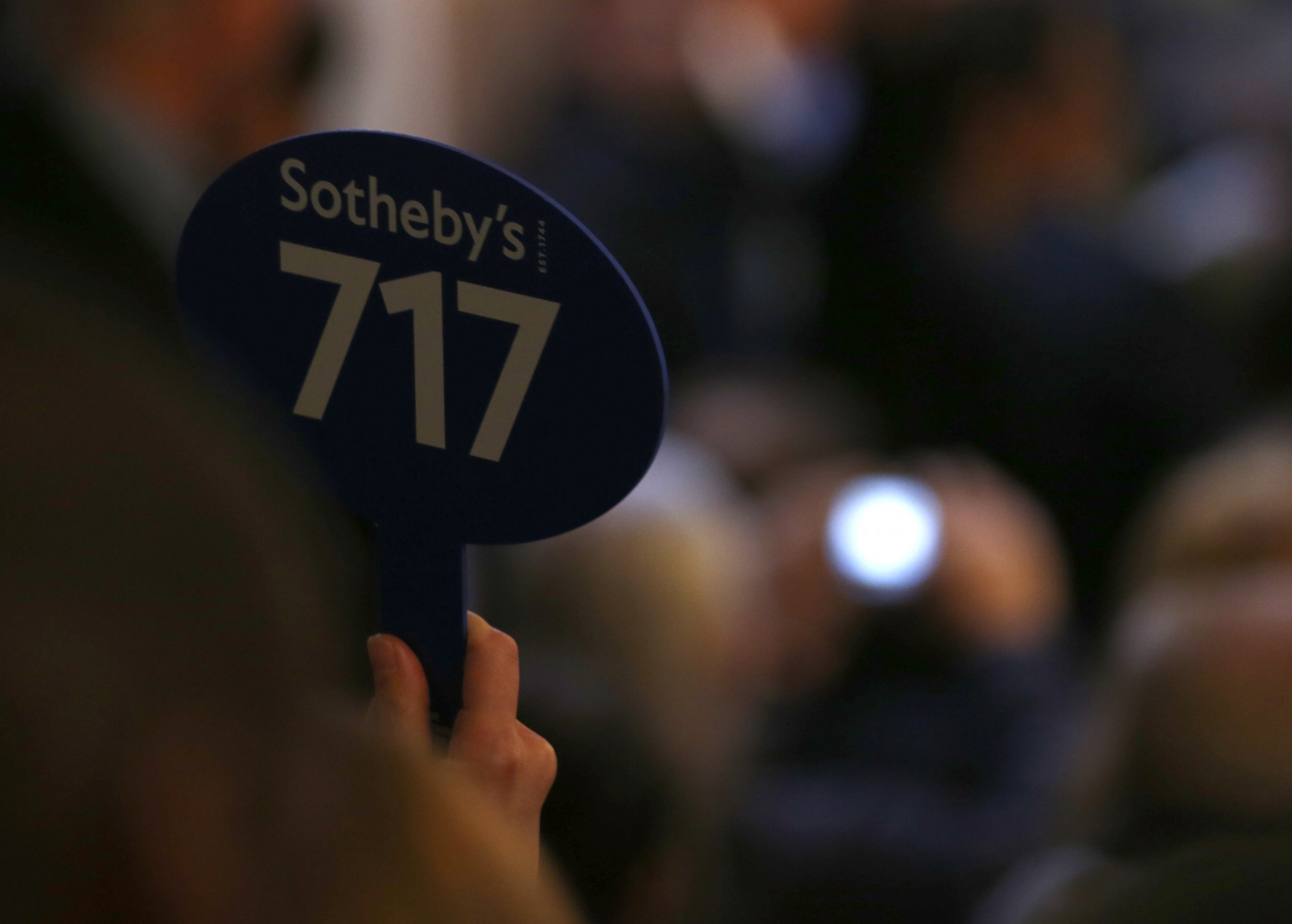 For nearly ten minutes, everyone in the auction room at Sotheby's New York held their breath and tensed their shoulders as the fate of Saying Grace, one of Norman Rockwell's most touching and best known paintings, hovered between two fierce phone bidders. Fourteen million. Twenty. Thirty-five.
On the line was the future of a piece of American history and the possible reconciliation of an American family.
Finally, the gavel was brought down sharply on the block at $46 million, setting a record not only for the artist, whose covers for The Saturday Evening Post are an invaluable window into everyday 20th century American life, but also for American art.
While works by American international contemporary artists such as Andy Warhol and Jasper Johns have raised even higher prices, the sale of Saying Grace beats all previous prices at auction of "American Art" -- works by American artists before the American Abstract Expressionists took the world by storm.
The auction house has not revealed the name of the buyer. Some of the most ardent Rockwell collectors – including film directors Steven Spielberg and George Lucas – were said to have been interested in the lot.
Post readers voted Saying Grace, which Sotheby's estimated would sell for between $15 and $20 million, their favorite cover after it appeared in 1951. It depicts a gray-haired woman and a young, blonde boy, perhaps her son or grandson, bowing their heads in prayer as working men, intrigued but reverential, cast them curious gazes. Rockwell experts consider it his masterpiece.
"You can see it as his manifesto, even," said the Rockwell biographer and art critic Deborah Solomon. Its sale on Wednesday trebled the price reached by the previous Rockwell record, Breaking Home Ties, which sold for $15.4 million in 2006.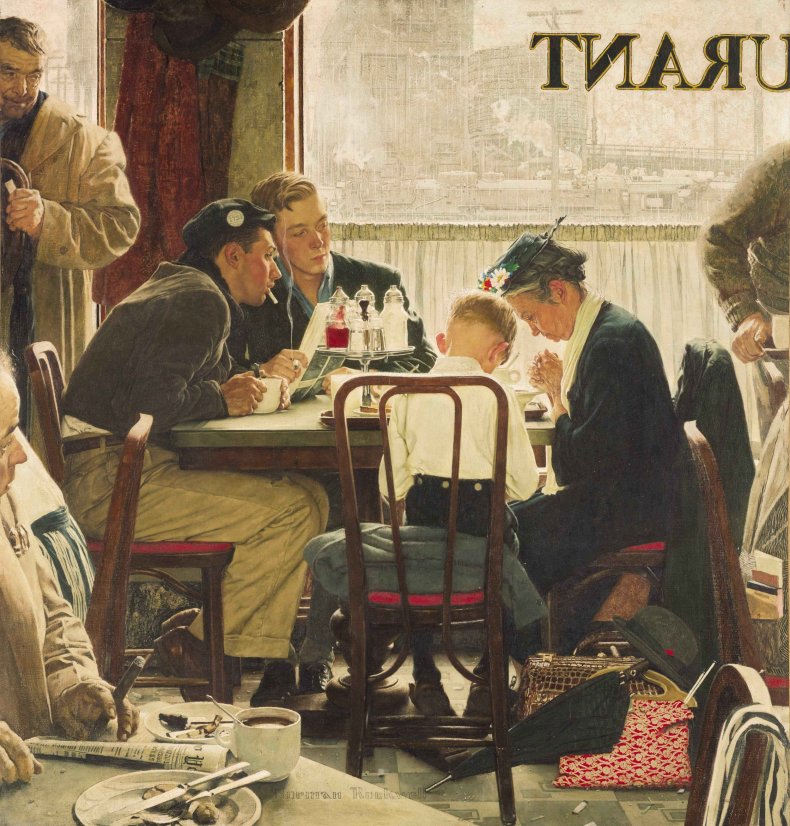 The sale also marked the record price for an American painting, previously held by George Bellow's Polo Crowd, which fetched $27.7 million at Sotheby's in 1999. It showed a group of dapperly dressed men and women, their cream-colored clothing contrasting starkly with an ominous, indigo sky, observing a polo game.
Together with The Gossips, which sold for more than $8 million, Walking to Church, which was purchased for $3.2 million, and four other Rockwells, this latest batch raised nearly $60 million.
For decades, the paintings were at the heart of two mighty legal battles: the first, between Rockwell's editor at the Post and its longtime art director, Kenneth Stuart Sr. and the paper's publishing company, over ownership of the pieces; and the second, between Stuart Sr.'s sons, who fought tirelessly for control over their father's estate when he died.
At odds with each other for years, the Stuart brothers came together recently, after the middle one, William, fell ill. They made an attempt at reconciling their differences and decided to sell the Rockwell paintings to mark the end of the the feud and to cash in on the family's estate.
Overlooking the saleroom in which the auction took place from private booths, the siblings were civil to each other but not obviously friendly. William and Jonathan, the youngest, watched with their wives and friends.
Kenneth Jr., the eldest, moved to a booth of his own because he had invited so many guests to share this moment of vindication, including the lawyers who brokered the deal.
"We might see each other at weddings, at funerals," said Kenneth Jr. But "we don't have a lot in common as people. We just happen to be brothers."
Far from their minds was the paintings' future home.
Lucas, creator of Star Wars, is thought to have visited Sotheby's on Monday to take a closer look at the pictures, said Solomon, though Sotheby's would not comment. The director is planning on opening an art museum in San Francisco and is thought to be in acquisition mode.
Other notable American Rockwell collectors are believed to have participated in the bidding, including Spielberg, director of ET and Jurassic Park, who has one of the most extensive Rockwell troves. Walmart heiress Alice Walton and Texas billionaire Ross Perot are also devoted Rockwell collectors.
But until and unless someone comes forward to claim ownership, the paintings might turn out to have been bought by an international art collector. Elizabeth Goldberg, director of American art at Sotheby's, said there was an overwhelming response in Hong Kong to the paintings when they were recently taken on an Asian tour to drum up interest.
Art experts are torn about who may have been on the end of the telephone that delivered the final bid, with some thinking a Chinese millionaire might have scooped up the paintings and others thinking the picture is far too American to appeal to cosmopolitan collectors.
What they all agree on is that wherever the collection may end up, what matters most is that the public does not lose sight of such an important piece of both Rockwell's oeuvre and America's history.
"I would prefer that it be in a museum rather than a private collection, said Solomon. If it does "I think that it will continue to work its magic."