Will Apple Watch Lead the Masses to Strap-On Wearable Tech?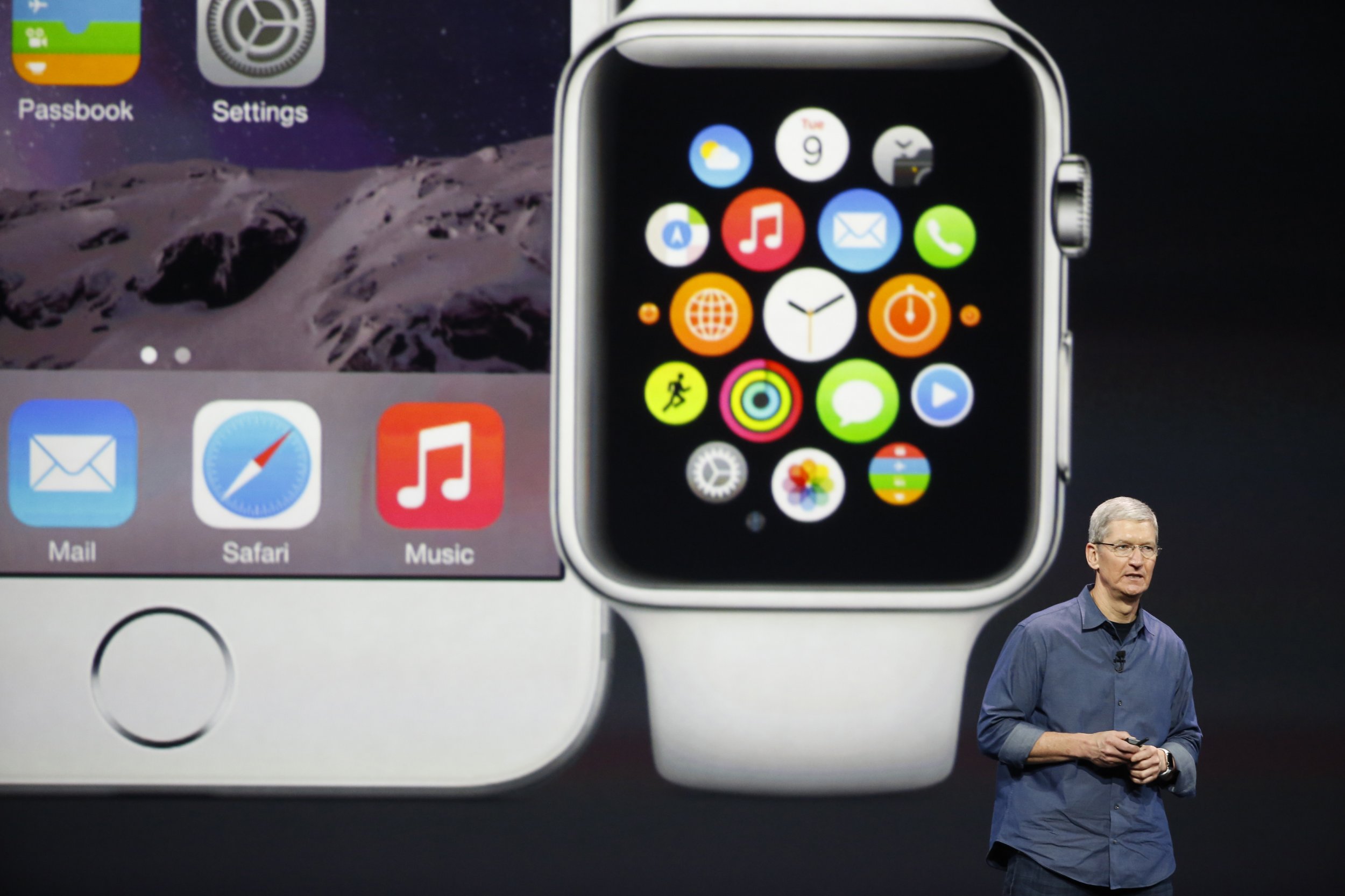 All eyes were watching, or attempting to watch on live stream, as Apple unveiled its newest hardware, the iPhone 6 and Apple Watch.
While the iPhone 6 and iPhone 6 Plus are incremental upgrades of the iPhone 5s, Apple's second announcement of the afternoon, the Apple Watch, is the company's first foray in wearable tech.
"It's the most personal device we've ever created," said Apple CEO Tim Cook to a room full of techies, "it's the next chapter in Apple's story."
Starting at $349, the Apple Watch can take several forms. It comes in two sizes, and has six different straps that come in many colors. The permutations fall under three collections: the Apple Watch, the Apple Watch Sport and the Apple Watch Edition. All of the watches must be paired with an iPhone to activate its GPS capabilities and connect to WiFi. The watch is only compatible with the new iPhone 6 phones, as well as the 5, 5S and 5C iPhones.
Due to the limited size of the screen, the key to controlling the Apple Watch is a dial on the side. Called the "digital crown," it allows users to scroll and, when tapped, brings them back to the home screen. The watch face is also interactive though, with sensors recognizing the difference between a tap and push to aid in carrying out functions.
The list of features is lengthy, but some notable capabilities include creating and sharing drawings, sending coded vibrations to regular contacts, and recording and sending your heartbeat. The watch can even be used as part of Apple Pay—Apple's new mobile payment system. Apple Pay claims to eliminate the need to carry cash or credit cards.
Apple says the wearable device can be intimately integrated with your home and health. The watch allows users to control items in their home, such as their AppleTV, and provides them with all-day fitness tracking that sends alerts ranging from pulse rate to calorie goals.
Apple said it will release a toolkit for software developers to build apps for the watch. This means unlimited possibilities for Apple Watch's capabilities. Even though Apple's smartphones have been out for years, developers still manage to create new apps daily.
Despite the recent push by tech companies to break into the wearable tech, sales have been weak. Though the product will not be available in stores until 2015, some argue it has already made an impact. James McQuivey, a consumer technology analyst for Forrester Research said, "It has firmly established the smartwatch as a category, one with unique properties requiring a unique solution as opposed to a miniature smartphone pushed down onto your wrist."