Will Beijing's New Leaders Solve the Tibet Crisis?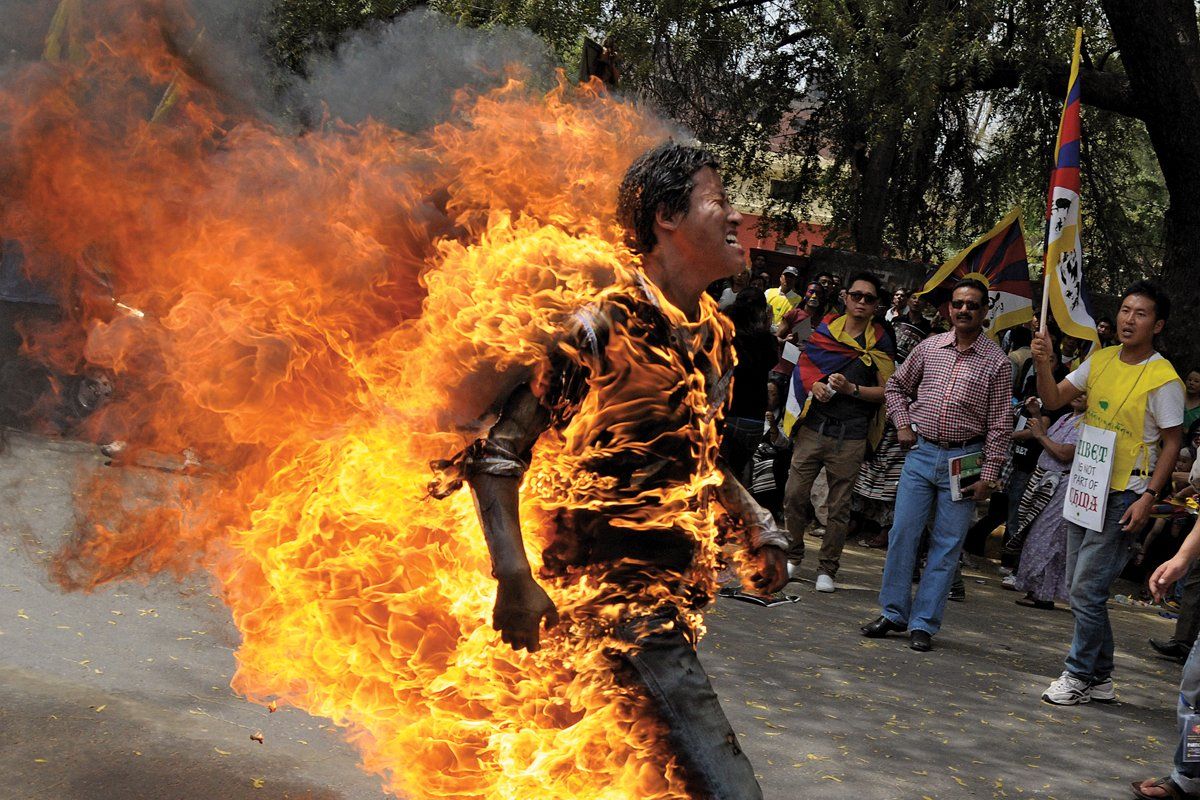 Students of Buddhist history and literature know well the ancient fables about Buddha's early incarnations, known as the Jataka Tales. In one, he is a prince who encounters a desperate, starving tigress with seven newborn cubs. It's clear to the prince and his party that the mother will devour her own brood, and perhaps kill other prey, to survive. While his companions ride off to seek food for the beast, the prince slits his own throat and flays his body to feed the tigress and to prevent her from consuming her offspring. After this sacrifice, he's reincarnated as Buddha—and in another twist of karma, the seven tiger cubs eventually are reincarnated as his disciples.
Frescoes illustrating this famous tale still captivate visitors at 1,400-year-old Buddhist sites along the fabled Silk Road. But the story is playing out in much grimmer metaphorical fashion in Tibetan communities. In January, a Tibetan Buddhist lama named Sobha learned that Chinese authorities had denied him a passport to travel to India to participate in a religious observance led by the exiled Tibetan spiritual leader, the Dalai Lama. Sobha recorded a nine-minute message and hid it in his maroon robes. Then he doused himself with kerosene and set himself on fire outside his monastery in Qinghai province. His suicide note declared he was sacrificing his body "to chase away the darkness … with firm conviction and a pure heart just as the Buddha bravely gave his body to a hungry tigress."
At least 53 other Tibetans have self-immolated since February 2009 to protest China's policies that the Dalai Lama has called "cultural genocide." In the latest case, on Oct. 6, a 27-year-old Tibetan named Sangay Gyatso died after setting himself on fire on the grounds of Dokar monastery in China's Gansu province. Two weeks earlier, a Tibetan writer in Qinghai named Gudrub also died in a fiery blaze. Back in March, Gudrub had written an article criticizing the Chinese government's clampdown in Tibetan areas: "[Those] concerned about the welfare of the people are subjected to arbitrary arrests and beatings. Tibetans who refuse to denounce His Holiness the Dalai Lama or accept China's rule on Tibet are secretly killed or made to disappear ... The pure land of snow is now tainted with red blood."
Suicide is a desperate act in any community, but even more so among Tibetan Buddhists, who believe that the taking of any life (even one's own) can make a person ineligible for reincarnation. Yet for those who resort to the taboo act, the allegory of the Buddha and the tigress offers a ray of hope that those who kill themselves "with a pure heart" may yet be reborn.
The current wave of immolations began three years ago in the Qinghai town of Tongren. In 2008, after antigovernment riots rocked the Tibetan capital of Lhasa—during which, Beijing says, 19 people died, mostly ethnic Chinese—officials implemented martial law in many Tibetan communities. They also accelerated efforts to compel the Buddhist clergy to denounce the Dalai Lama and promote a stifling program of pro-Beijing "patriotic education." The clampdown exacerbated Tibetan resentment. At Tongren's Rongpo monastery, a number of monks were detained by authorities in the months after the unrest. One of them, a 43-year-old, committed suicide in February 2009, reportedly after being tortured in detention. Since then, a steady stream of self-immolations have taken place, often intensifying around politically significant dates, such as the anniversary of the March 2008 bloodshed or of the abortive 1959 Tibetan uprising that triggered the Dalai Lama's flight into exile.
The levels of despair evident in the suicides is matched only by the resounding failure of China's Tibetan policies during the decade-long tenure of President Hu Jintao. The tensions between Beijing and the Tibetan Buddhist community reached a low point during the 2008 violence, which Beijing blamed on the Dalai Lama. Tibet's hard-line Communist Party secretary at the time, Zhang Qingli, called him "a jackal in monk's robes," while the official Xinhua News agency accused him of being a "tricky liar" who advocated policies "similar to the Holocaust" to expel ethnic Han Chinese from traditionally Tibetan parts of China. For his part, the exiled spiritual leader—and winner of the 1989 Nobel Peace Prize—said he was powerless to stop the protests, but vowed to resign as head of state if the violence continued. Later, in an interview after the unrest, he confessed to Newsweek that he had openly wept when he saw cellphone pictures of mangled Tibetan corpses.
So far, Beijing's strategy has been to wait for the eventual death of the Dalai Lama, who is now 77, to help solve its Tibet headaches. After his passing, Chinese authorities apparently plan to anoint a malleable young Tibetan as the lama's next incarnation and to nurture him while undermining or detaining other claimants. (Beijing adopted this strategy when the 10th Panchen Lama, the second most important Tibetan spiritual leader, died in China in 1989.) Beijing seems to be hoping that the Dalai Lama's death—and the inevitable succession struggle—will weaken younger Tibetans' desire for independence and shore up Beijing's claim that Tibet has always been Chinese territory.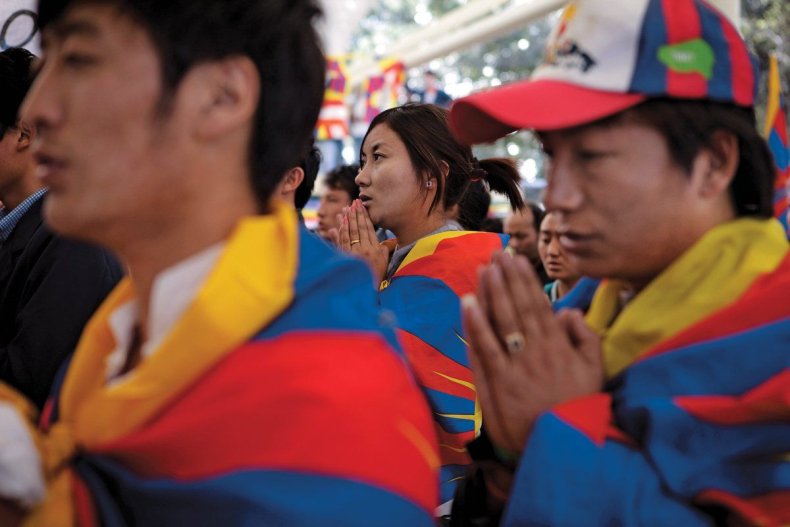 In fact, the Dalai Lama's passing will likely have the opposite effect: radicalizing Tibetan youth, prodding protesters toward greater violence, and fragmenting the current consensus in support of the Dalai Lama's moderate "middle way," which advocates cultural and religious autonomy within China, but not outright independence.
Meanwhile, some analysts hope that Beijing's Tibet policy could soften after the once-in-a-decade leadership transition that begins after next month's 18th Communist Party Congress, when a new generation of Chinese leaders will assume top-level party posts. The head of this new crew will almost certainly be Vice President Xi Jinping, who is slated to succeed Hu as president and party head. More than three fifths of the party's top 370 seats will also change hands, and the promise of new faces has prompted some Tibetans to hope for better days ahead. "I'm cautiously optimistic," prominent Tibetan blogger and activist Woeser told Newsweek. "However, China's political system is there, and many government units operate that system, so I don't know how much Xi Jinping can do."
That's precisely the question many Tibetologists are asking as they parse Xi's family background. Xi is a princeling, meaning his parents had sterling revolutionary credentials. His late father, Xi Zhongxun, was a former vice premier known for being relatively liberal in both his economic and political views. The elder Xi spearheaded China's quasi-capitalistic and reform-minded "special economic zones," which launched the country's post-Mao modernization drive. And he had a soft spot for senior Tibetan spiritual leaders, including the current Dalai Lama, who recalls meeting the senior Xi in 1954, when the Tibetan leader traveled to Beijing for several months to be tutored in Mandarin and Marxism. The Dalai Lama presented the elder Xi with an expensive watch purchased in India and, as he recalled in a recent interview with Reuters, found the Chinese statesman to be "very friendly, comparatively more open-minded, very nice."
Indeed, the Dalai Lama seems tantalized—though not entirely persuaded—by the possibility of a more liberal attitude in Beijing. He told Reuters that he hoped the incoming leadership team would have a "realistic" approach to Tibetan issues, and that he felt "encouraged" by recent meetings with emissaries claiming to be close to senior Chinese officials. However, in an interview with Newsweek last year, he said he was reluctant to raise the exile community's expectations too much. Recalling his high hopes for Hu a decade ago, he said, "When Hu Jintao came to power, some foreign experts expected positive change. But 10 years have passed and nothing has happened. Xi Jinping … openly said China needs political reform … But we also know the Communists are masters of the art of hypocrisy."
Many insiders, both Chinese and Tibetan, hesitate to speculate about Xi's political leanings—or his ability to bring about policy shifts even if he wanted to, particularly given the Communist Party's obsession with leadership consensus. "His father had taken a liberal stand on the Tibetan issue and had handled it quite well [but] I don't know anything about Xi Jinping in this regard," says Bao Tong, a former senior aide to the late party head Zhao Ziyang, who was purged from the party after the Tiananmen Square protests in 1989 and lived under house arrest until his death in 2005. (Bao himself spent seven years in prison for sympathizing with the pro-democracy demonstrators.) Likewise, Tenzin Taklha—a nephew of the Dalai Lama and a secretary in the exiled spiritual leader's office—told Newsweek, "It's difficult for any one leader to change the mindset of an institutionalized bias against the Tibetan people.
"However, we Tibetans remain hopeful that the new upcoming Chinese leadership lead by Xi Jinping will be realistic," he said, and that they will understand that a "policy of repression has failed to win the hearts and minds of the Tibetan people."
What is clear is that Tibet has emerged as a bargaining chip—and possibly even a trump card—as China's up-and-coming cadres jockey for power. "The past year has shown again that we outsiders know little of what's going on within the black box of elite politics in China," says Robert Barnett, a Tibet specialist at Columbia University. "Tibet has become an important element in intraelite bargaining, more than we've seen before. And so it could at any time be seen as a card to play."
Barnett and others point to incremental shifts in Tibet policy at the local level, possibly in response to public opinion or as conflict-avoidance measures. In Lhasa, at detention centers where many Tibetans were confined for months after returning from Buddhist religious services in India, "authorities gave up trying to get people to denounce the Dalai Lama or admit they'd been to see him," Barnett says, "after some older people said they'd throw themselves from the windows." Authorities also backtracked after Chinese liberal intellectuals criticized them for forcing Tibetan Buddhist monasteries to prominently display portraits of Mao and other Communist leaders. Now, the practice is said to be "voluntary," according to Barnett, who added that the announcement might be merely cosmetic with "no relaxation in practice."
Despite these "microadjustments," as Barnett put it, the self-immolations continue. The suicides have been so disturbing, they've paradoxically offered Beijing and Tibetan government-in-exile some common ground. Both sides have called for an end to the self-harming protests. In late September, more than 400 Tibetan exile leaders gathered for a special meeting in Dharamsala, India, to discuss the self-immolations and how to discourage Tibetans from carrying them out. "The fact that Tibetans, after 50-plus years, are still protesting—and in the drastic form of self-immolation—clearly indicates they are protesting against the occupation of Tibet and the repressive policies of the Chinese government," said Lobsang Sangay, who took over from the Dalai Lama as political head of the exiled government last year. A spokesperson for the government called on Beijing and the international community to help "find a lasting solution to the crisis" and appealed to Tibetans to refrain from killing themselves.
Beijing authorities want to see an end to the self-immolations, too. Officials have imprisoned Tibetans for disseminating news about the suicides, barred foreign media and diplomats from traveling in many Tibetan areas, and ramped up security—including riot police with fire extinguishers—in Tibetan communities. And while China's senior leaders still accuse the "Dalai clique" of encouraging the suicides, they no longer seem to blame him for planning or initiating them. During a press conference after a parliamentary session in March, Chinese Premier Wen Jiabao struck a more tolerant tone. The suicide victims "are innocent," he said, "and we feel deeply distressed by their behaviors." Whether that distress will translate into policy changes remains to be seen.