Will Ben Smith Get Tayshia Adams' Final Two Rose? Spoilers On If He'll Rejoin 'The Bachelorette'
Ben is back, Bachelor Nation, whether or not you're ready for it. The fan-favorite knocked on Bachelorette Tayshia Adams' hotel suite door at the end of Monday night's episode, and there's a chance he'll rejoin the group with just two men left.
In typical Bachelorette style, this episode left on a frustrating cliffhanger that may put Ben Smith back in the mix. Remember, just a few weeks ago, when Bennett Jordan almost came back, too? Yeah—same storyline, different man. And so now, we wait until Tuesday for answers.
Or not. There are some spoilers, so we can decide if there's a real chance Ben ends up with Adams in the end.
Reality Steve started spoilers this year by claiming Ben and Zac Clark were the final two Adams would choose. Last week, though, the spoiler blogger took back his original statement given that Ben was sent home. Now, it seems possible the spoilers were right—just with a bit of an unexpected turn.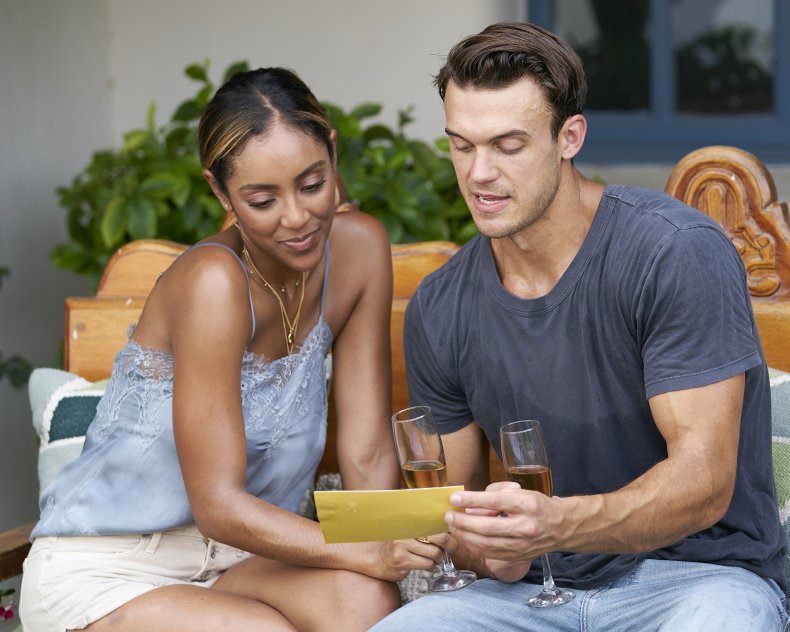 There appears to be a good chance that Ben will actually stick around and get a rose from Adams, bringing him to the final two. Reality Steve isn't so convinced just yet. The one thing he knows for sure is Ivan Hill is going home, despite his close connection with Adams.
"I mean, I'd be shocked if Ben meets her parents and gets to final 2, but who knows?" he wrote. "And I know she doesn't pick Ivan. So it looks like that info I was given has a good chance of playing out, I just don't have the greatest confidence in it."
In Reality Steve's view, there's no chance Ben and Adams will actually end up together at the end of the season. But there may be a bit more momentum in their relationship than was expected with Adams sent Ben home.
Fans will remember the emotional moment ended with Adams choosing to break up with Ben because he couldn't say he loved her. Super sleuth Bachelorette fans figured out Ben would return about a week before Monday's episode, though, when The Bachelorette aired a video of Ben confessing his love for Adams. Obviously, that clip hasn't appeared on the show yet, considering Adams sent the man home for not saying those exact words.
Adams also saw another man leave on Monday night when Brendan Morais decided to leave the show on his own. After a date that centered around engagement rings, Morais apparently wasn't ready for the possible commitment. As we've learned with The Bachelorette, though, there's a chance Morais isn't fully out of the picture, either.
The Bachelorette finale will conclude on Tuesday night at 8 p.m. ET.