Will Bernie Sanders Run Again? Senator Doesn't Rule Out a 2020 Race
While Senator Bernie Sanders of Vermont hasn't announced any plans to run for president in 2020, the 2016 candidate said he wasn't ruling out the possibility of another tilt at the White House.
In an interview on The Late Show, Stephen Colbert brought up a betting site that had Sanders tied with Senator Kamala Harris of California as favorites for the Democratic nomination in 2020.
"You want to lay a bet on who gets to face Donald Trump in 2020?" Colbert asked, jokingly.
"Actually, that's exactly what I don't want to do. No," Sanders responded.
Colbert asked if the comment meant that Sanders would be "willing to put aside all speculation" and announce to the people that he will not be running for president in 2020.
The Vermont senator delivered a resounding "no."
"What I have said time and time again, my focus right now is on 2018 and to do everything that I can to end one-party rule of the House and the Senate."
As for the next presidential election, Sanders said, "it's too early to be talking about 2020."
"OK, well, please come back when it's not too early," Colbert quipped.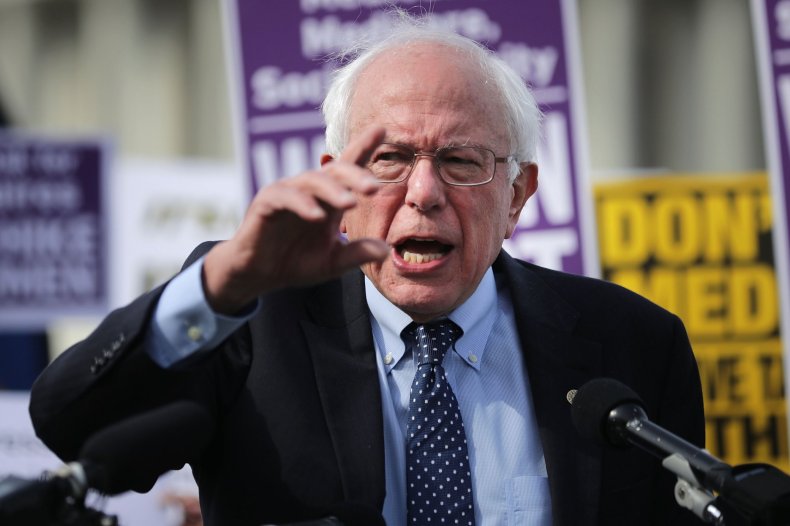 Colbert also talked about Sanders's concerns about the income-equality gap, asking "where's the revolution" if the gap is as bad as Sanders has said it is.
"What is our chance at avoiding what will eventually become a clash of money and interest against the forgotten?" Colbert asked.
Sanders maintained that "more and more people" in the U.S. have been "adopting a progressive ideology," but Colbert was not satisfied with that answer.
"But that's not reflected in the number of people who are controlling statehouses, the number of governors that are elected," Colbert said, pointing out that Democrats have lost 1,000 offices over the last eight years.
Sanders agreed, saying, "not only have they lost 1,000 legislative seats, they have essentially abdicated, conceded half the states in America, including some of the poorest states."
But he said that he and candidates like Alexandria Ocasio-Cortez have been working "hard all over this country...to tell the Democratic Party they just can't be a party of the East Coast and West Coast.
"They've got to be a party of every state in this country. It's not easy, and that's what we're trying to do," he said.
On Tuesday, Sanders won Vermont's Democratic Senate primary, although he is expected to turn down the nomination and run as an independent.