Will Beto O'Rourke Run for President? Oprah Offers Platform for Possible Announcement In Upcoming Interview
Beto O'Rourke has been silent recently, much to the dismay of supporters hoping he announces a 2020 run for president. O'Rourke returns to the public stage on Tuesday in a conversation with Oprah, in what could mark a major next step in his political agenda. The Texas Democrat will speak with the mega-famous talk show host for her series Oprah's SuperSoul Conversations From Times Square, The Associated Press reported Tuesday.
What O'Rourke plans to discuss is not known, but the former congressman's supporters hope he will use the occasion to announce a run for president in 2020. If not a formal announcement, a hint as to where he's headed might be enough for some, Nate Lerner, an O'Rourke grassroots organizer, told the AP. "A lot of people have been projecting their own desires to see him run, and they're hoping that he will announce on Oprah, which would be so fitting," Lerner said. "I'm hoping he at least does give some indication of where he's at."
While O'Rourke has yet to confirm a 2020 run, he has explored the possibility in recent weeks. He met with former President Barack Obama in November 2018 after narrowly losing his Texas Senate race to incumbent Ted Cruz. While Obama did not endorse O'Rourke during the midterms, he later shared his views of O'Rourke's campaign.
"What I liked most about his race was that it didn't feel constantly poll-tested," Obama said on the podcast The Axe Files. "It felt as if he based his statements and his positions on what he believed. And that, you'd like to think, is normally how things work. Sadly it's not."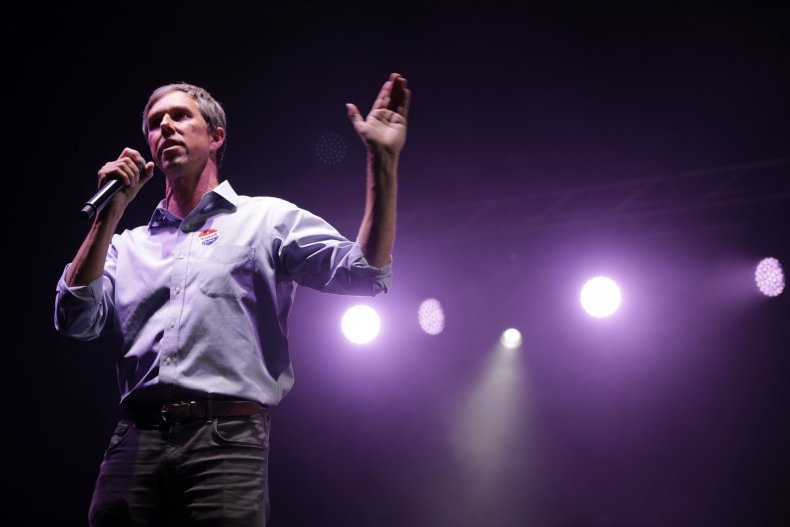 Neither Obama nor O'Rourke has commented much on their November meeting, according to The Washington Post. Obama is reported to have met with other Democrats hoping to run in 2020, including Elizabeth Warren and Bernie Sanders.
Oprah's conversation with O'Rourke will not air until February 16. The conversation will take place Tuesday in Times Square, and will be attended by ticket holders only. It will not be live streamed on any platform.
O'Rourke will not be the only person appearing on the show with Oprah on Tuesday. Other guests include Bradley Cooper, Melinda Gates, Michael B. Jordan and Lisa Borders, according to Deadline. It is unclear when the other interviews will be broadcast.