Will Blake and Caelynn's Drama Continue On 'Bachelor In Paradise?' Spoilers For Week 2
Bachelor In Paradise started with a bang and brought some of the most compelling, gossip-fueled drama into the show within its first minutes. With a leadoff like Blake and Caelynn's and the way the other Bachelor In Paradise players fell into the conversation, there's a lot to look forward to in the future of the summer series.
Last week, viewers saw Blake and Caelynn interact, along with Kristina Schulman, about their former fling at Stagecoach. In real-time, the drama extended to social media and nearly every celebrity-based media outlet, as Blake released text messages from Caelynn about their former hook up. Caelynn said she thought the relationship was more, while Blake denied it was ever more than a fling. As a refresher: Blake slept with both Caelynn and Kristina at the Stagecoach festival.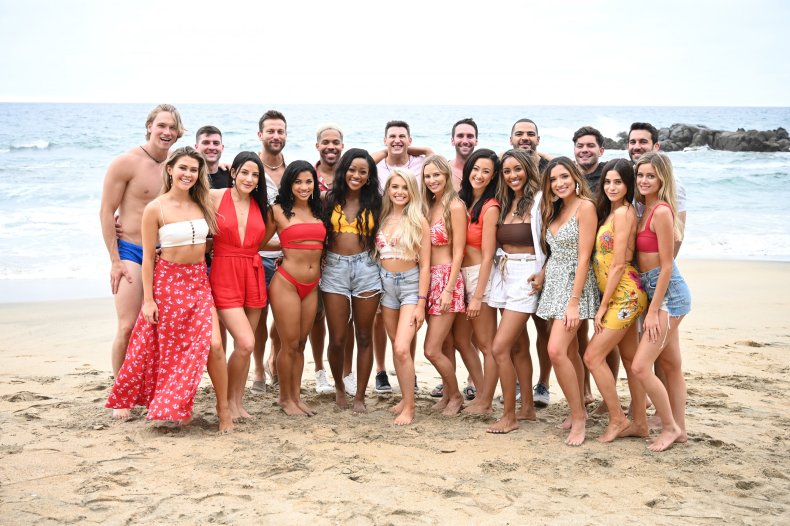 As the drama continues on the outside, viewers may be curious if it will cease on the show. Blake will be in the center of the drama on Monday night's episode, according to spoiler site Reality Steve, though not for the reason you may think.
Leaving behind the Caelynn and Kristina drama, Blake seemingly sets his sights on Hannah G, who got close to Dylan in the first week of Paradise. Blake sees this but decides to fight for Hannah's affection anyway. He's clear with Caelynn and Tayshia about not wanting to pursue relationships with them, and clear with Hannah about his feelings for her.
It may seem like a long-shot, considering Hannah's seeming care for Dylan. But Blake won't be the only guy to put his feelings for Hannah out there before the week is over. The episode will primarily focus on the love triangle, or square, and will ultimately end with Dylan keeping Hannah's heart.
Four new men will enter Paradise this week to stir things up: former Bachelorette villain Jordan Kimball—who hosted his own post-show drama after his engagement on last season's Bachelor In Paradise—Mike Johnson, Christian Estrada and Dean Unglert.
Two of those men won't last long though, and it isn't because they weren't given a rose. Both Jordan and Christian will leave in Week 2 because of a physical altercation they're involved in. Bachelor In Paradise apparently kicks the two off, before they're even able to attend a rose ceremony, according to Reality Steve.
There's also a contestant this week that will choose to go home. Apparently, Oneyka decided to leave in week two because she just wasn't finding love on the beach show. Three men will be eliminated in a normal fashion during a rose ceremony this week: Cam, Kevin and Wills.
Looking forward to week three, fans can expect to see the first same-sex couple spark and prove a lasting relationship may be found this season in paradise.