Will Bloomberg Drop Out? Billionaire Reportedly Plans to Reassess Campaign After Disappointing Results on Super Tuesday
Democratic presidential candidate Michael Bloomberg has reportedly indicated he will reassess his campaign on Wednesday after facing disappointing results in the Super Tuesday primaries.
An unnamed source close to Bloomberg's 2020 campaign told the Associated Press on Tuesday night that the former New York Mayor will determine whether he will continue his presidential campaign tomorrow.
In response, Bloomberg's campaign manager Kevin Sheekey said, "Everyday the campaign is reevaluating."
News that Bloomberg will reconsider his campaign comes after early results on Super Tuesday indicated that he had performed poorly despite spending $500 million of his own funds on advertising across the 14 states that voted in Tuesday's primaries.
Newsweek reached out to Bloomberg's campaign for further comment.
The former New York mayor said he would continue his campaign when pressed to drop out to clear a path for former Vice President Joe Biden earlier today. When a reporter suggested he should end his campaign at a press conference in Miami, Florida before Super Tuesday, Bloomberg shot back: "Joe's taking votes away from me ... have you asked Joe if he's going to drop out? I have no intention of dropping out."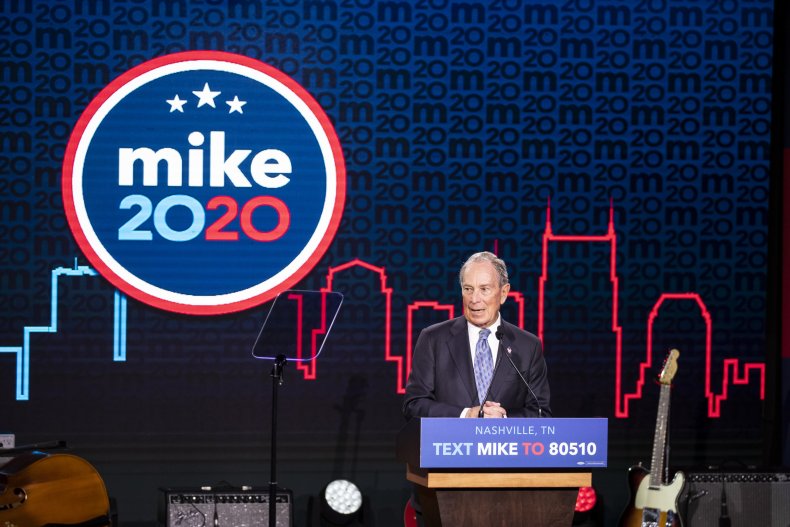 Bloomberg is just beginning his run after having skipped the first four contests. According to an NBC advertising-spent analysis, the billionaire dropped $5.6 million of his own money into Virginia and an additional $12.8 million in North Carolina, a total of $18.4 million across both states. By comparison, Biden spent only $173,000 in Virginia and $276,000 in North Carolina, a total of $449,000 across both states. Despite the discrepancy, Biden is projected to be the winner of both states tonight.
Despite the losses he's faced, Bloomberg received good news in the form of winning American Samoa, a U.S. territory. In that contest, he managed to secure at least four of the six delegates.
President Donald Trump's son Eric Trump criticized Bloomberg's presidential bid on Tuesday, calling it a "flop." Trump predicted that the former mayor will drop out after his dismal Super Tuesday showing. "I think Mini Mike is out after tonight," he said, referencing the president's derogatory nickname for the candidate. "Where is he to be found tonight? I don't think he has a chance of winning any state. I don't think he has a chance of getting to the 15 percent threshold in many of the states."
At the time of publication, Bloomberg had secured 21 delegates. Just over one-third—1,357 delegates—are on the line over 14 states from Maine to California.
11:27 p.m. ET: This story has been updated to include comment from Bloomberg's campaign manager Kevin Sheekey.