Will Bob Woodward Release Trump Book Interview Tapes? 'Of Course'
Veteran investigative journalist Bob Woodward said he would back up his reporting on the Trump administration if challenged—by releasing recordings made during interviews.
Woodward's latest book, titled Fear: Trump in the White House, detailing layers of White House dysfunction, faced denials from officials with close ties to the president, including former Director of the National Economic Council Gary Cohn, Chief of Staff John Kelly and Secretary of Defense James Mattis. Even before publication, Donald Trump had called the book a fraud and a "con on the public."
But Woodward, who became a household name through his investigation of Watergate and disgraced President Richard Nixon, told CBS This Morning on Thursday that he had amassed "literally hundreds of hours of tapes." He said he would use them as evidence if pushed to do so, "if somebody comes out and denies something specifically," he said. "If somebody really wants to challenge me, of course. Again, I have made agreements with people that these sources are going to remain confidential."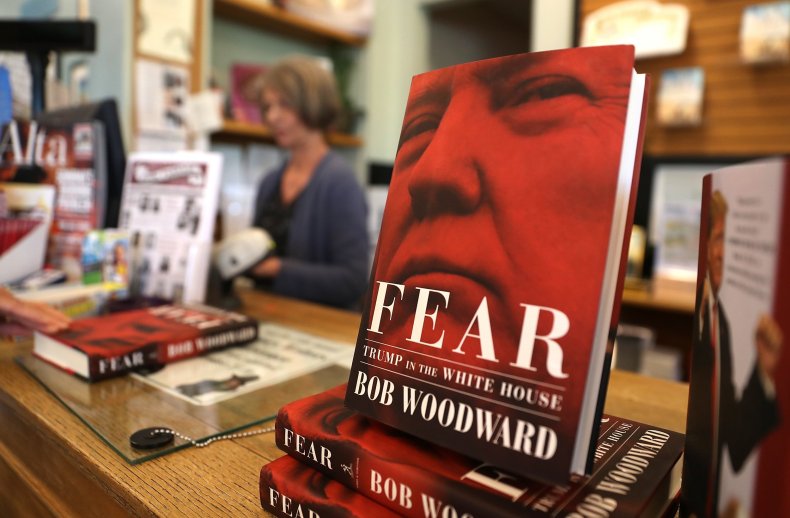 The book is based on conversations with "participants and witnesses" in the Trump administration, the author said, noting that he was not surprised by officials' recent denials.
'Survival Denial'
"Look, going back to the Nixon case, with any of these books, you are going to have what I call 'survival denial' by somebody who wants to be politically connected with the president, and that's fine," Woodward told CBS. "I have done this time and time again—you get denials."
On Wednesday, Woodward told MSNBC that individuals inside the White House had been worried about Trump's performance, citing the "inability to grow, the inability to listen, the inability to change his mind." He added: "The people closest to him do not trust him, and the impulse-driven presidency is something the more people know the more they realize we are at risk."
Fear:Trump in the White House reported that key aides to the president had hidden letters they didn't want the president to see. According to the book, Kelly once called the president an "idiot" and former Secretary of State Rex Tillerson, following one meeting, called him a "moron."
The president, who reacted harshly to the book as it hit the shelves, had previously posted a series of statements to his personal Twitter feed, reportedly written by high-level White House aides.
"Isn't it a shame that someone can write an article or book, totally make up stories and form a picture of a person that is literally the exact opposite of the fact, and get away with it without retribution or cost," he tweeted on September 5. "Don't know why Washington politicians don't change libel laws?" The president also suggested that Woodward was a "Dem operative."