Will Brady-Belichick 'Feud' Doom Patriots Against Titans? Five Questions for NFL Divisional Playoffs
It's Divisional Weekend in the NFL, and there are several pressing questions that will be answered in the games played Saturday and Sunday: Will the New England Patriots keep rolling despite reports in the media of unrest? Can the Jaguars pull off a giant upset in Pittsburgh? And how will a potential classic between the Saints and Vikings play out?
Here are five things to watch out for this weekend.
Can the Patriots win despite turmoil?
Maybe "turmoil" is too strong a word to describe the Patriots' situation in the wake of that piece by ESPN, which claimed disharmony at best—outright antipathy at worst—between Tom Brady, Bill Belichick and the quarterback's controversial fitness guru Alex Guerrero.
"I have a great relationship with both Robert [Kraft, the Patriots owner] and Tom, and I would throw in there, since it was part of the article, I feel like I have a good relationship with Alex, too," Belichick told WEEI radio in his weekly interview on Monday.
There's an element of, "Well he would say that" to Belichick's words. The Patriots' taciturn head coach isn't going to admit to any rift with his Hall of Fame-bound quarterback and risk upsetting the pair's meticulous plans for beating the Tennessee Titans.
Still, Tennesee could be poised for an upset in Foxboro. No one really gave the Titans a chance on the road against the Chiefs, and they won because Marcus Mariota decided to become his own wide receiver. If they do win, though, it will be because their pass-rush gets to Brady—not because the Patriots were distracted by any lingering discontent.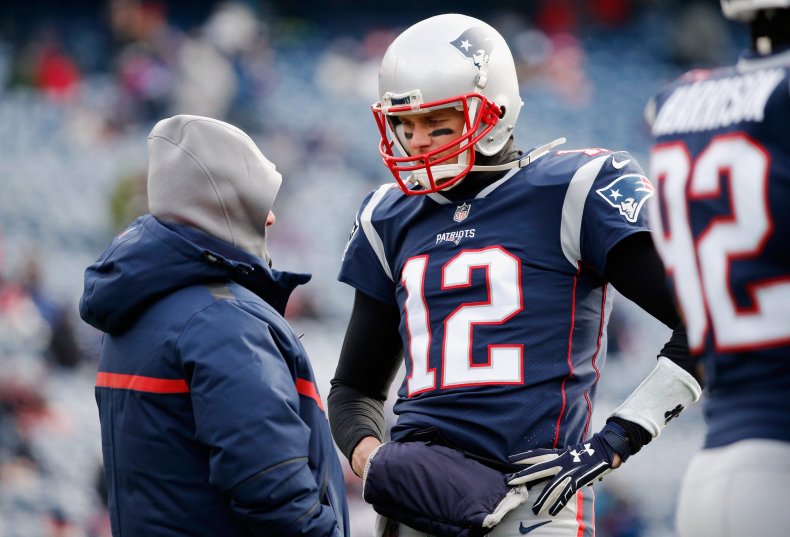 Can the Eagles win a playoff game with Nick Foles?
"[Eagles] Coach Doug Pederson wants Foles to get back to being aggressive and letting it rip", ESPN's Tim McManus reported on Wednesday. In a way, that's kind of surprising news. Given Foles's inconsistency—McManus demonstrates in his piece how the former Pro Bowler is either excellent or absolutely awful without much in between—you might have expected the Eagles to keep the ball out of their quarterback's hands and give to running backs Jay Ajayi and LeGarrette Blount.
The Eagles' bind, though, is that they may have to score 30 points or more to win this game if Matt Ryan and the Falcons offense show up. So they will ask Foles to air the ball, and cross their fingers they get the 2013 version.
Will the Jaguars' defense make up for Blake Bortles?
At least the Jaguars know they can win with their limited quarterback—they've been doing it all season long. Bortles wasn't good by any stretch in last week's wild-card win over the Buffalo Bills—he had more rushing than passing yards—but Jacksonville's defense bailed him out. Bortles threw three interceptions against the 49ers in Week 16 and two against the Titans the week after that. And yet… As Bleacher Report pointed out on Tuesday, in a piece that characterized Bortles as the quarterback's answer to Rob Gronkowski, there remains the ineluctably frustrating sense that Bortles has the pure, unrefined talent to be able to do prodigious things on a football field.
The Jaguars will need those against the Steelers, because that all-world defense is going to give up points to Roethlisberger, Bell, Brown and Bryant. For once, Bortles needs to bail his defense out.
How can the Saints offense be stopped?
Defensive coordinators really earn their money against the 2017 New Orleans Saints. Stop Mark Ingram, and you get a fresh Alvin Kamara running at you. Stuff both of those Pro Bowl running backs, and you have to figure out a way to get to a man who breaks single-season throwing records for fun in Drew Brees.
The Saints actually ranked higher in the league in passing than they did in rushing in the 2017 regular season. Now they run into the NFL's best defense.
Who's the real Case Keenum?
The Vikings' season looked to be in trouble when Sam Bradford was ruled out for the year in the early autumn. Instead, Case Keenum stepped in, started 15 games and looked like he'd played like this all his career: 22 touchdowns, seven interceptions, a passer rating of 98.3.
Keenum is having, statistically, the best year by a Vikings quarterback since Brett Favre in 2009. (That year ended in a loss in the NFC Championship game to the Saints). Of course, he's never played a playoff game before. But Keenum has done nothing this season to suggest he's about to fall apart when the pressure comes on. And he has that elite defense to back him up if he begins to struggle, too.