Will Brazil's Lula Remain in Jail? Judges Clash Over Future of Former President
Brazil's popular former President Luiz Inacio Lula da Silva was thrown into legal limbo over the weekend, as members of the countries judiciary clashed over whether he should remain in prison or be released as his case awaits an appeal.
Known commonly as Lula, the former president had been sentenced to 12 years in prison for corruption and money laundering. He began to serve his term in April. But on Sunday, Judge Rogerio Favreto ruled that Lula should be freed because his case is expected to have further appeal, Reuters reported. Favreto's decision was quickly challenged, however, and Judge Carlos Eduardo Thompson Flores granted a request from prosecutors to keep the former president behind bars.
Favreto had argued that Lula, who served as president of the South American country from 2003 to 2010, should be freed because he is also a frontrunner in polls for the upcoming October presidential election. The judge said he should be released in order to protect "the democratic process" during Brazil's campaign season.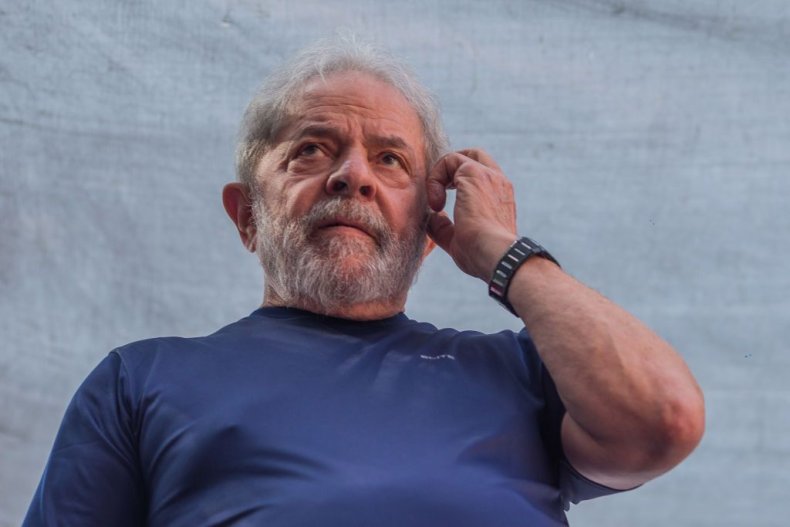 Responding to Favreto's ruling, Federal Judge Sergio Moro, who leads the court that initially convicted Lula and has been at the center of a major corruption investigation in the country, said, "With all due respect, [Mr. Favreto] has absolutely no qualified authority to override the decision," the BBC reported.
Favreto then reissued his ruling, ordering Lula to be released within one hour. However, authorities appear to have disregarded the judge's demand and the former president remains in detention.
Lula has become a central figure in a massive corruption scandal that has seen many of Brazil's leading politicians charged and convicted. Lula had been convicted of accepting a renovated $1.1 million beachfront apartment as a bribe by engineering firm OAS. In return, Lula allegedly awarded the company government contracts.
The former president claims he is innocent, with his defense team arguing that it has never been proven that he owned the apartment. The defense also pointed out that the case relies mainly on the testimony of a former chairman of OAS, who was also convicted of corruption.
Although the Brazilian legal system generally allows defendants to remain free until they've exhausted all of their appeals, Lula was ordered to be imprisoned after losing his first appeal by the country's Supreme Court. The court used a 2016 ruling from a lower court to justify the move, in a controversial 6-5 decision.
The leftist politician is a polarizing figure in South America's largest country. He remains popular among Brazilians, with April polls showing him as the frontrunner in the country's upcoming presidential election, maintaining a lead of 13 percent over his close rival, conservative hopeful Jair Bolsonaro.
Before the Supreme Court's decision, thousands of Brazilians protested in the streets to imprison Lula immediately. At the same time, large counter-demonstrations in support of the former leader took place across the country.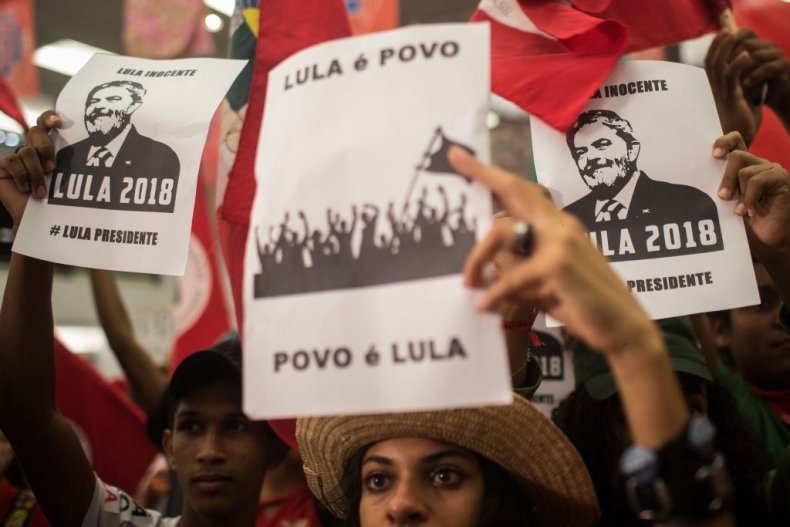 It remains unclear whether Lula will actually be allowed to run in the upcoming election. An elections court must rule on whether or not his criminal conviction bars him from seeking elected office.
Brazilian legal and political experts have argued that the case against Lula is politically motivated and based on little substantial evidence.
"The prosecution of Lula was unprecedentedly fast for a judicial system notorious for its tardiness. His conviction is based on evidence that falls far below the minimal threshold accepted by any judicial system working under the rule of law and basic human rights principles," human rights lawyer Mariana Prandini Assis and Pablo Holmes, an associate professor of political theory at the University of Brasilia, wrote for Al Jazeera following the former president's imprisonment in April.
"Moreover, the trial judge's bias has long been apparent in what many have called a political persecution," they added.