Republican and Democratic senators alike have called for a vote on Brett Kavanaugh's confirmation to the Supreme Court to be postponed after a sexual assault allegation against the judge came to light last week. His accuser has said she is willing to testify about the allegations before the Senate Judiciary Committee, reported The Washington Post.
The Senate Judiciary Committee is still scheduled to hold a vote to advance Kavanaugh's nomination on Thursday, but it is unclear whether it will be called off.
So far, a number of Republican senators have joined with Democrats to demand that the vote be put on hold until senators can hear from Kavanaugh's accuser.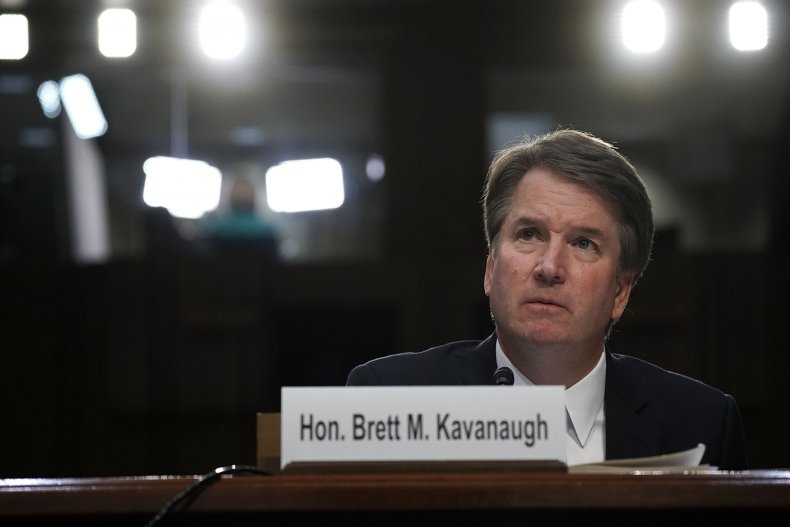 Senators Bob Corker of Tennesses, Jeff Flake of Arizona and Lindsey Graham of South Carolina have all said that they believe the panel should wait until it has heard a full account from Christine Blasey Ford who has alleged that Kavanaugh forced himself on her during a summer in the 1980s.
The allegation
Ford, now 51, has accused Kavanaugh of having pinned her to a bed and forced himself on her at a time when both were still high school students.
Speaking to The Washington Post on Sunday, Ford, who is a psychology professor at the Palo Alto University in California, said that Kavanaugh groped her over her clothes and grinded his body against hers as he tried to pull off a one-piece bathing suit she was wearing, as well as the clothes she wore over it.
When the then-teenager tried to scream, Ford said Kavanaugh put his hand over her mouth.
"I thought he might inadvertently kill me," she told The Post. "He was trying to attack me and remove my clothing."
Ford said she had kept silent about the alleged attack until it came up while she was in couples' therapy with her husband in 2012.
She reached out to The Washington Post in July after Kavanaugh's name was announced on short lists in the bid to replace Justice Anthony Kennedy, but the 51-year-old did not wish to go on the record with her allegations at the time.
After it was reported last week, however, that a woman had reached out to California Democratic Senator Dianne Feinstein with a letter detailing the alleged assault, Ford decided to share her story with the public, speaking to The Post on Sunday.
Kavanaugh has "categorically and unequivocally" denied the allegation, asserting: "I did not do this back in high school at any time."
Calls to Postpone Vote
Despite Kavanaugh's blanket dismissal of the allegation against him, senators from both parties have asked that the vote to confirm him be delayed.
Flake, a Republican member of the Judiciary Committee, told Politico on Sunday that he would not feel "comfortable voting yes" to Kavanaugh's nomination until he heard Ford's account.
"I don't think I'm alone in this," the Republican senator added.
Indeed, Corker, who does not sit on the committee, said that he believed it "would be best for all involved, including the nominee" if senators could hear from Ford before making any vote on Kavanaugh's confirmation.
Fellow Republican Graham said that while he questioned the timing of the allegation, he would "gladly listen" to what Ford had to say "and compare that against all other information we have received about Judge Kavanaugh."
He said that "if the committee is to hear from Ms. Ford, it should be done immediately so the process can continue as scheduled."
​Read more: Republican Senators Back Hearing Out Kavanaugh Accuser Before Panel Votes
That would mean that Ford, who has agreed to testify, would have to share her account with senators before Thursday if the vote is to continue as scheduled.
Feinstein has also demanded that the vote be delayed.
She said that she supports Ford's "decision to share her story." However, the Democrat also said that now that Ford has made her story public, "it is in the hands of the FBI to conduct an investigation."
Asked by several outlets, the FBI has repeatedly denied opening any investigation into the allegations and it is unclear whether it plans to do so at any point.
Republican Senator Chuck Grassley ot Iowa, who is chairman of the Judiciary Committee, has said he was working to set up separate phone calls with both Kavanaugh and with Ford before Thursday's vote.
"Given the late addendum to the background file and revelations of Dr. Ford's identity, Chairman Grassley is actively working to set up such follow-up calls with Judge Kavanaugh and Dr. Ford ahead of Thursday's scheduled vote," a spokesman for Grassley said on Sunday, according to The Hill.
The aide said that "the Chairman and Ranking Member routinely hold bipartisan staff calls with nominees when updates are made to nominees' background files."
If the vote on Kavanaugh's Supreme Court nomination is postponed, as senators from both parties have requested, it is not known when it would be rescheduled, if at all.