Will Carmelo Anthony Retire? Tracy McGrady Believes He Should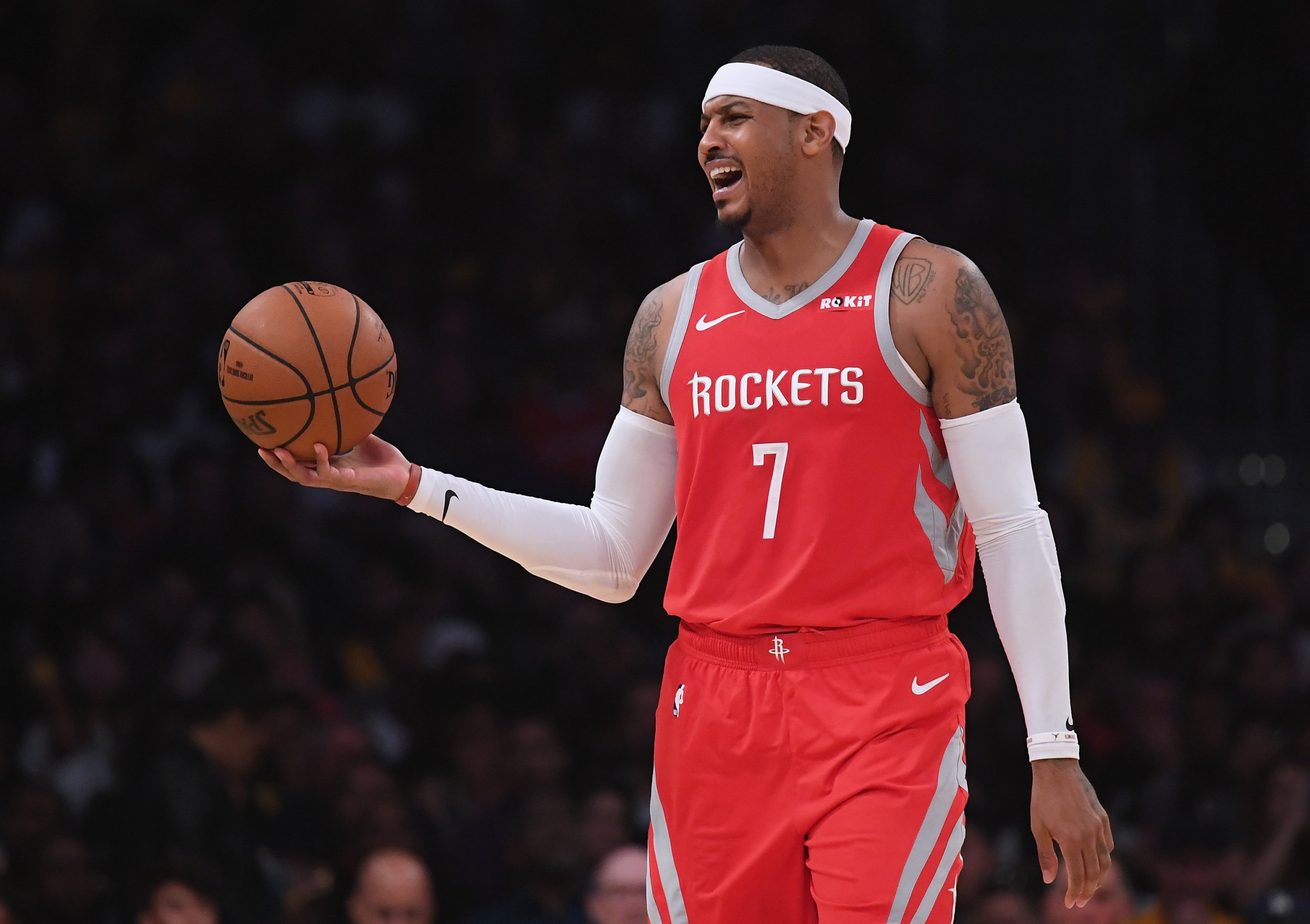 "What next for Carmelo Anthony?" has been the question on everyone's mind in the NBA, since rumors emerged that the Houston Rockets were planning to get rid of 'Melo.
For Tracy McGrady, the answer is simple: retirement. The seven-time All-Star believes it's time for Anthony to walk away from basketball, rather than running the risk of tarnishing his legacy by hanging on to a career that has clearly run its course.
Earlier this week, ESPN's Adrian Wojnarowski reported the Houston Rockets were working on waiving 'Melo and that his representatives were looking for a team to sign him once he is released. McGrady suggested the Rockets should be Anthony's last team.
"I honestly think 'Melo should retire, I really do," he said on ESPN's The Jump on November 13. "I don't want him to go through another situation like this where people are just pouring negativity on this man and his legacy.
"I really think that because it hasn't worked out with the last two teams, just go ahead [and retire]. You have a Hall of Fame career, just go ahead and let it go."
Anthony has missed the Rockets' last three games, officially because of an unspecified illness. In the summer, the 34-year-old signed a one-year deal worth the $2.4 million veteran minimum with Houston, but has only appeared in 10 games since.
The Rockets picked up 'Melo after he had been waived by Atlanta. A week earlier, the Hawks had traded Dennis Schröder to the Oklahoma City Thunder in exchange for Anthony, Justin Anderson and a lottery-protected 2022 first-round pick.
Anthony, who spent just one season in Oklahoma, was subsequently bought out of his contract to allow him to enter restricted free agency—and ensuring he would pick up his full $27.9 million salary for the upcoming season.
Replying to McGrady, ESPN's columnist Jackie MacMullan added the general public had almost lost forgotten Anthony's status, due to his decline over the last couple of years.
"I agree with you 100 percent," she said. "We've forgotten this guy is a Hall of Famer caliber talent."
The Rockets hoped the number three pick of the 2003 draft would add a threat from beyond the arc to an offense that relied heavily on Chris Paul and James Harden last season and that had lost Trevor Ariza in the summer.
However, the plan never got off the ground. So far this season, 'Melo averages 13.4 points, 0.5 assists and 5.4 rebounds in 29.4 minutes on the court. With the exception of the rebounds category, all the other figures are career-lows.
MacMullan added that 'Melo's reluctance to come off the bench—according to Basketball Reference, the former Syracuse student is the only player to have played at least 1,000 games since the 1981-82 season without ever coming off the bench—played a part in his downfall.
"He brings it upon himself. I was disappointed when he went to Houston and said it would be challenging for him to come off the bench. But some guys can do it and some can't," MacMullan said.