Independent watchdog group Citizens for Responsibility and Ethics in Washington (CREW) filed a lawsuit on Monday in an attempt to force the American Action Network (AAN), a conservative non-profit, to reveal its donors. Campaign finance experts say the lawsuit is unprecedented: It represents the first time an independent group has gone around the Federal Election Commission (FEC) to sue over violations of campaign finance law, and opens a new avenue for activists to try and expose secret spending in American elections.
And it's only happening because a federal judge ruled that the authority tasked with upholding U.S. election law isn't up to the job.
Last month, a federal judge ruled the FEC had failed to properly apply the U.S. law in response to a six-year-old FEC complaint filed by CREW against AAN, which has funnelled millions of dollars to the Super PAC associated with House Speaker Paul Ryan this election cycle. CREW took the commission to court for refusing to force AAN to register as a political committee and disclose its donors, despite spending millions of dollars on ads and campaigns in recent years. After several years of litigation, the judge in the case came to agree with FEC critics who argue the nation's election watchdog is unwilling to enforce campaign finance law.
So the judge turned to a provision in the law that created the FEC that had never been fully implemented before: He told the FEC it had 30 days to do its job. If it didn't act by then, it had to get out of the way and let CREW sue AAN directly. That thirty-day deadline passed late last week. On Monday, CREW sued AAN.
"We asked the FEC to enforce important laws restricting secret political spending, and because the agency will not act, the only way to address this crucial issue for our democracy is for us to step in ourselves," Executive Director Noah Bookbinder said in a statement Monday. (CREW is also a non-profit, and isn't required to disclose its donors.)
The judge's ruling potentially represents an important shift in the post-Citizens United era of deregulated money in politics. It creates a forum outside of the FEC for CREW to challenge the veil of secrecy that shrouds some election spending. Last campaign cycle, $176 million of outside spending came from groups that don't have to disclose their donors, according to the Center for Responsive Politics. But even if the case doesn't help shine light on all anonymous political spending, the case could still spell trouble for the "dark money" group at the heart of the case, one of the most important in congressional politics.
AAN shares an address and staff with the Congressional Leadership Fund (CLF), the Super PAC that has spent more money than any other on independent expenditures so far this cycle, according to the Center for Responsive Politics. The CLF is the primary outside spending group associated with House Speaker Paul Ryan and works exclusively to support House Republicans. The two conservative groups also share money, and lots of it: So far this election cycle, $19.7 million of the $42 million raised by the CLF has come from AAN and its anonymous donors, a Newsweek review of FEC filings showed. That means nearly half of the funds raised by the House Republicans' most important Super PAC are from anonymous sources, which a court could unmask if CREW's lawsuit is successful.
AAN said the case is without merit. "This relates to activity in 2010 and has been in litigation for years. The FEC has dismissed this complaint twice," a AAN spokeswoman told Newsweek. The FEC declined to discuss ongoing litigation, but last month current Republican FEC chair Caroline Hunter told Newsweek Democrats' claims of GOP obstruction at the FEC were born from a difference of opinion about the role of the FEC and government regulation.
"We agree on the vast majority of enforcement cases. There are some places where we have ideological differences on interpreting the law," Hunter said. "The Republicans have generally been reluctant to read the law too broadly, and the Democrats, generally speaking, are more regulatory."
Former Democratic FEC Commissioner Ann Ravel, who publicly blasted the Republicans on the commission for failing to enforce campaign finance law when she resigned last year, said although the complaint against AAN represents "an extreme case," the court's ruling could provide a new avenue for watchdog groups to fight dark money in politics. Dark money can't be traced back to a donor.
"That will be a precedent for the courts to indicate there is another way to go when the FEC is unwilling to act," Ravel told Newsweek. "I think for that reason it is quite groundbreaking."
Last week, the sole Democratic FEC Commissioner Ellen Weintraub took the unusual step of issuing a statement publicly supporting the sidelining of her own commission. "This matter holds real promise of shining a bright light on a significant source of dark money," she said. "Let this matter move forward unimpeded by commissioners who have fought every step of the way to keep dark money dark."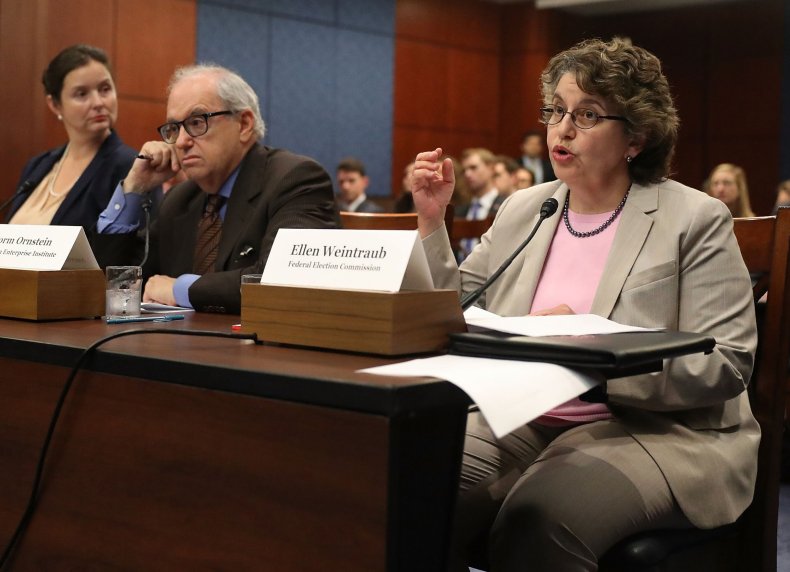 Other prominent Super PACs also share staff and offices with non-profit "dark money" groups. This enables these groups to make the following pitch to potential donors: Give to our Super PAC if you want your name disclosed, or if you prefer to remain anonymous, give to our non-profit, which is slightly more limited in the types of express advocacy it can engage in.
For example, the primary Super PAC backing President Donald Trump, America First Action Super PAC, has a non-profit sister group called America First Policies. Democratic Super PAC, which raises money for Democratic Senate candidates, is allied with nonprofit Patriot Majority USA. The model was created by former George W. Bush strategist Karl Rove, who set up his Super PAC, American Crossroads, shortly after the Supreme Court's Citizens United decision and soon partnered it with a new non-profit advocacy group, American Crossroads GPS, to attrack donors who wanted to make anonymous contributions.
Those anonymous contributions have been "very damaging to our democracy," Commissioner Weintraub told Newsweek.
This lawsuit is the latest chapter in CREW's nearly seven-year battle against AAN, which began when the watchdog filed a complaint against AAN with the IRS in 2011. AAN, which is a non-profit "social welfare" group under the tax code, spent at least $14 million on political ads in the 2010 election, according to CREW's complaint. Tax exempt "social welfare" groups don't have to disclose their donors and can spend money on politics, so long as politics isn't the groups' "primary" activity.
A year later, CREW filed complaints against AAN with the FEC to in an attempt to force the group to register as a political committee and file disclosure reports with the commission. The FEC requires four commissioners to agree on a matter for action be taken, and in 2014 the commissioners deadlocked 3-3 and closed the complaint, prompting CREW to go to the courts to force the FEC to act.
"The FEC has been dysfunctional for a long time and things are only going to get worse with two of the six spots open," election law expert and University of California, Irvine law professor Richard Hasen told Newsweek in an email. Hasen saw recent developments as a "recognition that the only way people are going to get relief in most cases of campaign finance violations is to bypass the FEC entirely and try to bring matters into court."
Other watchdog groups who have filed FEC complaints told Newsweek they are interested in following CREW's example, but that the AAN case also illustrates how difficult it is to move to the lawsuit stage.
"It illustrates how long it takes to get to this point," Paul S. Ryan, vice president of policy and litigation at Common Cause, a non-partisan good government group, told Newsweek. "You really have to exhaust all your remedies."​