Britain's Prince Philip once said that he wants Queen Elizabeth II to live to be more than 100—to keep his son Prince Charles from taking over the throne, a new book claims.
Royal tension between Philip and Charles, 69, is teased in the controversial new biography Rebel Prince: The Power, Passion and Defiance of Prince Charles, by Tom Bower.
"At a recent dinner with friends in Mayfair, Philip joked about his determination to live beyond 95," Bower writes in an extract from the book published by The Daily Mail. "The reason for his and the Queen's longevity, he explained amid his friends' laughter, was to keep Charles from the throne."
The author continues: "At 91, he said, the queen was in robust health—and, he implied, could well live for another 10 years. That in turn would mean Charles might be king for only a brief period—and would therefore have little opportunity to damage the monarchy."
According to Bower, Philip has "little confidence" in Charles' ability to rule the United Kingdom and "doubted whether his son, who had barely come to terms with the 20th century, could unify the country in the 21st."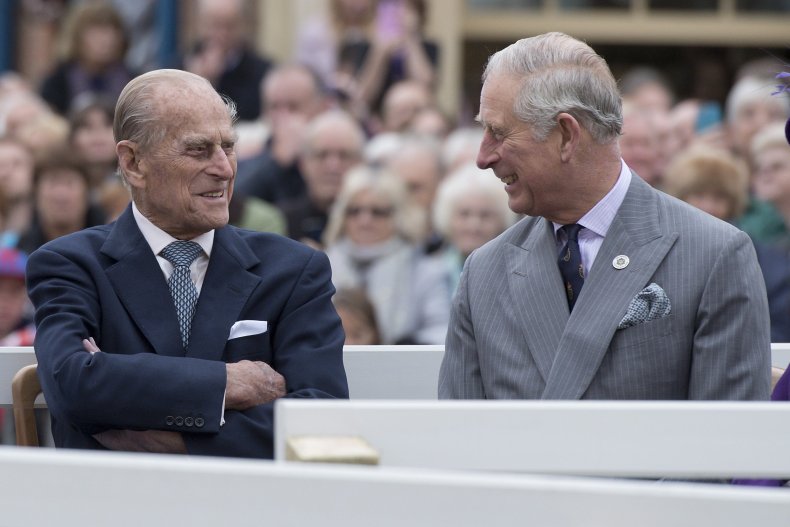 As depicted in the second season of Netflix's hit series The Crown, Charles had a difficult childhood trying to measure up to the expectations of his father, a former lieutenant in the British Navy.
"Philip believes that his son will never forgive him for his apparent 'sins' when Charles was a boy," Bower writes in his new biography of Charles. "These include ordering him to wear corduroy trousers to a birthday party; even as a middle-aged man, he still felt the sting of the trivial humiliation of being the only boy in cords."
Elsewhere in Rebel Prince, Bower writes about an alleged plan orchestrated by Charles, his now-wife Camilla, Duchess of Cornwall, and a public relations executive to try to smear the legacy of ex-wife Princess Diana following her death in August 1997.
This, says Bower, was one stage in a larger strategy to make Camilla, reviled by the British public because of her affair with Charles, more palatable to the nation.