Will Christie Brinkley Return to 'Dancing With the Stars' After Injury?
Christie Brinkley was removed from Dancing With the Stars after breaking her arm in preseason rehearsals, but that doesn't mean she won't return. According to her daughter, Sailor Brinkley-Cook, Brinkley wants to come back to the reality series "immediately," though it may not be possible this season.
Brinkley-Cook took her mother's place in the dancing competition just three days before the season premiere. That meant the 21-year-old model had only three days to learn her first routine, whereas the other celebrities had three weeks.
Brinkley has been a staple on the show, despite her injury. She's been seen at her daughter's rehearsals and live performances, and soon she could step back into the role of a dancer, her daughter told Fox News.
"She wants to come back immediately. She loves this!" Brinkley-Cook said.
Newsweek subscription offers >
The model said, at this point, she has her own eyes on the Mirror Ball trophy, but her mother could return for another season.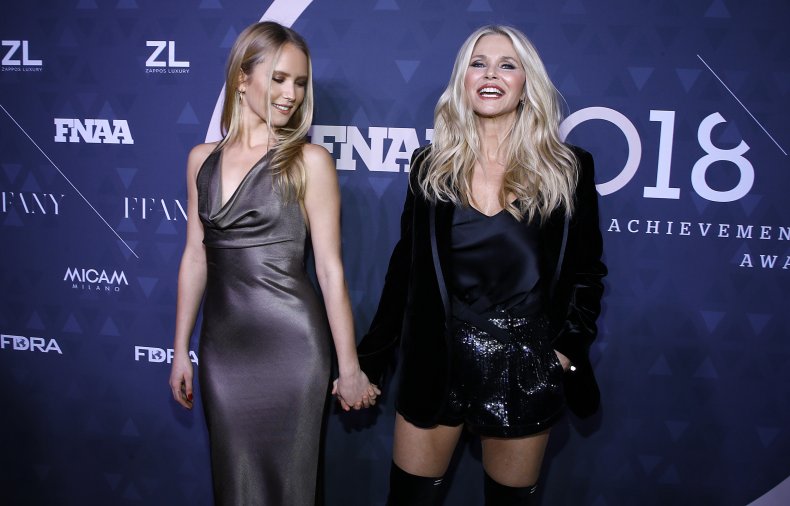 Brinkley's fall during rehearsals left the supermodel with multiple broken bones, requiring surgery, People reported. She also reportedly dislocated her wrist.
Yet her daughter said Brinkley was more upset about her need to leave the competition than she was about her surgery. "She called me, and she was crying," Brinkley-Cook told Fox News. "And she was saying, 'I broke my arm...and I'm so pissed, and I'm so disappointed in myself, and I let everyone down.' She wasn't even worried about her arm. She was just like, 'I wanted to do this so badly, and now I can't do it, and I don't know what to do.'"
Newsweek subscription offers >
Brinkley-Cook also explained how her mom asked her to fill in. "I was on an early flight out, and before the plane was about to take off—the wheels were literally rolling—my mom calls me and tells me that she thinks I should do it," she explained. Brinkley-Cook said she responded, "Mom! I'm taking off in 30 seconds! We'll talk about this when I land."
Although Brinkley-Cook's modeling career had taken her to exotic locations and placed her in the public eye, she said she was not used to performing.
"I had never danced at all," she said.
"It's definitely been an emotional whirlwind with all of the emotions of my mom breaking her arm and being in pain and being sad about not being able to do something that she was so excited for," she explained. And then having to work through thoughts that I not a performance person. I'm not used to getting up in front of a stage and doing anything, let alone dancing and having to learn steps to music and all of that."
Will Christie Brinkley Return to 'Dancing With the Stars' After Injury? | Culture