Will COVID Protocols Prevent Another Championship Parade in Los Angeles?
The Los Angeles Rams recorded their first Super Bowl victory, 23-20 over the Cincinnati Bengals on Sunday evening at the SoFi stadium in Inglewood, California, and fans are now anxiously waiting to hear if the city will host a celebratory parade.
Los Angeles, known to have some of the more restrictive COVID-19 health measures in the U.S., previously postponed championship celebrations for both the Dodgers and Lakers after each team won in 2020.
City officials feared that widespread gatherings would lead to an outbreak of virus cases, and instead moved to postpone the celebrations until the pandemic calmed down. Now, with COVID-19 cases largely on the decline across the nation, the Rams may have a better chance of publicly embracing their victory.
According to ESPN radio host Arash Markazi, there has been discussion of hosting a victory parade in downtown Los Angeles as early as Wednesday.
"Nothing is official yet but there have been discussions of having the Rams Super Bowl parade on Wednesday in downtown Los Angeles. They would like to have a rally at the Coliseum afterwards but the field is a pile of dirt at the moment after the NASCAR race there last week," Markazi tweeted on Monday.
Newsnation also reported last week that city officials have indicated they would support throwing a parade, but first they "would have to figure out what the proper spacing and route would need to be to keep everyone safe."
Since the Dodgers and Lakers were unable to celebrate their own victories, some have even called for the city to put on a 'mega parade' to honor each championship team.
Basketball star LeBron James, who currently plays for the Lakers, tweeted his support for the idea on Monday.
"We, Dodgers and Rams should all do a joint parade together!!!! With a live concert afterwards to end it!! City of Champions! Congrats once again!!!" he wrote.
Dodgers third baseman Justin Turner tweeted also tweeted on Sunday night: "Hey @Rams, when is the parade??? We are locked out and available! #MegaParade #LA #CityofChampions."
Several other Twitter users have called for one massive citywide celebration, with one user writing "the Rams should bring out representatives from the Dodgers and Lakers during their parade. You're trying to win back the city. This would a pretty productive step."
Los Angeles Mayor Eric Garcetti has not yet made an announcement on whether or not the city will host such an event, but he did boast about how proud he was to oversee a city of victories.
"Since I've been mayor, we've got a Stanley Cup, we've got Major League Soccer Championship, we were able to win the WNBA, World Series and an NBA championship," he told the Pasadena Star-News last week, adding that he's "been lucky enough while being mayor to win every major sports championship."
Following their victory, the Rams are first scheduled to head to California's Disneyland park on Monday afternoon, according to Fox 11 in Los Angeles.
The nearest Disney resort typically hosts a celebration for the winning team, and this year fans can watch as Super Bowl MVP Cooper Kupp and players Matthew Stafford and Aaron Donald are honored at 1:30 p.m. PT.
The Rams' victory marked their first Super Bowl win as a team playing in Los Angeles. Previously, the team won Super Bowl XXXIV as the St. Louis Rams before returning to California in 2016.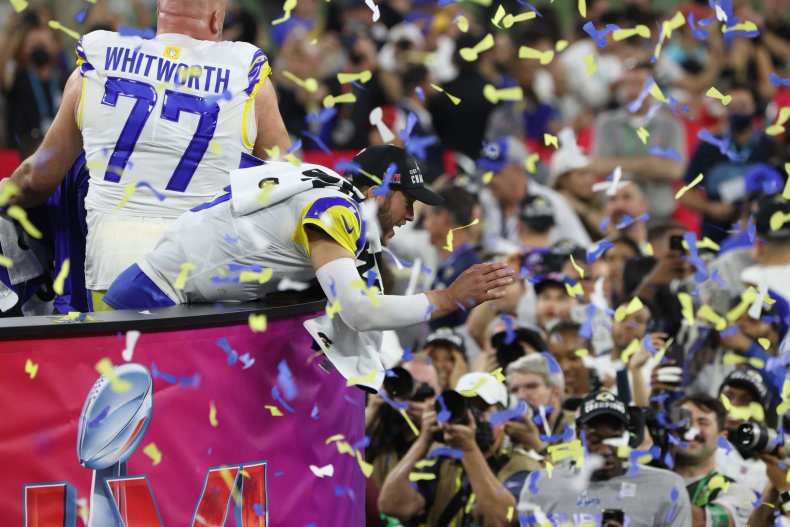 Newsweek contacted Garcetti's office for a comment but did not hear back in time for publication.
Update 2/14/2022 3:35 PM ET: This story has been updated to include information about the tweet from LeBron James.