Will Dak Prescott Play Sunday Against Philadelphia Eagles for NFC East Title After Shoulder Injury?
The Dallas Cowboys will play their most important game of the 2019 season this week, so it might not be a good time for their quarterback to have an MRI on his throwing shoulder. But that's what happened as Dak Prescott had an MRI for an injury sustained against the Los Angeles Rams last Sunday.
Dallas, which has a 7-7 record and one-game lead over the Philadelphia Eagles in the NFC East, travels to face the Eagles this Sunday in a game that could determine the division title. The NFC East will only have one team in the playoffs, so Sunday's game is of huge importance.
Meanwhile, Prescott was limited in practice on Wednesday. His coach and teammates feel confident he will be a full participant Sunday as the Cowboys could clinch the division title outright.
"They did an MRI, and everything seems to be OK," Cowboys coach Jason Garrett said Wednesday in The Dallas Morning News. "But he banged it up, and it's hard for him to function right now. So we don't anticipate him throwing much in practice today."
Prescott injured his should during a 7-yard run on the Cowboys' sixth play of the game last Sunday. On a roll out to the right, Prescott was tackled by Rams linebacker Clay Matthews, who landed hard on Prescott's shoulders.
After the play, Prescott trotted back to the huddle and did not appear to be in pain. Prescott went on to complete 15 of his 23 pass attempts for 212 yards and a pair of touchdowns in the 44-21 win over the Rams—the first victory by the Cowboys over any team with a winning record this season.
Prescott had an MRI on his right shoulder and he's still working out the kinks, but he is expected to play on Sunday. He didn't throw during drills on Wednesday, though, the DMN reported.
Ezekiel Elliot, the bruising Cowboys running back, said he doesn't comprehend throwing while enduring the pain Prescott felt.
"I couldn't imagine having to throw with it," Elliott said. "But I know Dak. I know his toughness. I know he'll play."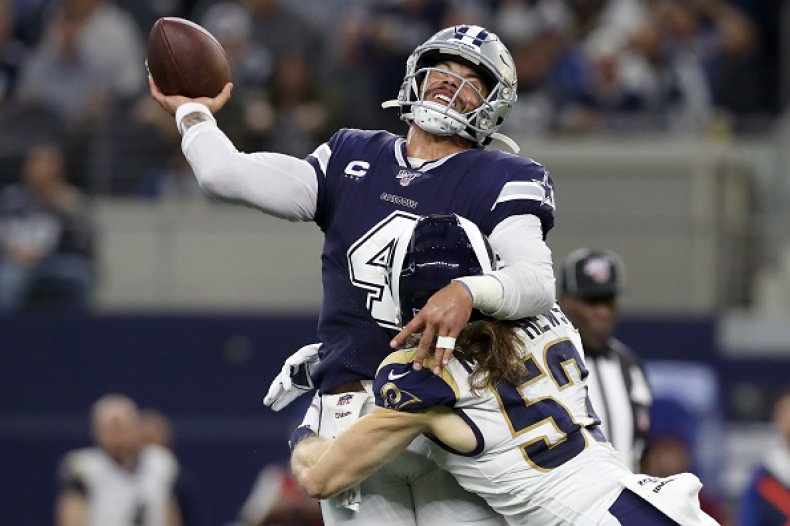 Garrett said Prescott's grit and ability to handle adversity are what makes him special.
"He's as tough as they come. His physical toughness and mental toughness are on par with anybody I've been around. That's just what he's all about," Garrett said. "He handles success. He handles adversity. He handles issues as well as anybody."
Eagles coach Doug Pederson, a former NFL quarterback, echoed remarks of Prescott's toughness and overall game preparation.
"We all know Dak Prescott and the type of player he is, and love everything about his game. He's not going to miss this game at all. It doesn't affect our preparation at all," Pederson told Dallas reporters on a conference call.
The Cowboys play the Eagles at 4:25 p.m. ET on Sunday at Lincoln Financial Field in Philadelphia.