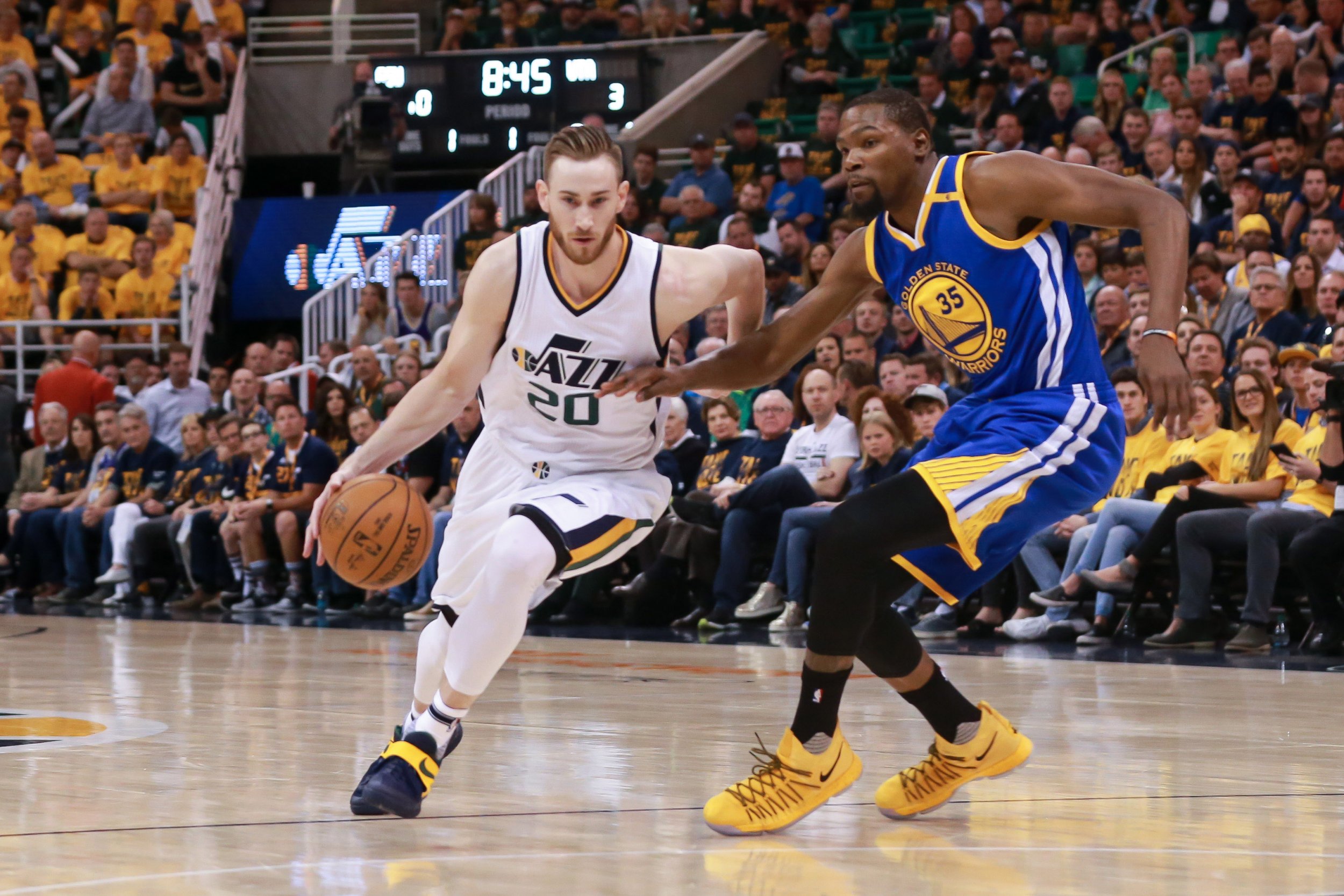 Gordon Hayward, now the former Utah Jazz forward, was one of the NBA's most coveted free agents this summer before being signed by General Manager Danny Ainge of the Boston Celtics.
One prominent person who was rooting against the Celtics signing was Ainge's son, Tanner, who is a candidate in the Republican primary for the special election to fill the congressional seat previously held by Jason Chaffetz. Ainge had openly encouraged Hayward to stay in Utah.
With the Jazz being one of just two major sports teams in the state (the Real Salt Lake soccer club is the other), Republican operative Chuck Warren said it's possible Hayward's decision could influence the election.
"It seems ridiculous, but if he goes to Boston and a candidate's dad takes him away…we're in an an age of crazy politics, so who knows what could set voters off," Warren said.
Tanner Ainge is facing off against former state legislator Chris Herrod and Provo Mayor John Curtis in the GOP primary. While Herrod and Curtis have more political experience, the Ainge family is well-known in the state. Danny Ainge was a star player at Brigham Young University (BYU).
"If there was a three-sided coin, it's really a flip of the coin," Warren said. "It's wide-open."
After initially avoiding talking about his father's attempts to woo Hayward to Boston, Tanner Ainge tweeted a link last week to a story about the Massachusetts legislature voting for a constitutional amendment that would establish an additional tax on millionaires, referencing the high-earning NBA star: "@gordonhayward: something to consider over next few days... #takenote."
Tanner Ainge last week told Ross Tucker, a fill-in host on The Dan Patrick Show, that while he "always" wants his father and brother to be successful, "I don't know why [Hayward] would want to leave."
Even on Tuesday, as early reports hinted that Hayward was, indeed, headed to Boston, Tanner Ainge made a last-minute push to encourage him to stay in Utah.
". @gordonhayward it is never too late to make the right decision #stayward #takenote," he tweeted.
Hayward was an All-Star in the stacked Western Conference in 2017, averaging 21.9 points per game during the regular season. In Boston, he will once again play for coach Brad Stevens, who also coached Hayward in college at Butler University. By adding Hayward, Boston is aiming to challenge the Cleveland Cavaliers for Eastern Conference dominance.
In his Players' Tribune post announcing his decision, Hayward thanked Utah and its fans for their support.
"I feel like I'm indebted to Salt Lake, twice over. Because not only has this been the city where I've started my family, and not only has this been the city that's helped raise my daughters for the last couple of years...but long before that, during my first few years in the league, I also feel like this city helped raise me," Hayward wrote. "And I feel like this city took me in, as part of its own family."
Chris Karpowitz, associate professor of political science at BYU, said he doesn't expect Tanner Ainge's support of the Jazz to have much of an impact on the election.
"It's never bad politics in the state of Utah to support the Utah Jazz, but my guess is it's unlikely to have a big effect," he said.
Karpowitz added that if the Jazz had been able to convince Hayward to stay, the Jazz's front office, not Ainge, would have gotten credit.
While Curtis, a former Democrat, has the highest name recognition, Herrod is the most popular among grassroots conservative activists. Ainge is the biggest wild card in the race, but it is "entirely possible" that he wins the August 15 primary, as he has a fundraising advantage, according to Utahpolicy.com's Bryan Schott.
But the race is so close, Warren said, that some voters who are Jazz fanatics but don't follow politics closely may hold Danny Ainge's successful pursuit of Hayward against Tanner Ainge.
"If you have three people and they split it three ways, and Hayward goes to Boston, does that influence 500 Jazz fans?" Warren asked. "Maybe. I think people are smarter than that, but if all I know is Danny Ainge took Gordon Hayward from my Jazz, there's a chance I don't vote for his son because of that."