Will Demi Lovato Enter the 'Bachelorette' World? Mutual Attraction May Land Her a Date with This Contestant
Mike Johnson may not have won Hannah B.'s hand on The Bachelorette, but he may win something just as good: a date with pop star Demi Lovato in real life.
The reality TV suitor and the "Sorry Not Sorry" singer don't seem to know each other, but have expressed a mutual attraction. It all began when Lovato sent a spree of Instagram story comments about how eligible Johnson was, based on his time on the current season of The Bachelorette.
Now, Johnson has responded to Lovato's cheeky comments about her attraction to him. The 31-year-old Texan opened up about the possibility of taking Lovato on a date to Us Weekly. "I'm flirting with her too. Tell her, 'What's up, baby?'" Johnson said. "I would definitely take her out for an initial date, yeah. 100 percent not scared about it at all. I would be like, 'Oh my God! Girl, come here.'"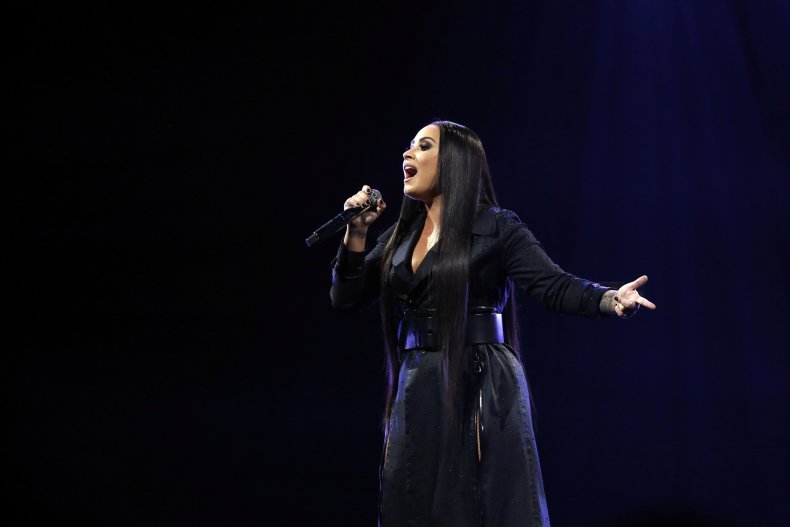 Johnson's comment follows Lovato's jokes that she'd give him a rose, even though Bachelorette Hannah B. ultimately didn't.
"Mike I accept your rose," Lovato explained on Instagram after he was given a tearful goodbye on the July 1 episode of the hit ABC reality series. "IM RIGHT HERE MIKE I'M RIGHT HERE BOO MY MOM ALREADY LOVES YOU TOO."
Fans are thrilled at the possibility of a blossoming romance between Lovato and Johnson. Some say Johnson would be lucky to date someone like Lovato, and others just want to see a relationship grow out of Lovato's funny and charismatic Instagram comments whenever she watches The Bachelorette.
There could be one snag in this Bachelorette grand plan, though. While there's no word on if Johnson and Lovato have actually connected, he is rumored to be — without any concrete evidence — in the running to be the next Bachelor.
At the very least, he's a fan favorite to be the lead in the next Bachelor season. A hashtag #MikeforBachelor has made the rounds on Twitter. If Johnson is chosen for the role, he'll have upwards of 20 women to woo, and where that puts a date with Lovato is uncertain.
Johnson didn't say he wants to be the Bachelor, but also didn't say he won't take the role, to Us Weekly. "It puts a smile on my face to know that people want me to find the love that I want so dearly," he said. "That's how it makes me feel. I'm like super humble in the sense of I, like, shy it down quite often, but being completely transparent, it makes me feel amazing that people would even consider that for me."
When will we find out whether Johnson is named the next Bachelor? Going by recent history, fans may need to wait a little while. The last two leads on the series weren't announced by ABC until early September.