Will Democrats Win the Senate in 2018? Latest Polls Suggest Republicans Face Threat of Losing Control in Midterms
With about six grueling weeks left until November's midterm elections, Democrats face a rough, but still obtainable, fight to win back Senate.
In order to gain a majority in the legislative body, the Democratic party will have to defend 10 seats in states that went to President Donald Trump in 2016 and pick up two additional seats in deep-red states. One mistake and they remain in the minority—but if everything goes just right, they could gain a slight majority in Senate.
Still, it's not likely that everything will end in the favor. "The race for the Senate is through red, rural America in states like Montana, North Dakota, and West Virginia," said political analyst Amy Walter on Face the Nation Sunday.
A string of recent Marist College polls showed that Democrats do still have a fighting chance, though the battle is uphill.
One poll put Indiana Senator Joe Donnelly ahead of his Republican challenger Mike Braun by three points, another found that Missouri Democratic incumbent Senator Claire McCaskill leads her race by two points. a third poll had Tennessee Democrat Phil Bredesen with a two-point advantage on Republican Representative Marsha Blackburn.
President Donald Trump won Indiana, Missouri and Tennessee by 19, 19 and 26 points, respectively.
A new Quinnipiac poll found that in Florida, Democratic Senator Bill Nelson is still neck-in-neck with Governor and Trump-ally Rick Scott in the most expensive Senate race of them all.
Of the competitive Senate races, only North Dakota's Democratic Senator Heidi Heitkamp trails behind her Republican opponent, Kevin Cramer.
But even if we assume nine out of the 10 Democrats retain their seats, they'll still have to gain three spots from Republicans to win that 51-49 edge in the Senate. Their best chances are in typically red (and sometimes purple) states like Arizona, Nevada, Tennessee and Texas.
In a private meeting on last week, President Donald Trump's budget director Mick Mulvaney admitted that the president's decreasing popularity was a drag on Republican candidates this election cycle. Senator Ted Cruz, he said, could easily lose Texas because of it.
"There's a very real possibility that we will win a race for Senate in Florida and lose a race in Texas for Senate. OK?" he said in a recording obtained by The New York Times.
"I don't think it's likely but it's a possibility," he added. "You may hate the president and there's a lot of people who do, but they certainly like the way the country is going. If you figure out a way to subtract from that equation how they feel about the president the numbers go up dramatically."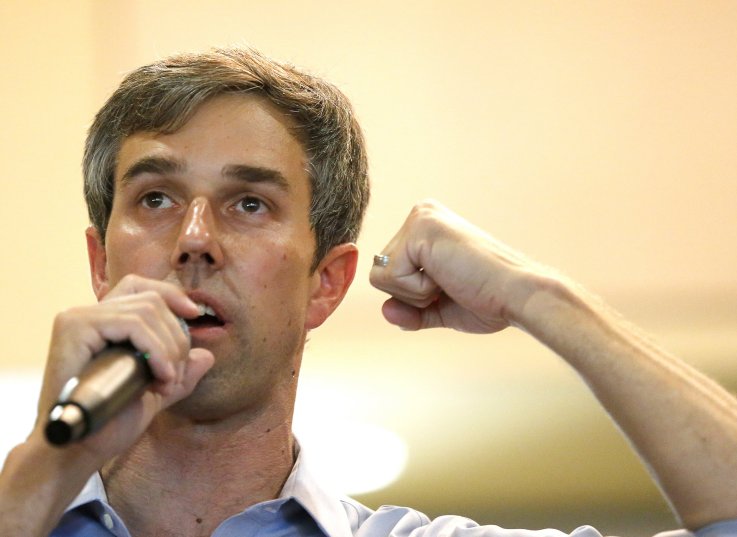 While the race in Texas has garnered a considerable amount of buzz, Cruz still holds a small margin over El Paso Congressman Beto O'Rourke.
In the Arizona race to replace outgoing Republican Senator Jeff Flake, Democrat Kyrsten Sinema maintains a small lead over Trump-pal Martha McSally and in Nevada, a state Hillary Clinton won by two points, Democrat Jacky Rosen and Republican Senator Dean Heller appear to be in a race too tight to call.
Maintaining a Senate majority isn't a foregone conclusion for Republicans, but the path ahead for Democrats has become increasingly narrow.
Will Democrats Win the Senate in 2018? Latest Polls Suggest Republicans Face Threat of Losing Control in Midterms | U.S.