Will Donald Trump Attend George H.W. Bush's Funeral? Trump Exchanged Insults With Bush Family
As the nation turns its attention to the pending funeral of former President George H.W. Bush, many are already wondering if the individual currently residing in the Oval Office, President Donald Trump, will attend the service.
Trump did not attend the funeral of former-First Lady Barbara Bush in April 2018, citing disruptions due to the added security from his presence.
"First Lady Melania Trump will attend the memorial service for Barbara Bush...on behalf of the First Family. To avoid disruptions due to added security, and out of respect for the Bush Family and friends attending the service, President Trump will not attend," the White House said in a statement.
While the first lady did attend the service, some felt that Trump's choice to forgo the service called back to the contentious relationship that the president had with Bush, the 41st president of the United States, and his son George W. Bush, the 43rd President of the United States.
The Bushes were candid in their concern regarding Trump's ability to be a leader, with both revealing that they voted for candidates other than Trump in the 2016 election.
George H.W. Bush voted for Hillary Clinton while George W. Bush opted for "none of the above," the two former presidents told Mark K. Updegrove, the writer of the book "The Last Republicans."
Updegrove then shared their words in an interview with The New York Times in November 2017.
"I don't like him. I don't know much about him, but I know he's a blowhard. And I'm not too excited about him being a leader," George H.W. Bush said to Updegrove.
Both George W. Bush and his father expressed concern that Trump's brash brand of politics would blow up the GOP.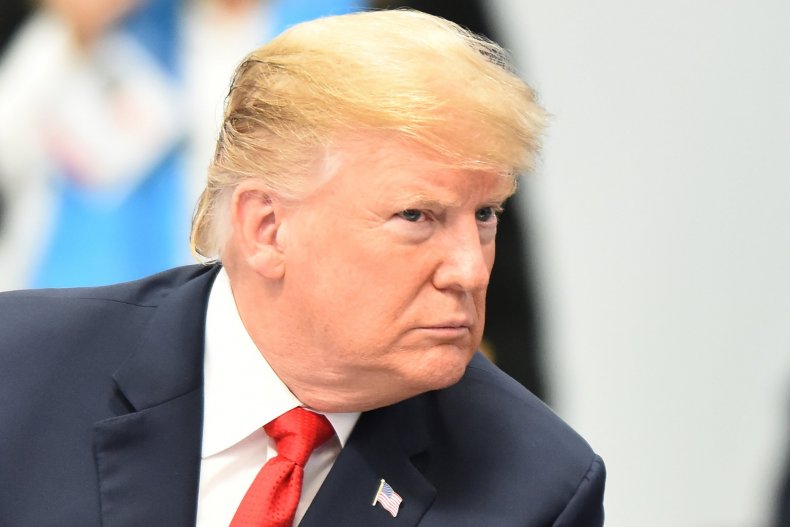 In response to the article, the White House issued a statement from the president to CNN, saying: "If one Presidential candidate can disassemble a political party, it speaks volumes about how strong a legacy its past to presidents really had. And that begins with the Iraq war, one of the greatest foreign policy mistakes in American History. President Trump remains focused on keeping his promises to the American people by bringing back jobs, promoting America First foreign policy and standing up for the forgotten men and women of our great country."
The issues didn't stop there as Trump used a rally in Montana in July to mock one of the 41st president's campaign slogans, "a thousand points of light."
"What the hell was that, by the way, thousand points of light? What did that mean? Does anyone know? I know one thing: Make America Great Again, we understand. Putting America first, we understand. Thousand points of light, I never quite got that one," Trump said during the rally in Great Falls, Montana.
"A thousand points of light" was explained by the 41st president in his inaugural address in 1989.
"I have spoken of a Thousand Points of Light, of all the community organizations that are spread like stars throughout the Nation, doing good. We will work hand in hand, encouraging, sometimes leading, sometimes being led, rewarding," George H.W. Bush said. "We will work on this in the White House, in the Cabinet agencies. I will go to the people and the programs that are the brighter points of light, and I'll ask every member of my government to become involved. The old ideas are new again because they're not old, they are timeless: duty, sacrifice, commitment, and a patriotism that finds its expression in taking part and pitching in."
Trump's friction extends far beyond the former presidents as he and 43's younger brother, Jeb Bush, went head to head repeatedly while on the campaign trail before Trump earned the Republican nomination.
Trump's sons, Eric Trump and Donald Trump, Jr., each rebuked Jeb in March after the former Florida governor admitted that Trump "crushed" him during the 2016 South Carolina primary. But, Jeb said, he went home to children who "actually love me."
"Jeb! I love everything about my father. I love that he's a fighter, I love that he has guts, I love that he's President (all those things you're not). Also love that he learned enough about politics in a few weeks to dismantle you piece by piece despite it being your life's work," Donald Trump, Jr. tweeted.
Eric Trump also tweeted to say that he loved his father very much.
Despite the history between the two families, Trump and Melania released a statement about George H.W. Bush's death, saying, in part, "Through his essential authenticity, disarming wit, and unwavering commitment to faith, family, and country, President Bush inspired generations of his fellow Americans to public service — to be, in his words, "a thousand points of light" illuminating the greatness, hope, and opportunity of America to the world.
"Along with his full life of service to country, we will remember President Bush for his devotion to family — especially the love of his life, Barbara. His example lives on, and will continue to stir future Americans to pursue a greater cause. Our hearts ache with his loss, and we, with the American people, send our prayers to the entire Bush family, as we honor the life and legacy of 41," the statement continued.
It would be following historical precedent for Trump, as the current president, to attend Bush's funeral. Then-president and first lady, Bill and Hillary Clinton, along with Gerald Ford, Jimmy Carter, Ronald Reagan and George H. W. Bush attended Richard Nixon's 1994 funeral. And Clinton and then-president George W, Bush, as well as George H.W. Bush, attended Ford's funeral in 2007. For Reagan's funeral in 2004, the two Bush presidents attended, as well as former presidents Clinton, Carter and Ford.
There has yet to be any confirmation of the plans for Bush's funeral.
In addition to Melania Trump attending Barbara Bush's funeral without the president, Trump also chose not to attend the funeral of Senator John McCain in September. Instead, first daughter Ivanka Trump and her husband Jared Kushner represented the first family.
Update: it was announced on Saturday that both Donald and Melania Trump will attend the funeral.