Democrats won control of the House of Representatives on Tuesday night, and hours later the odds that President Donald Trump would be impeached increased.
According to oddsmaker Bovada, an online gambling site, before the midterm elections, the odds for Trump's impeachment were: Yes +160 and No -200.
After the election results, Bovada shared new odds that indicated impeachment was more likely. The odds were now: Yes +125, No -155.
Those updated odds mean that if you bet $100 that Trump would be impeached, you would win $125 should he be impeached. Oddsmakers still consider it more likely the the president won't be impeached. You'd have to bet $155 on his nonimpeachment to win $100, according to the Bovada odds.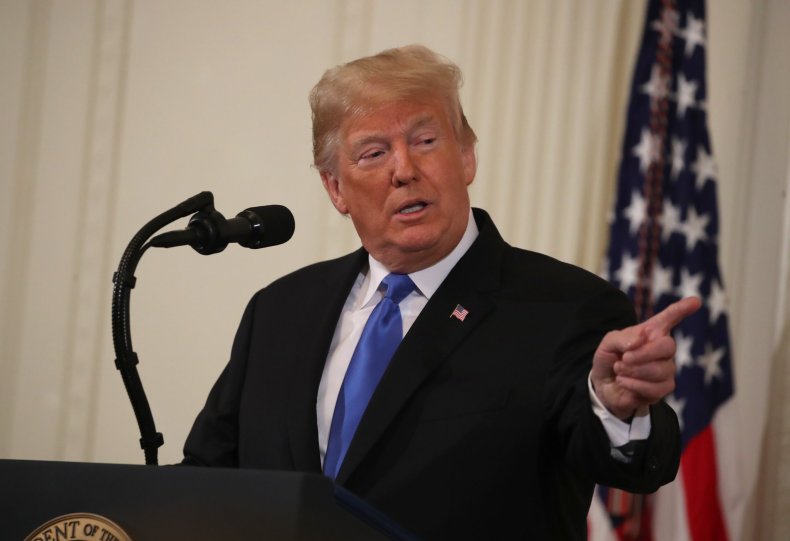 Winning control of the House was a major victory for Democrats. The Senate, however, remains under Republican control, and even saw some GOP gains.
While impeachment proceedings begin in the House, they end up in the Senate, where the Democrats lack a majority. And Democratic leaders have already indicated impeachment was a step they were unlikely to take. House Minority Leader Nancy Pelosi—who some expect to reclaim her former title as Speaker of the House—shot down the idea of impeaching Trump as the election results rolled in last night.
"I don't think there's any impeachment unless it's bipartisan," she told CNBC. "Our priority is to get results for the American people."
Pelosi also said that evidence produced by special counsel Robert Mueller would have to be conclusive to make impeachment a possibility.
Others have urged House Democrats to pursue impeachment proceedings against Trump, including Democratic billionaire Tom Steyer.
"If you look at last night and you look at the popular vote, there was a referendum on the President, and he got crushed," Steyer told CNN on Wednesday.
In a wide-ranging press conference on Wednesday, Trump himself took on the idea of impeachment.
"These people are sick. They have to get their bearing," Trump said about those who would like to see him removed from office, or Supreme Court Justice Brett Kavanaugh removed from the High Court.