Will Donald Trump Pardon Michael Flynn? President Says Former General 'Had an Incredible Record'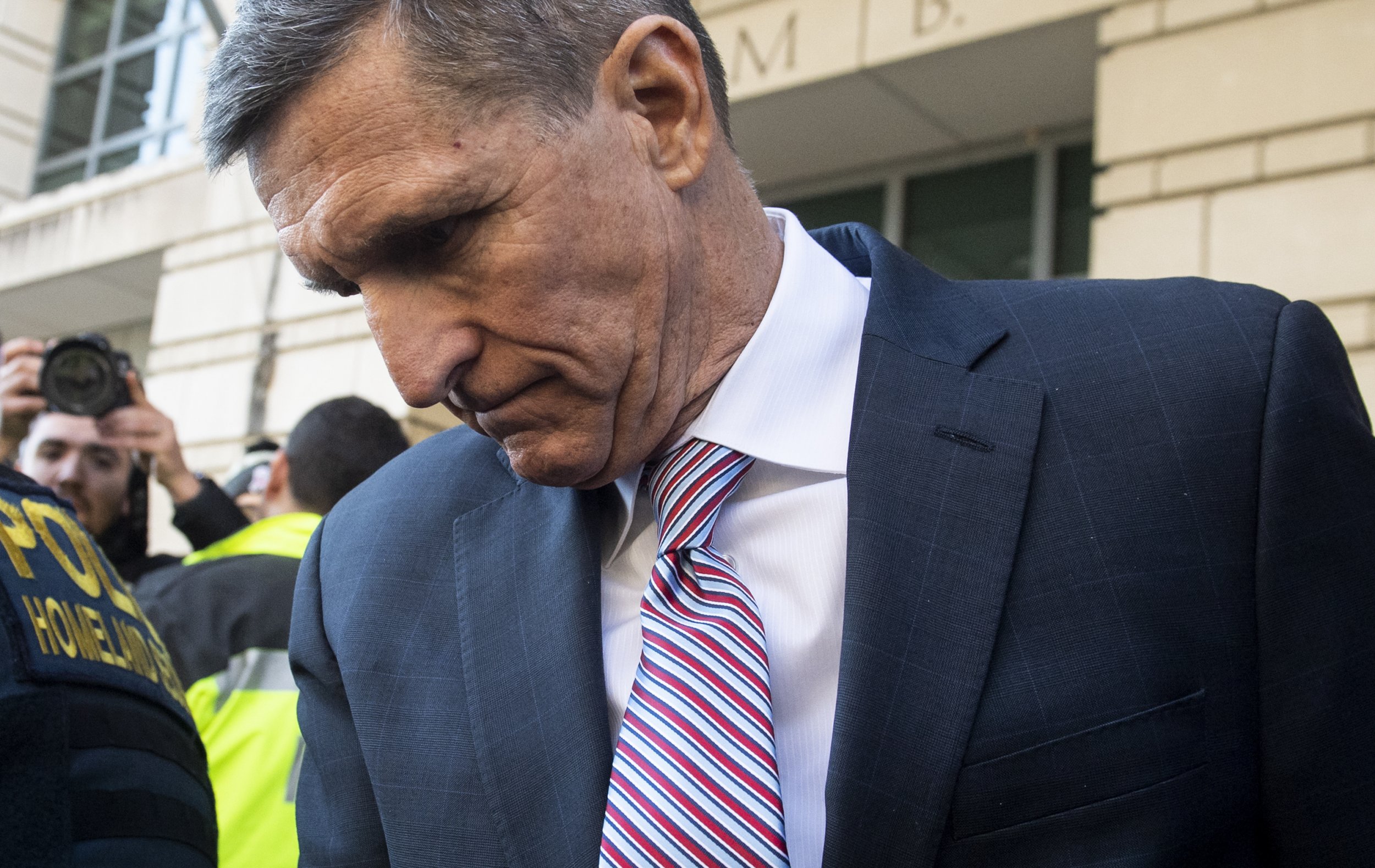 President Donald Trump was uncharacteristically tight-lipped last night when asked by Sean Hannity if he would pardon former associates caught up in special counsel Robert Mueller's investigation.
The president used a 45-minute phone interview with the Fox News host to settle scores over what he said was poor treatment during the 22-month probe.
Mueller submitted his report to the Justice Department last Friday. A summary, written and released by Attorney General William Barr, said the inquiry had not found evidence that either Trump or his associates coordinated with Russia to influence the 2016 election, although the investigation did not draw a conclusion on whether the president had obstructed justice.
Among those close to Trump who were charged in the Mueller probe were former foreign policy adviser George Papadopoulos and former national security adviser Michael Flynn.
Papadopoulos admitted that he had made false statements about his contact with a professor who promised Russian intelligence on Hillary Clinton. This week, he seemed to angle for a pardon, telling Fox News: "If it's granted, I would be honored to accept it."
Flynn admitted he lied to the FBI about his Russian contacts. In an interview with NBC last May, Trump said (via Mediaite) of the former general: "He's, in my opinion, a very good person."
Hannity questioned Trump directly about Flynn on Wednesday, asking: "Would you consider, sir, a pardon? Look at General Flynn for example, or Papadopoulos... Is that something that you would consider at some point?"
Trump skirted Hannity's question, but did not rule out the possibility of a pardon.
"Many, many people were incredibly hurt by this whole scam, but it is much worse than that, it is at the highest level.
"It is a very very dark period and I think maybe we are shedding a lot of light, we are going to come into a bright, beautiful, sunny day."
On Flynn, Trump said: "He was a man who had an incredible record in the military, you see what happened to him, the FBI said he wasn't lying, as I understand it, and the Mueller group said he was lying, and you know what he has gone through.
"I don't want to talk about pardons now, but I can say it's so sad on so many levels," he added.
On Wednesday, House Democrats aired concerns that the president might pardon those entangled in the investigation, ABC News reported.
Representative Jerrold Nadler, chairman of the House Judiciary Committee, said Trump's use of the pardon power "has created the perception that pardons are a political tool, a publicity stunt to curry favor with the public, and a favor to bestow on the well-connected."
Trump has batted away speculation that he might use his pardon powers. His personal lawyer Rudy Giuliani told the Daily News this week that the president was not planning on pardoning anyone.
"No one should expect a pardon. [Trump] is not focused on that, and it's not going to happen," Giuliani said.
Another one of Trump's lawyers, Jay Sekulow, told ABC News he had had "no conversations with anybody about pardons.
"That's not something that's on the table or being discussed," although Sekulow added that there's "no question the president has the authority to pardon."