The NFL offseason is loaded with "what ifs," and the season isn't even completely finished. As Super Bowl LIV approaches in Miami this weekend, the potential quarterback shuffle has dominated football headlines.
The New Orleans Saints have three quarterbacks who enter free agency this offseason, most notably future Hall of Famer Drew Brees, who owns many top passing records for a career.
It might be hard to fathom Brees retiring before next season, considering his passer rating of 116.7 last season was the highest in his career. It might be weird to see him in another team's jersey for his last season or two.
Either could happen if the Saints don't opt to resign Brees. The Saints also have backup Teddy Bridgewater—a fan favorite who went 5-0 when Brees was hurt last season—and the other backup, Taysom Hill, who probably has more longevity ahead of him.
The Saints could theoretically sign Brees and Hill, according to Mike Fliorio of profootballtalk on NBC, who said Brees "will be genuinely and seriously considering retirement."
"As one source explained it to PFT, the Saints wants Brees back for what would essentially become a transition year, from Brees to Taysom Hill with Hill becoming the starter in 2021," Florio wrote. "Even if Brees comes back, Hill will be used much more extensively as part of the team's offense in 2020 — especially in light of some private regret that, if Hill had been utilized just a little bit more in the wild-card loss to the Vikings, the Saints quite likely would have won the game."
Brees has indicated he will use the month after the season to decide on his future, according to Florio.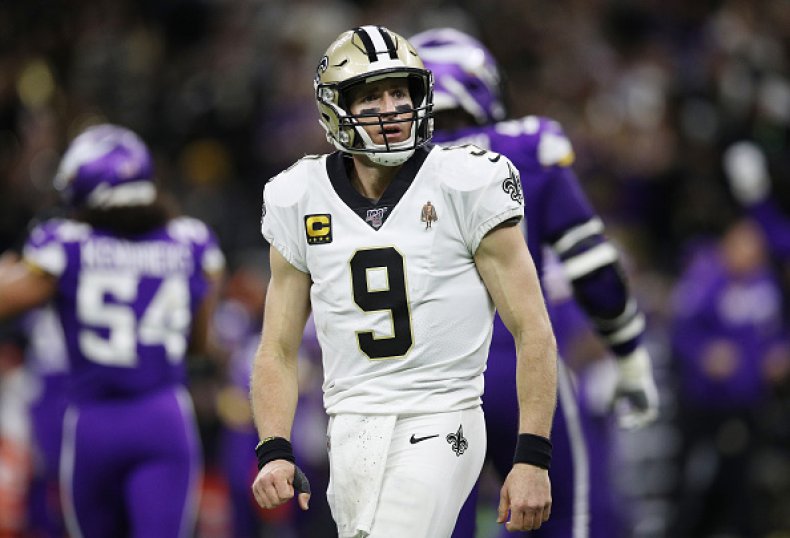 Meanwhile, one of the Fox NFL analysts group, former coach Jimmy Johnson, said he would be "sick" if Brees retired now.
"Drew is such a great player," Johnson said in the New Orleans Times-Picayune. "He is fun to watch. I would be sick if he retired, because he's still a great player. With Sean Payton and with that New Orleans team with those receivers, I would be shocked and severely disappointed if he walked away."
Former NFL tight end Tony Gonzalez, who is also an analyst for Fox, twice played in the same division against Brees. When Gonzalez played for the Kansas City Chiefs, Brees was the quarterback for the San Diego Chargers. Then, when Gonzalez played for the Atlanta Falcons, Brees played for the NFC South rival Saints. He's seen plenty of Brees, and knows Brees could have another great year if he returns.
"He's broken my heart so many times. It's like we followed each other," Gonzalez said. "He was always such a special player. I've had a chance to get to know him through the Pro Bowls, spending some good time with him and Brittany, his wife.
"If he decides to come back, I have a feeling he'll have another stellar year."
However, Gonzalez said that such longevity in the sport for someone like Brees, who just turned 41, puts wear and tear on a body.
"The injuries catch up to you," Gonzalez said. "Obviously, I've been there, playing 17 years (in the NFL). I went out with 83 catches, and I went to a Pro Bowl and I still retired. The preparation gets so much harder as you get older. it's kind of like what are you chasing at that point? Especially in his case, he's got a Super Bowl ring already."
Brees is among the leaders in most major passing categories for a career. Here is where he stands in those categories, according to pro-football-reference.com:
Passing Yards
1st — 77,416
Passing Touchdowns
1st — 547
Passes Completed
1st — 6,867
Passes Attempted
2nd — 10,161 (eight behind Brett Favre)
Passing Yards Per Game
1st — 281.5
Passes Completed Per Game
1st — 25.0
Pass Completion Percentage
1st — 67.6%
Passer rating
3rd — 98.4
Uncommon Knowledge
Newsweek is committed to challenging conventional wisdom and finding connections in the search for common ground.
Newsweek is committed to challenging conventional wisdom and finding connections in the search for common ground.
About the writer
Scott McDonald is a Newsweek deputy night editor based in Cape Coral, Florida. His focus is assigning and writing stories across all topics, from news to politics, business, weather, sports and international news. Scott joined Newsweek in 2018 after a lengthy career of print journalism in Texas, including The Dallas Morning News, where he was a sportswriter, and he's a voter for the Heisman Trophy. He has been a newspaper editor-in-chief and also a newspaper publisher. He is a graduate of The University of Texas at Austin. You can get in touch with Scott by emailing s.mcdonald@newsweek.com. Languages: English