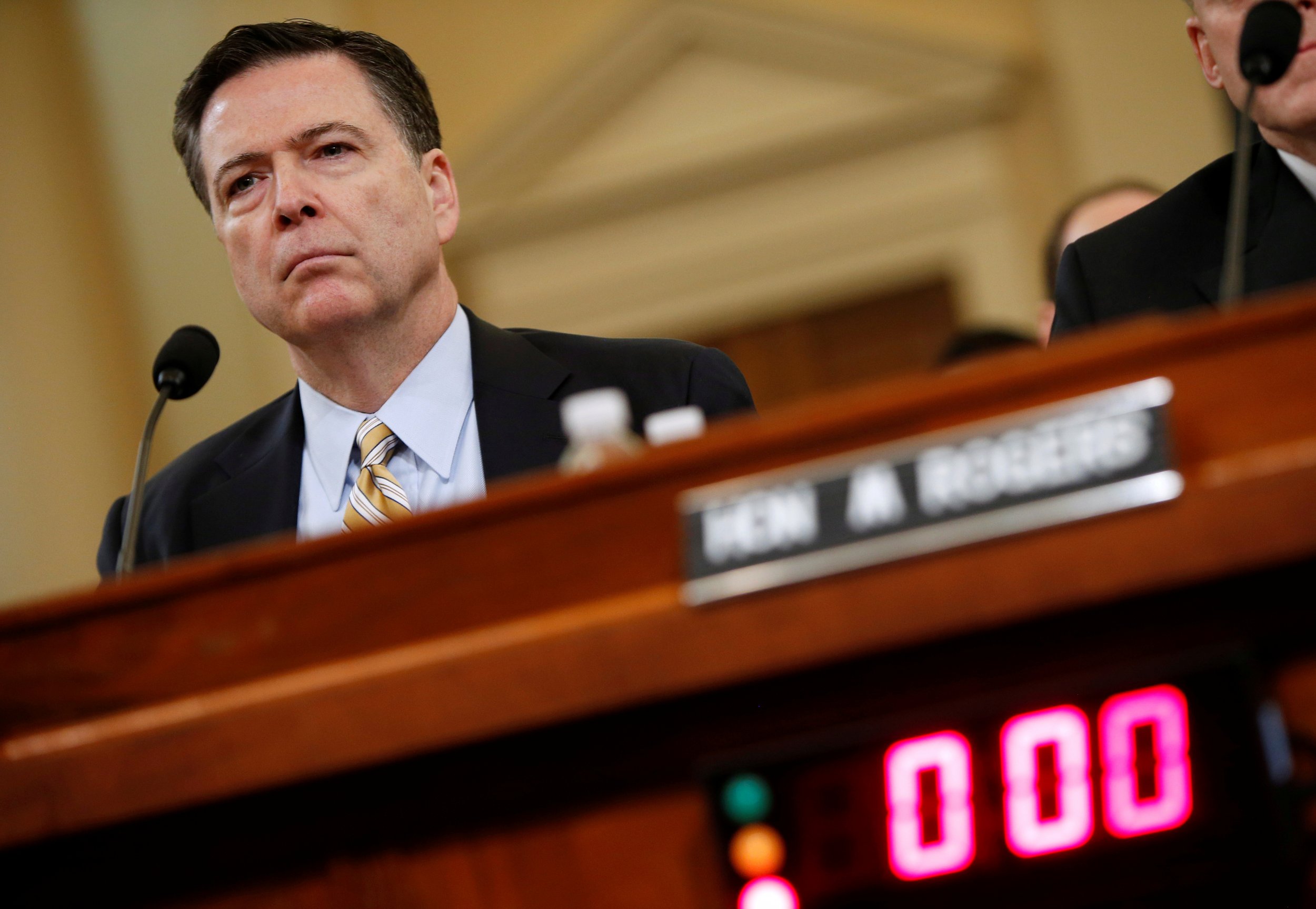 Updated | President Donald Trump took the unusual step Tuesday of firing FBI Director James Comey. As Comey was the subject of a Department of Justice Inspector General investigation and allegations of misconduct, both supporters and opponents will be wondering if he could face jail or prison time.
A memorandum by Deputy Attorney General Rod Rosenstein made public Tuesday cited Comey's handling of the FBI's investigation into Hillary Clinton's use of private email servers as the reason for recommending his dismissal.
Related: Can Trump fire Comey?
But that reason does not rise to the level of a crime, according to Kathleen Clark, a professor at the Washington University School of Law and an expert on government ethics. "These are violations of policy, longstanding Justice Department policy," she says, but not criminal violations.
Stephen Saltzburg, a professor at the George Washington University Law School who served as a deputy U.S. assistant attorney general from 1988 to 1989, agrees. "No way that he will go to prison. He did violate Justice Department precedent," he says, "but nothing he did could possibly be deemed criminal."
Opponents have accused Comey of violating the Hatch Act, a 1939 federal law that prohibits certain government employees from engaging in certain political activities, though Rosenstein's memorandum does not cite such a potential violation. As evidence of a potential Hatch Act violation, Clark points to a line in an email that Comey sent FBI employees last October explaining why he told Congress about new evidence in the Clinton emails matter 11 days before the election: "I also think it would be misleading to the American people were we not to supplement the record."
"He says that 11 days before the election," Clark says. "He's trying to influence the American people 11 days before an election."
Still, according to Clark, a Hatch Act violation does not result in time behind bars because it is not a criminal statute.
"It's an employment-based sanction," she says. "You can be fired, you can be suspended from your federal job."
The deputy attorney general's memorandum also does not allude to revelations first made by ProPublica on Monday that Comey made incorrect remarks regarding Huma Abedin and Anthony Weiner while under oath before the Senate Committee on the Judiciary on May 3. But Tuesday's firing coincides with the fallout from that report.
"There are potential criminal punishments for intentionally lying to Congress," Clark says. Making a false representation to Congress (18 U.S.C. 1001) and committing perjury (18 U.S.C. 1621) each carry a punishment of up to five years in prison. But Clark says it could be difficult to prove whether Comey just spoke inaccurately or whether he intentionally lied to the Senate committee.
"It makes a world of difference," she says. "If he did so intentionally, he would face criminal penalties, if it could be shown.... [But] testifying inaccurately doesn't rise to this level."
Saltzburg says it is unlikely that Comey's inaccurate remarks were due to anything but a momentarily faulty memory. "I think many of his opponents will be in jail before he will be," he says.
Comey's handling of the Clinton emails matter is also the subject of an investigation by the Justice Department's Office of the Inspector General. That office does not issue sanctions, but generally publishes a report stating whether an employee violated department policies, Michael Bromwich, the agency's inspector general under Bill Clinton, told Newsweek in March. The Justice Department then determines if a sanction is appropriate, he said. But those sanctions would also be employment-based, such as suspension or termination.
In an email Tuesday night, Bromwich says Comey is likely now safe from any sanctions in the inspector general probe, given the nature of such punishments.
A spokesperson for the Office of the Inspector General was unavailable after business hours on Tuesday.
This article has been updated to include comments from Stephen Saltzburg and Michael Bromwich.