Will Food Costs Surge as Much as Gas Prices Due to Russia-Ukraine War?
Russia's invasion of Ukraine will drive up food costs and gas prices further, even as inflation in the U.S. has already reached a four-decade high.
Russian President Vladimir Putin launched the internationally condemned assault on his country's Eastern European neighbor on February 24. In a united response, the U.S., Canada, European and East Asian allies implemented substantial economic sanctions against Russia. The U.S. will also ban the import of Russian oil, while the United Kingdom plans to do the same by the end of 2022.
On Wednesday, Ukraine banned the export of wheat, meat and other basic food staples in an effort to maintain supplies within the country as the war continues. Russia made a similar announcement on Thursday, saying it would suspend grain exports to members of the Eurasian Economic Union until the end of August.
Russia and Ukraine collectively provide about a third of the global market's wheat supply. Meanwhile, Russia produces about 10 percent of the global oil supply. The new sanctions and export bans combined with global supply chain issues, which have already wreaked havoc on the global economy amid the pandemic, will further drive up costs for consumers.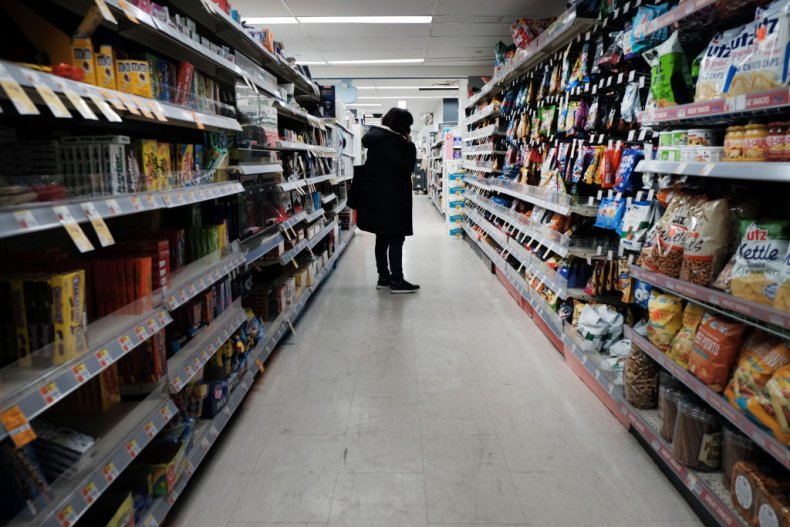 "Some foods will become much more expensive," Laura Veldkamp, a professor of finance and economics at Columbia University's Graduate School of Business, told Newsweek on Friday. Veldkamp said in the U.S. things like baked goods, which use a lot of wheat, as well as produce that is out of season "could rise by 15 percent in the next couple of months."
More locally sourced products—such as eggs and milk—will also be affected to a degree. Veldkamp noted that cows and chickens use grain for feed. Higher costs for grain will thus drive up the price of eggs and dairy.
"For these products, I'd predict a 9 percent annual price increase," she said, although she noted that "7 percent of that is just the existing rate of annual inflation" while "another 2 percent on top of that might come from the Ukraine war."
Veldkamp said that gas prices and food "might well end up 9 percent higher on the year." However, she said that gas prices are "notoriously volatile" and would be expected to "swing dramatically up and down." Food costs, conversely, are "likely to experience a much more steady climb."
Jeffrey Roach, chief economist for LPL Financial, told Newsweek that the lack of supply from Russia and Ukraine will be difficult to address in the near term. "Other exporting countries will not likely have the capacity to fill the gap in the short run. Suppliers could need months to response to the increase in demand," Roach said.
Internationally, the impact could be even worse. The United Nations Food and Agriculture Organization (FAO) reported on Friday that global food prices are expected to surge as much as 22 percent due to the war. "The likely disruptions to agricultural activities of these two major exporters of staple commodities could seriously escalate food insecurity globally," FAO Director General Qu Dongyu said in a statement.
The international organization said that food and animal feed costs could jump "by 8 to 22 percent above their already elevated levels." The report explained that some 50 nations—many of which are among the least-developed—currently receive 30 percent or more of their wheat supplies from Russia and Ukraine. As a result, many poorer nations are expected to face substantial food insecurity.
The fallout is expected to be less pronounced in the U.S., where American farmers still produce a sizable portion of the nation's food products. However, the ripple effects will still drive up costs for consumers across the country. Higher fuel prices will impact food costs due to transportation issues. Meanwhile, the lack of wheat supplies and other food staples coming from Ukraine will drive up costs for baked goods and other products.
When it comes to gas prices, some economists are predicting barrels of crude oil could jump to $150 per barrel. That could mean an average gas price of $5 across the U.S., compared to the average of $4.33 consumers currently pay at the pump, according to AAA's index.
"For oil demand and supply to equate, oil prices as high as $150 per barrel seem increasingly likely. At least for a few weeks until things begin to sort out. This translates into about $5 for a gallon of regular unleaded, and much higher than that in places like CA and NY," Mark Zandi, chief economist of Moody's analytics, tweeted this week. In California, gas prices are already well above $5 per gallon, according to AAA's data.
On Thursday, the U.S. Bureau of Labor Statistics released its Consumer Price Index for February showing that overall inflation soared by 7.9 percent—the highest level the country has seen in 40 years. "Food at home" costs have already surged by 8.6 percent, and "food away from home" prices have gone up by about 6.8 percent.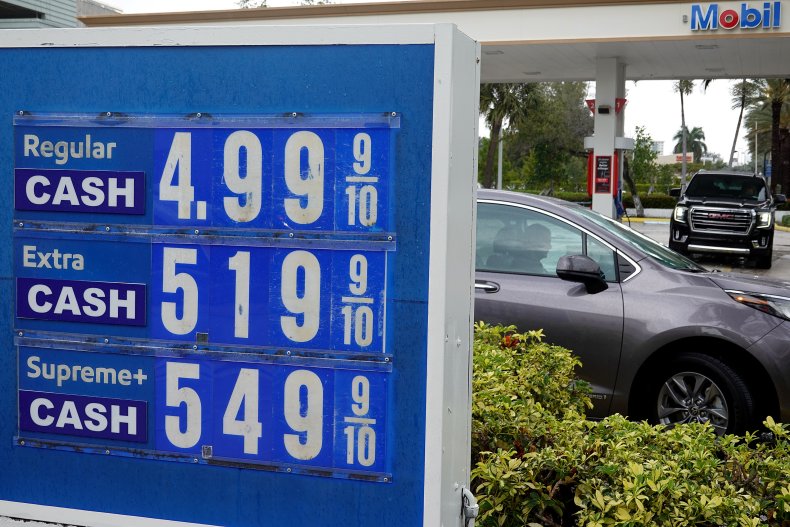 Comparatively, these increases still trail the spike in gas and fuel costs. Gas prices have jumped by about 38 percent year-over-year and fuel oil has surged by nearly 44 percent, according to the latest Consumer Price Index data.
"Consumers are likely to pull back on discretionary spending this spring and summer with inflation outpacing earnings growth," Bill Adams, chief economist for Comerica Bank, said in an email to Newsweek. "They were very unhappy about inflation even before the Russia-Ukraine war, and the current surge in food and energy prices will likely force concrete changes in household budgets."
Although the impact will be felt by the U.S. and Western European nations, poorer nations could face much more dire fallout. "The global number of undernourished people could increase by 8 to 13 million people in 2022/23," the U.N. FAO warned.
This article was updated with additional information.