Will a Fox News Contributor Replace James Mattis as Trump's Defense Secretary?
At least a half dozen potential candidates have been floated to replace Jim Mattis as defense secretary since he resigned Thursday afternoon—including a contributor to President Donald Trump's favorite news channel, Fox News.
Fox News national security analyst Jack Keane, a retired four-star U.S. Army general and Vietnam War veteran, has the military background that Trump likes. But Keane, who serves as chairman of the Washington, D.C.-based think tank Institute for the Study of War, does not see eye-to-eye with the president on all defense issues.
Keane said that Trump's thought to cut the defense budget to $700 billion weeks ago "would be a huge mistake" and opined that the administration should instead boost the defense budget. Keane also criticized Trump's budget director and acting White House chief of staff Mick Mulvaney.
"I think there's a fox in the chicken coop, and that fox is the director of the OMB," Keane said, referring to the Office of Management and Budget.
Keane also has some similarities to Mattis, who resigned due to policy disagreements with Trump. Keane told NPR Thursday that he and the outgoing defense secretary were "of one mind in opposing" the president's decision on Syria.
"Clearly, we're repeating the Obama mistake of premature withdrawal, which got us ISIS," Keane said on Fox News' America's Newsroom Thursday.
"In my judgment, we need to stick to it and finish the job," Keane continued, adding that withdrawing American troops will hand "a victory of strategic proportions" to Iran.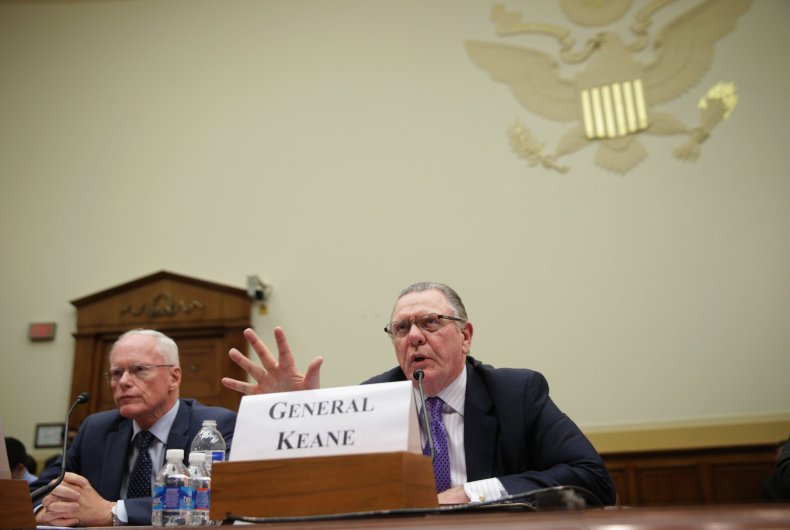 Trump had previously asked Keane to consider the defense secretary job in late 2016, but Keane declined due to his wife's death. At the time, Keane recommended two people for the position, one of them being Mattis.
If Keane were to pursue the position, he would probably go through an easy Senate confirmation process. But Trump may also have some major convincing for the frequent Fox News contributor to take the role.
"I don't intend to go back into public service," Keane said on Thursday. "I'm confident the president will be able to find ... a capable person to serve the nation."
Other candidates being considered for Mattis' role include South Carolina Republican Senator Lindsey Graham, Director of National Intelligence Dan Coats, Deputy Defense Secretary Patrick Shanahan, former Missouri Republican Senator Jim Talent and Arkansas Republican Senator Tom Cotton.
In his resignation letter, Mattis wrote he will serve until February 28, 2019, and stated: "Because you have the right to have a Secretary of Defense whose views are better aligned with yours on these and other subjects, I believe it is right for me to step down from my position."