Will The Freedom Trucker Convoy Disrupt Super Bowl Sunday? What We Know
Truckers across the world have launched their own protests against COVID-related measures this month after the Freedom Convoy in Canada captured international headlines for grinding the city of Ottawa to a halt over the federal vaccine mandate for cross-border truck drivers.
And now, this weekend's Super Bowl could be impacted by trucker protests.
This Sunday, a group of American truckers in California, collectively known as the USA Trucker Convoy, are reportedly planning to host a protest similar to the one in Ottawa outside Los Angeles' SoFi Stadium ahead of Super Bowl LVI between the Los Angeles Rams and the Cincinnati Bengals scheduled to kick off at 6:30 p.m. ET.
While the protests in Canada have unfolded to include all COVID-related restrictions, with organizers refusing to back down unless all measures are lifted, the Freedom Convoy was prompted by a vaccination mandate that went into effect on January 15.
On the other hand, instead of vaccines, the American truckers are planning to protest the mask mandate in place for California schools on Super Bowl Sunday.
"Everyone be ready and tell everyone about the: SUPER BOWL PROTEST! Officials will host a Super Bowl while forcing kids to mask. End the mandates! LET'S SHUT THIS THING DOWN!" the group wrote on Telegram. "Shut the SUPER BOWL DOWN!!! Surround SoFi Stadium with Trucks!!!"
Earlier this week, California Governor Gavin Newsom lifted the state's indoor mask mandate for vaccinated people but kept the mandate in place for California students.
The USA Trucker Convoy is following in the steps of COVID protesters in the U.K., the Netherlands and New Zealand, among other countries, who were inspired by the protests in Canada that have gone on for more than two weeks.
Canadian truckers also expanded their efforts outside of the nation's capital this week, creating a blockade at Ambassador Bridge, which serves as a border crossing between Windsor, Ontario and Detroit. It is estimated that $325 million of goods crosses the bridge each day.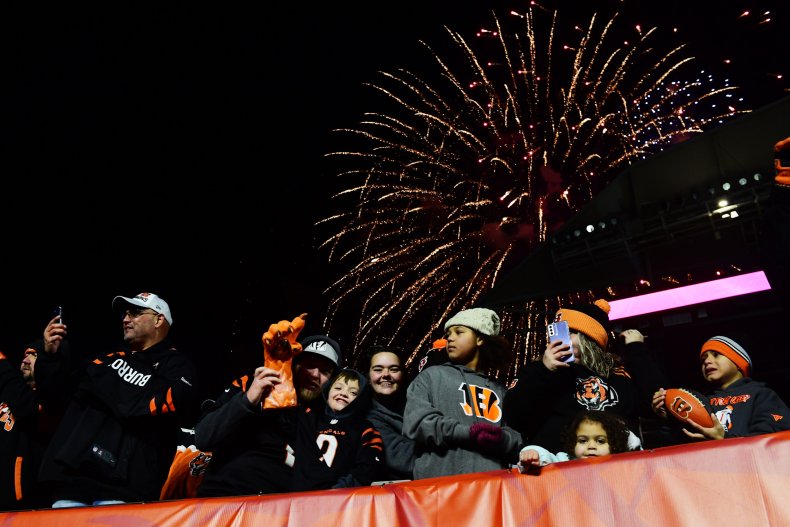 In an effort to prepare for potential disruptions at the Super Bowl on Sunday, the Department of Homeland Security is sending additional staff to its Incident Command Post near the stadium. As part of standard procedure, there will already be more than 500 DHS personnel providing security resources for the Super Bowl.
A DHS bulletin, first reported by Yahoo News, warned that the protest "could severely disrupt transportation, federal government, and law enforcement operations through gridlock and potential counterprotests."
Officials added that the truckers could then move east towards Washington D.C. for President Joe Biden's State of the Union address on March 1.
"While there are currently no indications of planned violence, if hundreds of trucks converge in a major metropolitan city, the potential exists to severely disrupt transportation, federal government operations commercial facilities and emergency services through gridlock and potential counter-protests," the bulletin said.