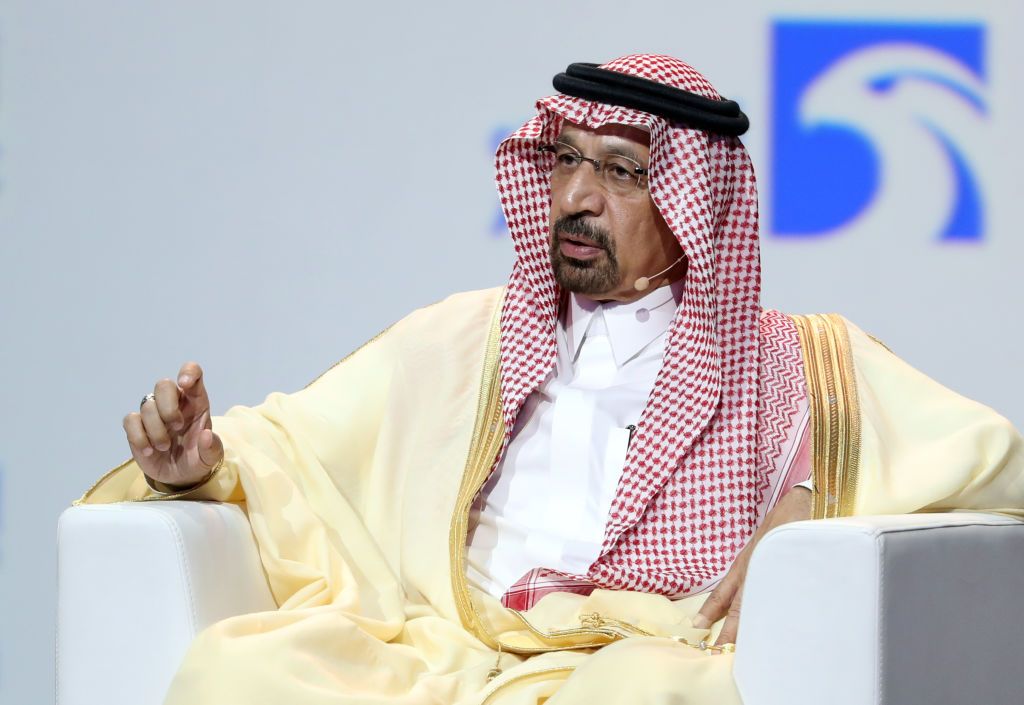 Saudi Arabia's Oil Minister Khalid al-Falih announced on Monday that the kingdom would cut oil production despite warnings from President Donald Trump.
Citing the Trump administration's decision to grant the top buyers of Iran's oil a temporary waiver from sanctions imposed on November 5, Al-Falih said the "sanctions didn't cut so much out of the market as anticipated," Radio Free Europe reported. He said there was now an oversupply of oil, leading to plummeting prices, and that the kingdom would curb its output to stabilize the market.
Trump appeared to criticize the announcement in a Monday tweet: "Hopefully, Saudi Arabia and OPEC [Organization of the Petroleum Exporting Countries] will not be cutting oil production. Oil prices should be much lower based on supply!"
The president has long complained about OPEC and its control over global oil prices. In July, Trump called the organization a "monopoly," warning on Twitter that "gas prices are up & they are doing little to help. If anything, they are driving prices higher as the United States defends many of their members for very little $'s. This must be a two way street."
OPEC is comprised of most of the world's top oil producers, meaning its decisions about production sway the prices of gas across the planet. When output is high, prices generally decrease for consumers, whereas lower production increases prices at the pump.
Oil prices have dropped significantly in recent weeks, with the U.S. benchmark price dipping below $60 per barrel, according to Market Watch. Phil Flynn, senior market analyst at Price Futures Group told the news site that the spat between Trump and OPEC was causing tensions in the global market. Saudi Arabia is the largest crude oil producer within OPEC, although the U.S. and Russia currently produce more oil than the kingdom.
"The combination of the weak stock market and the Donald Trump tweet had oil give up its gains," Flynn said. "Oil is in a weakened technical position and we had lighter than normal volume due to the Veterans Day holiday."
"Let's face it—OPEC and Trump are going at it," he added.
In the lead up to Washington's second round of sanctions targeting Iran, Saudi Arabia and Russia agreed to increase their output to ensure that the global oil supply remained stable. The news came as prices rose to $85 per barrel amid the market anticipated harsher sanctions targeting Tehran. However, since prices have dropped substantially and Iran, Saudi Arabia's top regional rival, can still export its supplies to leading markets, the kingdom sees little need to continue over-producing.
Al-Falih didn't say how much production would be cut, but explained that OPEC officials had seen an analysis that suggested as much as one million barrels per day should be removed from the market. He cautioned, however, that the organization does not "want to throttle the global economy."
Saudi Arabia's apparent disregard of Trump's wishes has come at a time of heightened tensions between Washington and Riyadh in the wake of the murder of journalist and U.S. resident Jamal Khashoggi. The Washington Post contributor was killed and allegedly dismembered with a bone saw after entering the Saudi consulate in Istanbul last month.
Although Trump has appeared reluctant to take a harsh stance against the kingdom, citing significant economic ties, he suggested last week that more punitive measures could be in the works. Republican and Democratic lawmakers blasted the kingdom as details of the murder emerged, with Riyadh initially denying any knowledge of the killing before admitting it was a "premeditated" attack.