Will Germans Give Merkel Mandate to Stay Tough with Putin?
This article first appeared on the American Enterprise Institute site.
This Sunday, German voters are heading to the polls.
Unlike a year ago, when the political future of Chancellor Angela Merkel seemed bleak, she is now firmly on track toward serving her fourth term in office, with no credible challenger in sight.
Nonetheless, important questions about Germany's future linger.
1. What coalition partner(s)?
Several possible government coalitions are conceivable. Those include a continuation of the current one, with Social Democrats (SPD) led by Martin Schulz; the 2009 coalition with the classical liberal Free Democrats (FDP); a coalition with the Greens — or some broader combination, possibly including FDP and the Greens.
While dramatic political change appears unlikely, the different political alliances could produce significantly different sets of policies that matter to Germany, Europe, and the world.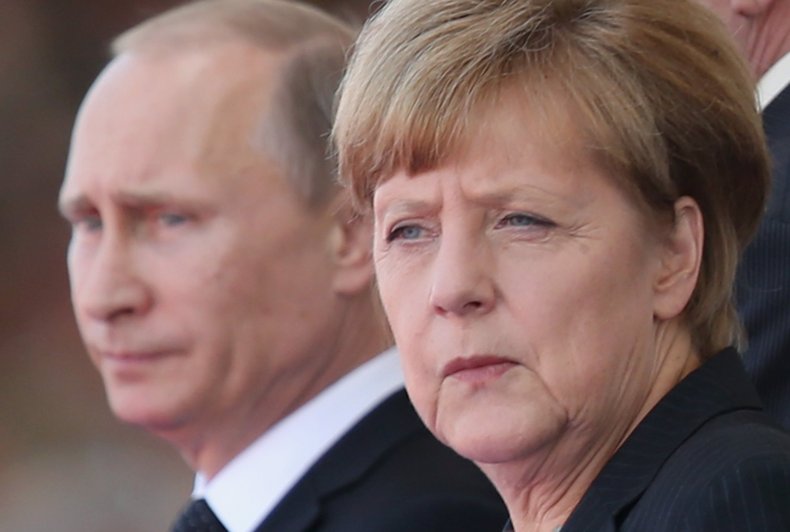 2. What reform for the Eurozone?
The election's outcome will shape the future of the Eurozone. The coming months will bring about an attempt at a grand bargain between key Eurozone countries — most notably France and Germany — over deeper fiscal integration, banking union, coordination of economic policies, and their specifics.
Although France's President Emmanuel Macron has strategically steered away from the subject so far, focusing instead on domestic reforms, the idea of a common debt instrument for the Eurozone will make a comeback after the German election.
Traditionally, Germans have been reluctant to underwrite the debts of their neighbors but the odds that Eurobonds will become a reality would be higher with the SPD in government. For the FDP, in contrast, the survival of the Eurozone is predicated on a systematic monitoring and enforcement of existing fiscal rules and definitely not on any mutualization of public debt across European countries.
3. Will the pressure on Russia dissipate?
With the exception of Ms. Merkel's Christian Democratic Union of Germany (CDU) and the Greens, voices in German politics are calling for a return to business as usual with Russia.
The populists — Die Linke and Alternative for Germany (AfD) — might be the loudest, but SPD and most recently FDP are not far behind. Even CDU's sister party in Bavaria, the Christian Social Union, has called for an end to the sanctions imposed on Russia by the EU following its invasion of Ukraine in 2014.
Ms. Merkel's ability to keep sanctions in place and to ramp them up if necessary will depend on whether she has got enough political clout to push back against the appeasement culture that dominates German politics.
4. How strong is the support for Alternative for Germany (AfD)?
For the first time in Germany's post-war history, the election on Sunday will bring a far-right party to the German Bundestag. The AfD, which formed initially around the opposition to bailouts extended to Eurozone countries in financial distress, rose to prominence with the rejection of Ms. Merkel's Wilkommenskultur.
Meanwhile, it has attracted a range of unsavory characters, including a regional chairwoman who praised Adolf Hitler, and revived rhetorical instruments that lay dormant since 1945 — such as the notion of Volk. Unlike at the apex of the refugee crisis of 2015, no one today expects the AfD to get anywhere near the future coalition government.
However, a strong electoral performance will be a sign that authoritarian populism is not a passing phase, but rather a permanent fixture of European politics which needs to be taken seriously.
5. Can structural reforms become Merkel's legacy?
Although Germany remains Europe's economic powerhouse, its current performance is no guarantee of future success. Champions of gender equality point to its large gender income gap, driven by the fact that women work fewer hours than men because of steep tax rates imposed on secondary earners.
Moreover, Germany's industrial base places its economy among the most vulnerable to automation. Since the labor market liberalization spearheaded by the former Chancellor Gerhard Schröder, Germany's economy has not seen a major reform shake-up. The lack of economic flexibility, high marginal tax rates, and a lingering culture of protectionism in certain professions are bound to haunt Germany when the engine of its current economic growth — export-oriented manufacturing, vulnerable to automation — runs out of steam.
Ms. Merkel can prevent such outcome if she uses her mandate to push for structural reforms at home. How easy that task will be hinges on the outcome of Sunday's vote.
Dalibor Rohac is a research fellow at the American Enterprise Institute (AEI). He is a visiting junior fellow at the Max Beloff Centre for the Study of Liberty at the University of Buckingham in the UK and a fellow at the Institute of Economic Affairs in London.