Will Germany Rebuild Its Military? Berlin Mulls Conscription as U.S. Ties Fray
Germany is considering returning to conscription as Berlin looks to bolster dwindling numbers in its military, known as the Bundeswehr.
From a high of 585,000, the German military's numbers fell to just under 179,000 last year and there were as many as 21,000 vacant posts.
Until 2011, all German males had to serve in the military or carry out service in another civilian area. Now the Bundeswehr only has career soldiers, although it does take in volunteers on short-term paid military service.
Some members of Chancellor Angela Merkel's CDU party have mooted the idea of compulsory service, with the party's secretary general, Annegret Kramp-Karrenbauer, touring the country to discuss it, Frankfurter Allgemeine Zeitung (FAZ) reported.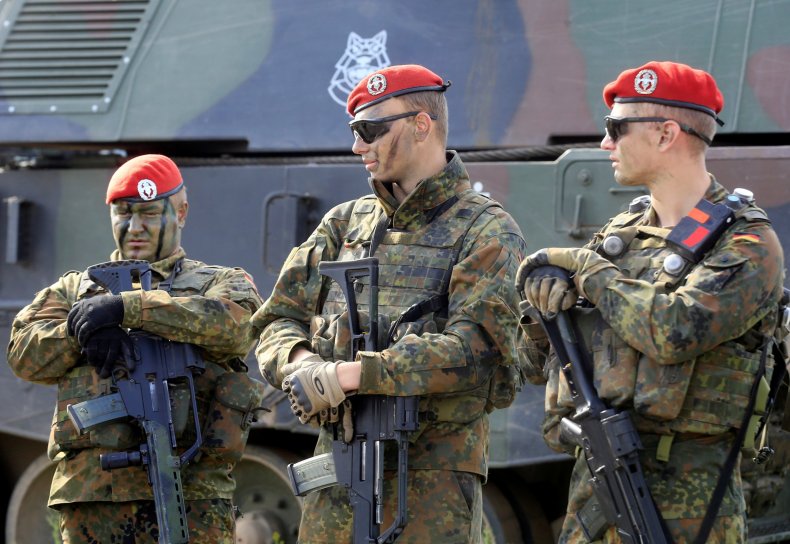 "There are many possible ways to serve," she said in a tweet. The CDU's youth wing leader Paul Ziemiak has also suggested a "community year" where young people would undertake a mandatory service program not necessarily in the army.
He told Bild am Sonntag: "We live in a wonderful, affluent country. A community year gives the opportunity to give something back and, at the same time, to strengthen the country's unity."
CDU lawmaker Oswin Veith said young people could either serve with the Bundeswehr and also with first responders or hospitals. "It should last for 12 months and apply to young men and women over the age of 18," he said, according to Deutsche Welle.
However, there is opposition to the proposal, with CDU's defense spokesman Henning Otte saying that "universal conscription is not going to help us with our current security challenges."
The FDP party said it would be a "horrendous waste of money" and other voices of dissent include the Left and the Green parties.
Meanwhile both parts of the governing coalition have also raised the prospect of opening the military up to foreign soldiers.
A White Paper on German security first suggested the move which the defense ministry is actively considering.
Critics questioned the loyalty of foreign soldiers with Social Democratic Party (SPD) defence expert Karl-Heinz Brunner telling the Augsburger Allgemeine in July: "If citizens of other countries are accepted, without the promise of getting a German passport, the Bundeswehr risks becoming a mercenary army," The Local reported.
Last year Germany only spent 1.13 percent of its budget on defence, short of the demand by U.S. President Donald Trump for NATO members to spend two percent.