'Will and Grace' Season 11 Cast: Which Celebrities Will Cameo in the Final Season?
Will and Grace has bagged numerous high-profile guest stars over its 11 seasons, with everyone from Barry Manilow to Madonna appearing on the NBC show. For its final season, Will and Grace bosses have announced the celebrity cameos we can expect on the last set of episodes, including popstar Demi Lovato and 1990s heartthrob Ryan Phillippe.
Which celebrities will cameo in Will and Grace Season 11?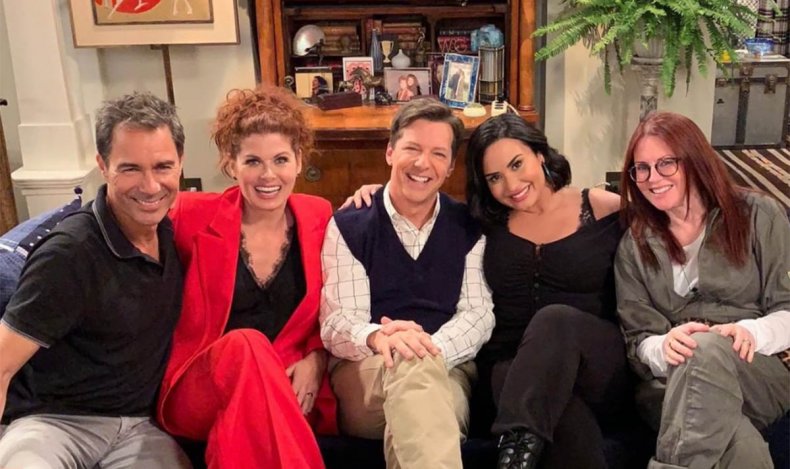 Demi Lovato
"Cool for the Summer" hitmaker Demi Lovato will join the season as what Entertainment Weekly calls "a guarded gal who comes into the life of Will (Eric McCormack) in an unexpected way."
According to People, the singer wrote on her Instagram story while on the set of the NBC show: "It's making me SO HAPPY, I'm having SO MUCH FUN and I can't stop laughing." The singer was so keen to take on the role, who will appear in a three-season arc, in fact, that she skipped the MTV Video Music Awards, where she was nominated for best dance video.
Joel McHale
Karen Walker (Megan Mulally) has had many lovers across the show, with Martina Navratilova, John Cleese and Alec Baldwin being among those who have played her romantic partners. In Season 11, the latest of these will be Joel McHale, star of Community and The Soup.
The actor will be making his second appearance on the show. In 2001, he starred in a Season 3 episode as a man Grace (Debra Messing) went on a date with. Now, he will be playing Phil, of whom NBC said: "Will and Grace are convinced that he has a darker side and ulterior motives, but Karen is too much in love to see it."
Billie Lourd
Season 11 will pay tribute to a departed cast member by hiring American Horror Story's Billie Lourd to play the grandchild of Bobbi Adler, Grace's mother as played in the show by Debbie Reynolds, who died in 2016. This is significant, as Lourd is the real-life granddaughter of Reynolds.
Posting a photo of herself with the cast on her Instagram, Lourd wrote: "I got to spend the day on the same stage my Abadaba spent so many days on when I was young. Her onscreen @nbcwillandgrace family are now m'real life friends and I can't thank them enough for making this lil Lourd an official Adler!"
Ryan Phillippe
Ryan Philippe, star of 1990s films like Cruel Intentions, I Know What You Did Last Summer and 54, will join the long list of celebrities who have played themselves on Will and Grace.
Gus Kenworthy
Lourd's American Horror Story co-star Gus Kenworthy will also be joining Season 11 at some point. The last three seasons of the rebooted Will and Grace has made a real effort to increase their LGBTQ+ representation, with out guest stars including Matt Bomer, Samira Wiley and Jane Lynch among those who have appeared. Olympic medalist Kenworthy will be playing an as-yet-unnamed character.
Patton Oswalt
Will and Grace famously never revealed what Karen's ex-husband Stanley looked like, but Season 11 will show us his brother Danley, as played by stand-up comedian Patton Oswalt.
Also joining the cast for Will and Grace Season 11 are Archer actor Chris Parnell and In Living Color's Ali Wentworth, playing characters named Dr. DiLorenzo and Dr. Saperstein respectively.
Will and Grace Season 11 airs Thursdays at 9:30 p.m. ET on NBC