'Will & Grace' Stars Pay Tribute as Shelley Morrison, Beloved Maid Rosario Salazar, Dies at 83
The cast of Will & Grace have paid tribute to co-star Shelley Morrison, best known for playing Karen Walker's maid Rosario Salazar, who has died aged 83.
Morrison died Sunday from heart failure following a short illness, the actress' publicist Lori DeWaal told the Associated Press. Morrison died at Cedars-Sinai Medical Centre in Los Angeles. She is survived by her husband Walter Dominguez.
"Shelley's greatest pride as an actress was in playing the indomitable Rosario, in a comedy series that furthered the cause of social equity and fairness for LGBTQ people. She believed that the best way to change hearts and minds was through comedy," Dominguez told the Associated Press in a statement.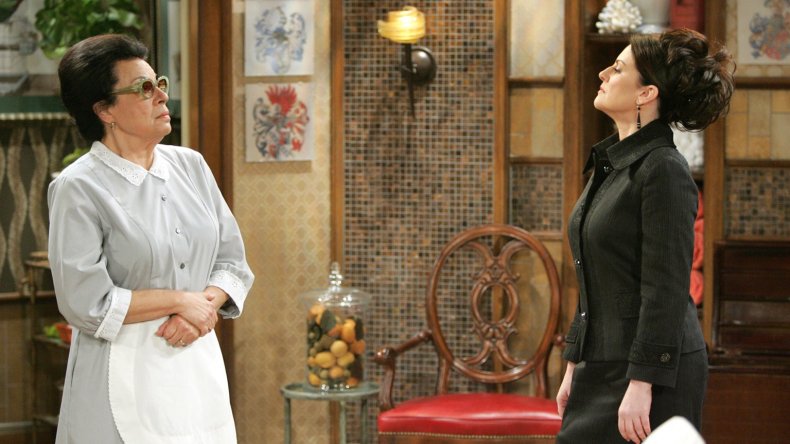 Will & Grace stars pay tribute to Shelley Morrison
The stars of Will & Grace shared their memories of Morrison on social media late Sunday night, led by Megan Mullally, who plays Karen Walker.
"Just got a bulletin on my phone that shelley morrison has passed. my heart is heavy. putting shelley, her beloved husband walter & their children in the light. thank you for your friendship & partnership, shell. you accomplished wonderful things in this world. you will be missed," wrote Mullally on Twitter.
On Instagram, Debra Messing—who plays Grace Adler—wrote: "Oh, Shelley... what a loss. Our dear Rosario has passed on. Shelley had a career that spanned decades, but she will always be our dear Rosie. She was a kind soul with a huge heart and always had a smile on her face. All my love to Walter and the entire family."
Eric McCormack, who plays Will Truman in Will & Grace, tweeted: "Shelley was a beautiful soul & a wonderful actor. Her work as Rosario, season after season, was as nuanced and real as it was hysterical. She will be missed by everyone at #WillandGrace, she's a huge part of it. Sending so much love to Walter and Shelley's whole family."
Morrison, whose career spanned 50 years, played Will & Grace's Rosario between 1999 and 2006. Initially, the role was meant to be a one-time guest spot but Rosario was so popular that she ended up becoming a recurring character.
Morrison reprised the role of Rosario in 2016 when the cast of Will & Grace reunited for a short YouTube sketch supporting Hillary Clinton in the 2016 presidential election.
The one-off episode proved a hit and prompted NBC to bring back the series for a new season in 2017. However, Morrison opted not to take part in the revival as she decided to retire from acting completely. Her character was killed off in the show's ninth season.
The Will & Grace revival will end after a third season—the 11th overall—in 2020.