Will Hurricane Florence Hit Tennessee, Kentucky, West Virginia?
Hurricane Florence made landfall at 7:15 a.m. EDT Friday morning near Wrightsville Beach in North Carolina. The storm brought torrential rains and incredibly strong winds that caused flooding, power outages and more hazards along with it.
The storm was expected to travel inland in South Carolina before traveling west-northwest as a tropical storm. By the time it reaches western South Carolina Sunday morning it's expected to be a tropical depression, according to a map forecast from the National Hurricane Center.
How much rain the storm will still bring at that point is partially dependent on how quickly it travels now that it's over land. After Sunday, Florence is expected to continue north, and cross over western North Carolina and part of Tennessee, the three-day prediction from the NHC shows.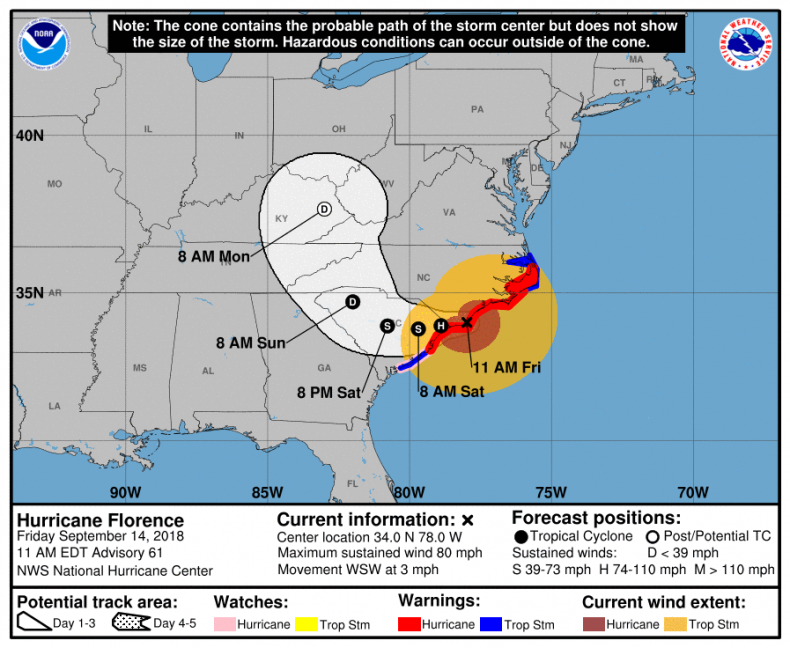 By 8 a.m. Monday, the storm is expected to be a depression impacting mostly Kentucky. Areas in West Virginia and Virginia might also see the effects of the storm at that time. As of Friday, it was unclear how strong the storm might be three days out.
"The future of Florence is still greatly influenced by the lack of a powerful steering flow, so it will continue to take its time, only slowly moving west-southwest the next few days. It won't be until later this weekend that the storm gets a chance to go north out of SC. That's when a high pressure to the north will build east, taking Florence on its western edge and moving it quickly northeast," Maria LaRosa, a meteorologist with the Weather Channel told Newsweek in an email Friday.
The five-day forecast also didn't have any information about how strong the storm would be by the middle of next week, but it would likely be reduced to remnants of the initial storm. The track showed Florence potentially hanging a right at Kentucky and heading east over the U.S. From Kentucky, the storm could head up to Pennsylvania and then across the Northeast before reaching Maine on Wednesday.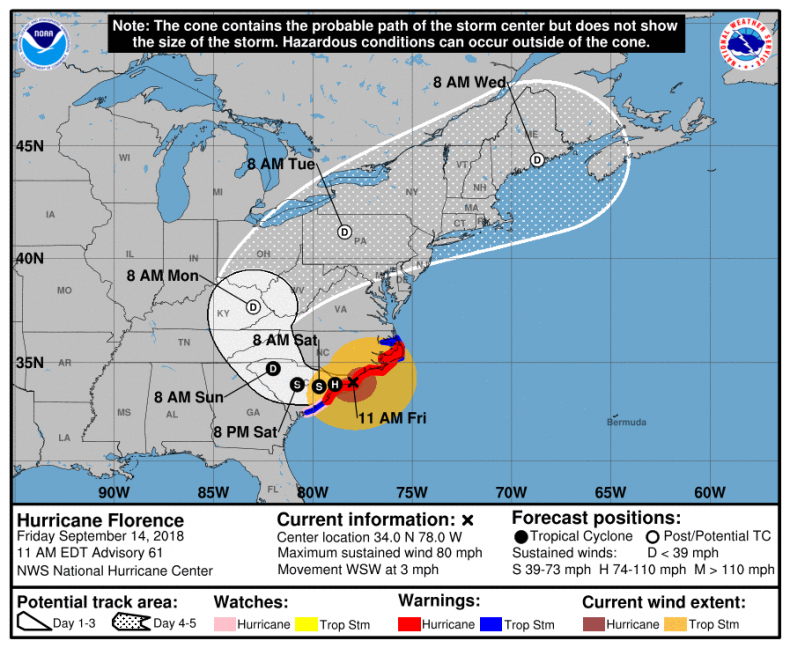 "Between Monday and Wednesday next week, Florence (likely a tropical depression at this point) is forecast to move from Kentucky to Maine. While rainfall forecasts in these areas are nowhere near those for NC and SC, there will be spots that could see several inches of rain," LaRosa said.
Evacuations were ordered in the coastal states where the storm was first expected to hit, while flood watches and warnings were in effect from South Carolina up to Washington, D.C., Friday. A message from the NHC said, "Life-threatening, catastrophic flash flooding and prolonged significant river flooding are likely over portions of the Carolinas and the southern and central Appalachians through early next week, as Florence is expected to slow down while it moves inland."
Florence's landfall was just the beginning of what would be a long few days of incredibly heavy rains accompanied by winds causing flooding along the coast and inland. Near the coast, storm surge was a huge concern, threatening the lives of those who chose to stay in their homes.
This story was updated with a information from Weather Channel meteorologist Maria LaRosa.