Will Impeachment Articles Put Vulnerable Democrats in a Tough Spot? Members Fail to Show Concern
With House Speaker Nancy Pelosi's announcement Thursday that the chamber is moving full steam ahead with drafting articles of impeachment, a forthcoming floor vote on the matter has the potential to place vulnerable Democrats in a precarious position with constituents back home. But most members—moderate and progressive alike—aren't showing many signs of concern.
Democrats are, for the most part, predicting a vote to impeach President Donald Trump will look nearly identical to when they voted on procedural legislation outlining their impeachment inquiry last month, where just two Democrats broke from party ranks to signal their opposition. And they're confident that the vulnerable, more moderate members who voted for the inquiry will do so again for articles of impeachment. Last month's impeachment hearings, members argued, only bolstered their allegations that Trump has committed impeachable offenses with the Ukraine controversy.
"It doesn't affect us. It doesn't affect me," Rep. Tom Malinowski (D-N.J.), a freshman who flipped a Republican district last year and who's a member of the more moderate New Democrat Coalition, told Newsweek. "I've been talking to my constituents about this for some time, and they expect me to do what I think is right."
Democratic leadership is certainly aware of the precarious situation an impeachment vote puts swing district members in. House Majority Whip James Clyburn (D-S.C.) told colleagues in a Thursday morning meeting he will not be whipping the vote on supporting impeachment articles.
"This is an issue we think each and every one of our members takes stock of who we are and what we are and what kind of country we want to have," he said in a statement.
Republicans have already seized on the potential opportunity to unseat some Democrats, with Trump campaign manager Brad Parscale revealing the campaign is already polling voters' sentiment on impeachment in swing districts.
"Nancy Pelosi is marching members of her caucus off the plank and into the abyss," he wrote on Twitter.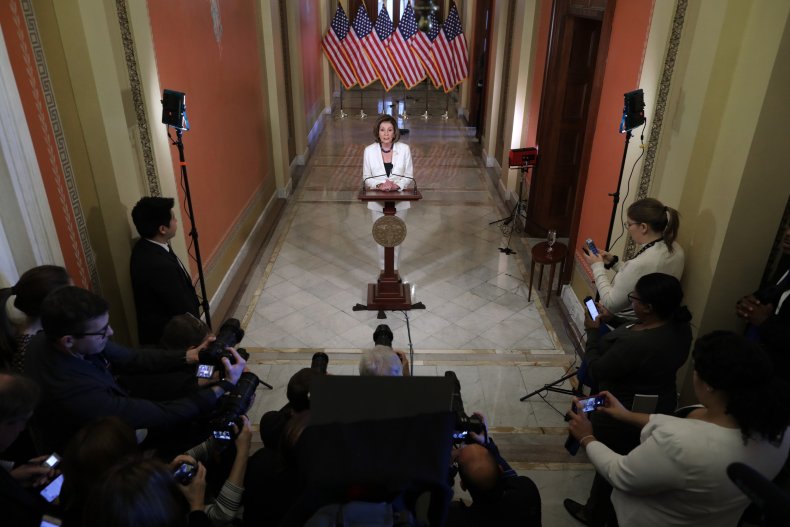 Still, Democrats across the political spectrum told Newsweek they aren't concerned a vote for articles of impeachment would cost members their job come election day.
"I think there's very few things that garner a better reaction for voters than representatives who will stand up and say, 'I'm going to do what I think is right and politics has nothing to do with it,'" Malinowski said, borrowing a popular line from Pelosi.
He's reserving final judgement on how he'll vote until articles are drafted, but his remarks and early support for the inquiry signal he's likely to back impeachment.
Rep. Joe Cunningham (D-S.C.) said he, too, does not feel pressure. Similar to Malinowski, he's a first-term lawmaker who narrowly flipped a red district and is a member of the moderate Blue Dog Coalition.
A fellow Blue Dog Democrat who also squeaked out a victory against a Republican last year, freshman Rep. Andrew Brindisi of New York denied the notion that Republican attack ads against him were changing his stance on impeachment. He did note that he's in the process of reevaluating all the evidence and was "not ready to make a decision on where I'm at" with impeachment articles.
But one vulnerable member did concede that moderates such as himself will likely be forced into a precarious situation.
"Moderates are always in a tough spot," Rep. Jeff Van Drew told Newsweek. A Blue Dog Democrat in a crimson red district in New Jersey, the freshman was one of the two Democrats to vote against the inquiry last month. "I do think it puts moderates in a tough spot, although I think they are the answer to so many of our problems."
His mind remained unchanged on opposing impeachment and offered a warning for his fellow colleagues: "Be careful what you ask for."
"At the end of the day, you know the impeachment will go through here, and then it will go over to the Senate and he is obviously going to be found not guilty," Van Drew elaborated. "And that really, seriously, very well may help him."
Like most of their moderate colleagues, even more progressive members showed no signs of disquiet over what an impeachment vote will mean for vulnerable members.
"They were elected to uphold the Constitution and that regardless of what's happening in their districts—some of whom have much harder districts—this is the right thing to do," Congressional Progressive Caucus Co-Chair Pramila Jayapal of Washington state told Newsweek.
Rep. Eric Swalwell (D-Calif.) cited the seven moderate Democrats from the national security arena who penned a Washington Post op-ed earlier this year when they made the surprising move to back the inquiry.
"It's the 'vulnerable members' on our side who showed the courage of coming forward...that kind of put us in this inquiry," the former presidential candidate told Newsweek. "I think they're going to do what's right for their constituents, their conscience and how they interpret the constitution. Those members have put us in a position to hold the president accountable."