Will Iran and Israel Go to War? Trump Backs Israel's Right to Use Force as Rockets Fly Across Border From Syria
Iranian forces in Syria have sent rockets hurtling toward army bases in the Golan Heights, across the border in Israel, according to reports. Israel fired back on Thursday, hitting dozens of Iranian targets in Syria.
The exchange was the first outbreak of military violence since President Donald Trump pulled out of the Iran nuclear deal, a move that Israeli Prime Minister Benjamin Netanyahu strongly supported. On Thursday, the White House condemned Iran's rocket attacks but failed to mention Israel's strikes on military targets in Syria.
"The United States condemns the Iranian regime's provocative rocket attacks from Syria against Israeli citizens, and we strongly support Israel's right to act in self-defense. The Iranian regime's deployment into Syria of offensive rocket and missile systems aimed at Israel is an unacceptable and highly dangerous development for the entire Middle East," the White House said in a statement.
"Iran's Islamic Revolutionary Guard Corps (IRGC) bears full responsibility for the consequences of its reckless actions, and we call on the IRGC and its militant proxies, including Hizballah, to take no further provocative steps."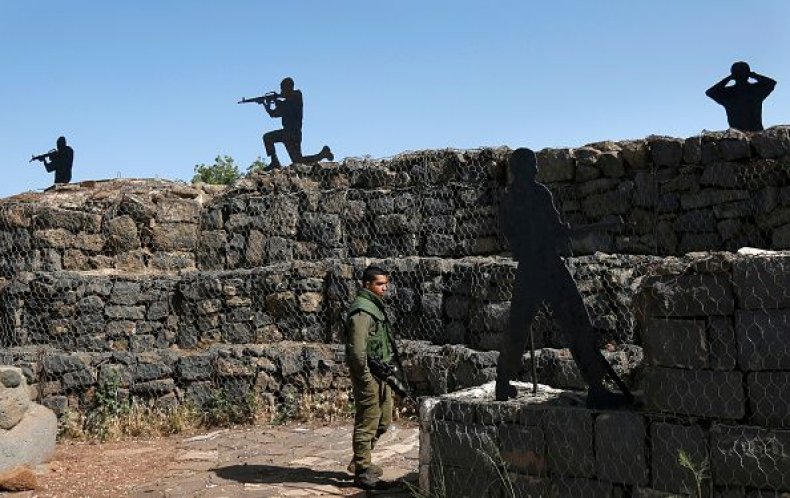 The Israeli military said a unit of Iran's Revolutionary Guard had launched 20 artillery rockets into the Golan Heights shortly after midnight on Wednesday. Some of the rockets were deflected by Israel's Iron Dome missile defense system, while others caused damage to Israeli military facilities. No one on the Israeli side was reported to have been injured. Israeli Defense Minister Avigdor Lieberman said that Israel had retaliated with its largest strike in Syria since the outbreak of the civil war in 2011, and that Israel had hit "nearly all" Iranian military facilities in Syria.
Syria's military later reported that three people had died in the Israeli attack. Israel's military said that it had targeted Iranian intelligence and logistical facilities close to Damascus.
Analysts say that Trump's decision to pull out of the Iran nuclear deal has emboldened Tehran, which feels it has less to lose if it enters into conflict with U.S. allies. It also emboldened religious hardliners in Iran, whose leadership quickly announced that it would start rebuilding its nuclear program if the other signatories of the Iran deal do not maintain the agreement.
Experts say Iran could have a nuclear weapon within a year if it abandons the terms of the deal.
Israel has been carrying out strikes against Iranian facilities in Syria for the past several months. Israel killed around seven Iranians in April with its strikes in Syria. Wednesday's action from Iranian forces was the first time Tehran retaliated against Israel's attacks on its military presence in Syria. Military experts are now watching to see if the situation will escalate.