Will It Snow on Christmas Day? Weather Forecast for December 25, 2019
For some, nothing beats a white Christmas on December 25. But will Americans be waking up to snow this Wednesday morning?
According to the National Weather Service's (NWS) day two and day three forecasts, the midwest of the country is predicted to see freezing temperatures and some precipitation. This could result in overnight snowfall, however, it is unclear whether this will last into the morning, as temperatures are predicted to rise.
What is a white Christmas?
The NWS defines a white Christmas as "having one inch or more of snow on the ground on Christmas morning." Other references on the internet say that specifically it has to be on the ground by 7:00 a.m. local time, however, this is not confirmed by NWS or NOAA.
Historically, most of Idaho, Minnesota, Maine, Upstate New York, the Allegheny Mountains of Pennsylvania and West Virginia and the Rockies and the Sierra Nevada Mountains all have a high probability of seeing a white Christmas, according to NOAA. Aspen, Colorado, is just one of the locations in the U.S. that has a 100 percent historical probability of seeing a white Christmas, according to the weather service.
Unfortunately, based on the normals collected by NOAA between 1981 and 2010, states such as Texas, Louisana, Florida and North and South Carolina have a zero to 10 percent chance of seeing a white Christmas.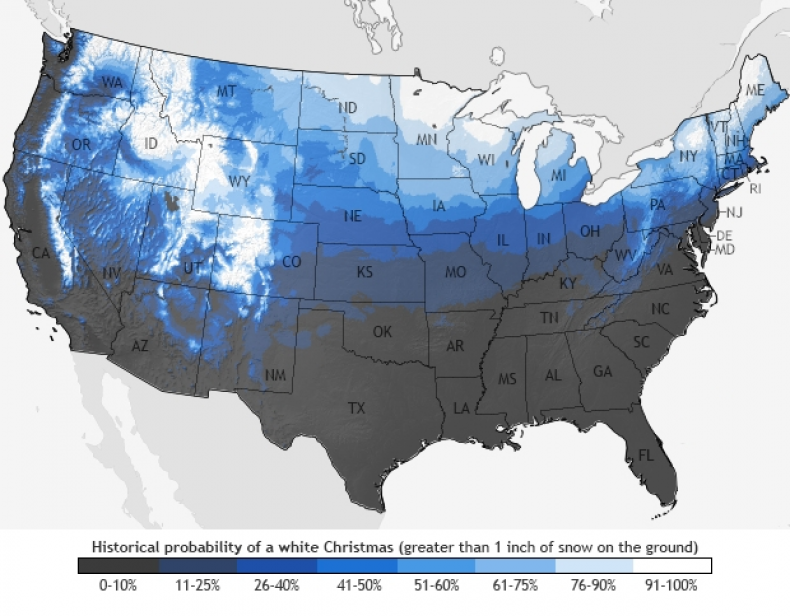 However, NOAA does stipulate that these predictions are not reflective of the current weather climate. For example, currently there is a winter storm warning in Arkansas, seeing heavy snow of eight to 10 inches on the ground, but according to the above map the state has between zero and 25 percent chance of snow on Christmas Day.
Will it be a white Christmas on Christmas 2019?
The day two and three outlooks, which cover Christmas Eve and Christmas Day, show that snow is forecast for the midwest, eastern parts of Oregon, Washington, northeastern parts of California. The west coast of the U.S., according to NOAA, will see light rain.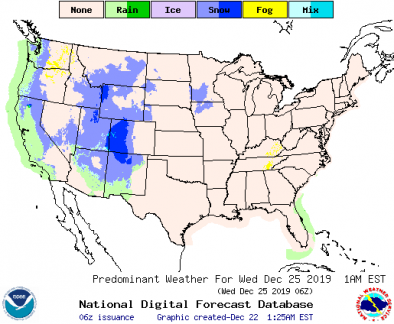 While a white Christmas is romanticized as a dream come true, NWS warns that heavy snow, in particular, can cause hazards for Americans and endanger lives. Heavy snow can result in travelers becoming stranded on roads or at airports, as well as cause damage to buildings through collapsed roofs or knocked down trees and power lines.
In the mountains, avalanches can be caused by heavy snow. According to NWS, over 80 percent of midwinter avalanches are triggered by a rapid accumulation of snow, with 90 percent of them occurring within 24 hours of snowfall. An avalanche may reach a mass of a million tons and travel at speeds up to 200 miles per hour.