Will Joe Biden Cancel Student Debt? What's Next For Him in This Decision?
On Friday, President Joe Biden extended the pause on federal student loan payments until January 31, 2022. Along with this announcement, he stated it would be the last time that the Education Department renewed the freeze which was born out of the coronavirus pandemic.
In his statement, Biden called the freeze a "critical lifeline" that has allowed people experiencing economic hardships through the pandemic to afford basic necessities, stating the scope of those impacted by acknowledging that "one in six adults and one in three young people" have federal student loans.
The scope of the student loan crisis and moment for this issue was not lost on progressives and top Democratic leaders. Soon after this announcement, key figures in the student loan forgiveness debate made their opinions known on where this momentary extension stood in the fight against college debt.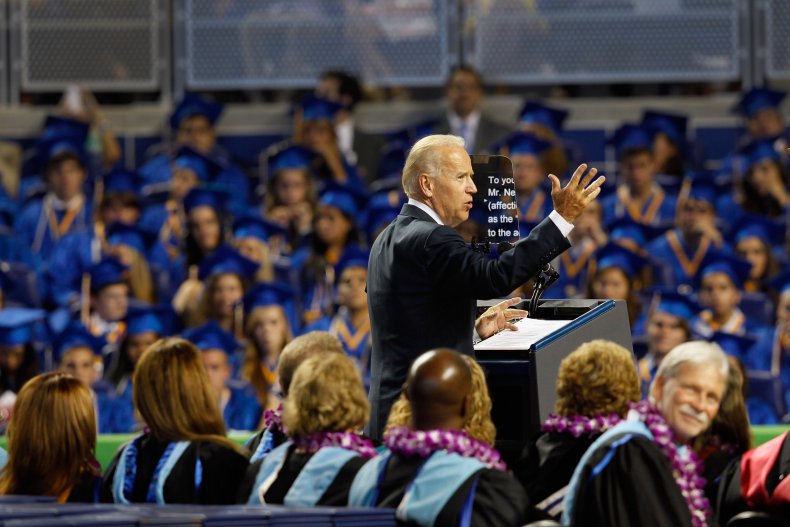 "While this temporary relief is welcome, it doesn't go far enough," Senate Majority Leader Chuck Schumer, Massachusetts Senator Elizabeth Warren and Massachusetts Representative Ayanna Pressley wrote in a joint statement. "Our broken student loan system continues to exacerbate racial wealth gaps and hold back our entire economy. We continue to call on the administration to use its existing executive authority to cancel $50,000 of student debt."
New York Representative Jamaal Bowman, one of the more progressive members of the House, also got in on the issue, tweeting: "Sounds like January 31, 2022 is the deadline to cancel student debt. No more extensions required."
Prior to Biden entering office, Schumer and Warren went on the offensive with the issue, declaring through a 1965 provision within the Higher Education Act called "compromise and settlement" that the president could eliminate the first $50,000 of a student borrower's debt. Since then, the topic has followed the administration with lawmakers like Pressley, Bowman, and Alexandria Ocasio-Cortez voicing support for the issue.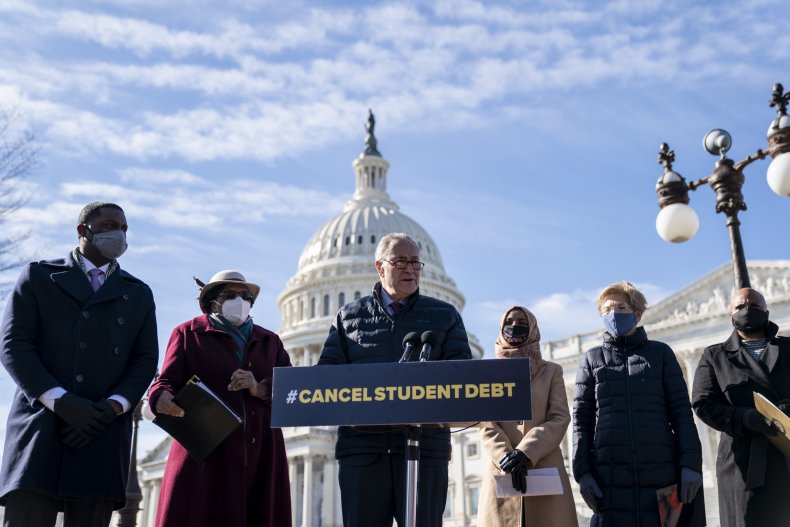 While Biden has expressed interest in cancelling $10,000 worth of debt, he has sidestepped the demand, saying, "I am prepared to write off the $10,000 debt but not $50 [thousand], because I don't think I have the authority to do it." Reporting and the calls of politicians have since indicated otherwise. And as the party grows ever desperate to maintain its slim House majority in 2022, debt cancellation may very well be realized.
"By extending this into 2022, you wonder what representative among us will say no during an election cycle Republican or Democrat?" Andre M. Perry, a fellow with the Brookings Institution and former university dean and professor, told Newsweek. "They are really putting pressure on folks because young people, regardless of your political affiliation, are feeling the pinch of higher tuition and student debt. It was a shrewd political move."
A poll from Vox and Data for Progress found more than half of voters support canceling $50,000 of student debt. As wage increases have fallen behind inflation, Perry said the benefits of going to college have become less apparent. However, since the pandemic home ownership demand improved by 3.5 percentage points for millennials, the largest increase among generational groups, according to data gathered by the First American Homeownership Progress Index. Perry sees this trend being in part because of the improvement in millennial debt to income ratios.
As this issue moves forward, Perry thinks the continued pressure of politicians and advocacy groups will keep this issue in the public light. The NAACP came forward expressing its favor of the move, and House Majority Whip Jim Clyburn also announced his support. As 2022 nears, Perry expects Biden to keep an eye on the direction of his party as this topic continues to unfurl.
"This move really conveys that Biden's paying attention," Perry said. "It was sort of a political compromise to put the administration in a better place come February than it is now. So, I can't predict what will happen, but the pressure is not going to ease up just because they extended the freeze."